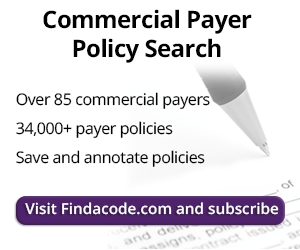 Family meetings without the patient present
December 29th, 2015 - Codapedia Editor
0 Votes -

Sign in

to vote or comment.
---
Medicare does not permit a physician practice to bill for family meetings without the patient present. The physician may not bill Medicare, nor may they bill the family member. It is fairly common for the spouse or child of a patient to ask to see the physician to discuss the patient's care. The meetings can be quite lengthy and involve a lot of physician time. For Medicare, however, unless the patient is present, there is no payment for the service.
You may not bill the family with or without an ABN, because the service is considered bundled, not non-covered.
State Medicaid programs have different policies: check with them.
For commercial payers, ask them if they follow CPT® or Medicare guidelines in relation to this.
CPT® codes are defined, when using time to select the code, as "discussion with the patient and/or family." This means that for commercial payers, a physician could bill for discussion with the patient family within CPT® rules. However, the correct diagnosis code would be V65.19, "Other person consulting on behalf of another person." Using that V code may result in a denial from the payer. If the payer denies the service as "Incidental" or "bundled," and you have a contract with the payer, you can't bill the patient or family for the service. If the denial is "non-covered" then you can typically bill the family member who requested the service.
If the patient is present for the meeting, then the service is reportable and reimburseable. See the article on using time to select a code.
See the article about critical care, and what time with the family may and may not be included.
###
Questions, comments?
If you have questions or comments about this article please contact us. Comments that provide additional related information may be added here by our Editors.
Latest articles: (any category)
Finalized Confidentiality of Alcohol and Drug Abuse Patient Records Regulations
August 31st, 2018 - Wyn Staheli, Director of Research
In January, the U.S. Department of Health and Human Services (HHS) issued updates to the privacy regulations regarding the confidentiality of patient information of substance use disorder patients (42 CFR Part 2).  This notice included references to better alignment with HIPAA regulations, but did state that Part 2 is more protective ...
Pricing for ASC's and APC's
August 27th, 2018 - Chris Woolstenhulme, QCC, CMCS, CPC, CMRS
For Medicare purposes, an Ambulatory Surgical Center Resources (ASC) is a distinct entity that operates exclusively to furnish surgical services to patients who do not require hospitalization and in which the expected duration of services does not exceed 24 hours following admission. ASC payment groups determine the amount that...
PSAVE Pilot Program - What Does it Mean to You?
August 20th, 2018 - Wyn Staheli, Director of Research
Noridian's pilot program Provider Self-Audit with Validation and Extrapolation (PSAVE) has been extended which means that it has been successful for the payer, which means that they are saving money. Historically, when a pilot program is proven to be successful, it isn't too long before other MACs follow. Before signing up to participate, providers need to carefully evaluate the program. Are the benefits worth the costs?
Importance of Depression Screenings
August 16th, 2018 - Wyn Staheli, Director of Research
Why would a chiropractor be concerned about depression screenings when you aren't trained to be a mental health provider? The answer lies in patient outcomes. Many quality care organizations recommend depression screenings for patients with a chronic condition. According to The National Institute of Mental Health, "People with other chronic ...
Using Modifiers 96 and 97
August 16th, 2018 - Wyn Staheli, Director of Research
The Affordable Care Act (ACA) requires coverage of certain essential health benefits (EHBs), two of which are rehabilitative and habilitative services and devices. Since the ACA did not define these terms or specify coverage requirements, it is left up to individual states to create benchmark plans to determine coverage requirements. ...
Medicare Timed Codes Guidelines
August 16th, 2018 - Wyn Staheli, Director of Research
Medicare's guidelines for reporting of timed codes is found in Medicare Claims Processing Manual Chapter 5, Section 20.2. Also known as the '8 minute' rule, it describes how to calculate time for appropriate reporting when more than one timed code is performed at the same time. It should be noted that while ...
QPro's First Annual QPro Con
August 15th, 2018 - Chris Woolstenhulme QCC, CMCS, CPC, CMRS
Date: October 9-10 Time: 9-3 MST QPro Con is featuring a virtual event with keynote speakers and experts with years of hands-on experience in the healthcare industry. Stay ahead of the changes and keep informed of important information that affects the healthcare community. Attendees receive 12 FREE CEUs with the purchase ...