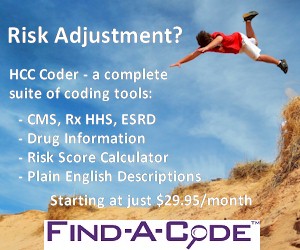 Annual Wellness Visit & Health Risk Assessment
September 30th, 2017 - Find-A-Code
0 Votes -

Sign in

to vote or comment.
---
---
G0438 (INITIAL) G0439 (SUBSEQUENT)
---
Annual Wellness Visits are not the same thing as other types of wellness visits. They are very specific requirements as outlined in the information that follows. Note that these codes are covered by Medicare.

Annual wellness visit;

G0438 includes a personalized prevention plan of service (PPS), initial visit
G0439 includes a personalized prevention plan of service (PPS), subsequent visit
Explanation
Annual Wellness Visits (AWV) must include a Personalized Prevention Plan of Service (PPPS) and a Health Risk Assessment .
Coding Tips
These annual wellness codes were created by Medicare, however they may be covered by other payers so check with individual payer policies.
An AWV is not the same as an Initial Preventive Physical Examination (IPPE) which is also payable by Medicare. See Resource 480 for details by CMS on what to include for an IPPE.
This is not the same as an annual routine physical checkup.
There are no deductibles or co-pays for Medicare beneficiaries.
Laboratory tests or other medical services are not part of the AWV, however, other medically necessary services may also be provided on the same date of service as an AWV. Be aware that deductibles, coinsurance/copayment for these services may apply.
Physician (a doctor of medicine r osteopathy)

Qualified non-pnysician practitioner (a physician assistant, nurse practitioner, or certified clinical nurse specialist)

Medical professional (including a health educator, registered dietitian, nutrition professional, or other licensed practitioner)

Team of such medical professionals who are working under the direct supervision of a physician (doctor of medicine or osteopathy)
Diagnoses
"Since CMS does not require a specific diagnosis code for the AWV, you may choose any appropriate diagnosis code. You must report a diagnosis code."
Modifiers
According to CMS, "When you provide a significant separately identifiable, medically necessary Evaluation and Management (E/M) service in addition to the AWV, Medicare may pay for the additional service. Report the Current Procedural Terminology (CPT) code with modifier 25."
---
96160, 96161 HEALTH RISK ASSESSMENT
---
| | |
| --- | --- |
| 96160 | Administration of patient-focused health risk assessment instrument (eg, health hazard appraisal) with scoring and documentation, per standardized instrument |
| 96161 | Administration of cargiver-focused health risk assessment instrument (eg, depression inventory) for the benefit of the patient, with scoring and documentation, per standardized instrument |
Alert: These were new codes for 2017. They replaced deleted code 99420.
According to the PPACA, a Health Risk Assessment (HRA):
must identify chronic diseases, injury risks, modifiable risk factors, and urgent health needs of the individual
may be furnished through an interactive telephonic or web-based program
may be offered during the encounter with a health care professional or through community-based prevention programs
may be provided through any other means appropriate to maximize accessibility and ease of use by beneficiaries, while ensuring the privacy of the beneficiaries.
The patient's health status and relevant conditions with risk adjusted HCCs (Hierarchical Condition Codes) assist CMS when tracking chronic conditions to help predict future healthcare needs, and is currently being used as a funding methodology. The idea is to risk adjust plan payments based on health status and demographic characteristics of an enrollee.
Coding Tips
Risk Assessments during an AWV are collected from self-reported information from the beneficiary, taking no more than 20 minutes. The beneficiary information and required elements can be found on the CMS web site, including assessment information and counseling the beneficiary.
###
Questions, comments?
If you have questions or comments about this article please contact us. Comments that provide additional related information may be added here by our Editors.
Latest articles: (any category)
Behavioral Health Provider Types
October 3rd, 2017 - Raquel
In the behavioral health profession there are a several different types of providers with varying degrees and credentials. Third party payer coverage, billing requirements, and reimbursement vary depending on the practitioner's professional type or specialty. Also, it is important to be aware...
Annual Wellness Visit & Health Risk Assessment
September 30th, 2017 - Find-A-Code
Coding tips regarding Annual Wellness Visit and Health Risk Assessments
How to Properly Report Prolonged Evaluation and Management Services
September 13th, 2017 - Aimee Wilcox
Have you ever had a patient take more time with the provider than they were scheduled for? Do you understand which codes to report and the rules that govern them to allow for better reimbursement? Prolonged Service codes were created just for that reason but you must carefully follow the documentation ...
Auditing Prolonged Evaluation and Management Services
September 12th, 2017 - Aimee Wilcox
At times, there are patients who require prolonged face-to-face time with the provider to discuss or be counseled about their condition, plan of care, risks, complications, alternative therapies, or other medical issues. When E/M services go wild, taking significantly longer than the typical time associated with it, that direct face-to-face ...
Medicare Improper Payment Report (2016)
September 1st, 2017 - Wyn Staheli
The Medicare Improper Payment Report for 2016 has been released by the OIG. Please note that the improper payment rate does not measure fraud. Rather, it estimates the payments that did not meet Medicare coverage, coding, and billing rules. The estimated Medicare FFS payment accuracy rate (claims...
Quality Measures for Chiropractic - 2017
August 29th, 2017 - Wyn Staheli
Performance Measurement Codes for Chiropractic: Although there are hundreds of Performance Measurement (PM) services and events, only two may be reported for chiropractors for the 2017 reporting year. Pain Assessment and Follow-Up 131 ENCOUNTER: 90791, 90792, 92002, 92004, 92012, 92014, 92507, 92508, 92526, 96116, 96118, 96150, 96151, 97161, 97162, 97163, 97164, 97165, 97166, 97167, ...
VA Patient-Centered Community Care and Veterans Choice Program: Worth it for Providers?
August 23rd, 2017 - Jared Staheli
As the opportunities for providers outside the VA system expand in order to meet demand, you may be interested in offering services to veterans and the VA, if you are not already. With overwhelming bipartisan support, the opportunities are not likely to abate, but are those opportunities worth it for ...