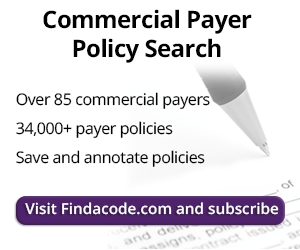 No HCPCS Code Available? Now What?
February 21st, 2018 - Chris Woolstenhulme, QCC, CMCS, CPC, CMRS
0 Votes -

Sign in

to vote or comment.
---
HCPCS level II codes classify products into categories for the purpose of claims processing. HCPCS level II codes are alphanumeric with a descriptive terminology that identifies the item or service used primarily for billing purposes.
There are several types of HCPCS level II codes such as:
Permanent National Codes
Dental Codes
Miscellaneous Codes
Temporary National Codes
Most products and procedures have a code assigned; in fact, there are approximately 6,000 separate categories of items or services that include millions of products from different manufacturers. However, when there is not a HCPCS code that accurately describes a particular service or product you are required to use a miscellaneous or not otherwise classified code.
In fact, there are many occasions you will find you need to use an unlisted HCPCS code, for example, if it is a new product or there has not been an application submitted to CMS to assign a new code. Using the unlisted, miscellaneous or unclassified drug code(s) require more information submitted on your claim form with additional attention and details when billing.
New supplies or drugs are often left with an unspecified or unclassified code. Suppliers frequently contact us for a billing code on a new product when there is not a specific HCPCS code that fits the supply or drug they need to bill for, hoping to eliminate the need for the additional information to be reported on the claim form.
For example for submitting a claim for an unlisted drug, you need to supply the payer with:
Name, strength, and dosage.
Some Payers require different information, for example, United Healthcare requires the NDC number, quantity and the unit of measure when billing unlisted drugs. This required information on your claim should be submitted in block 19 on the CMS-1500 claim form (or in 2400.SV101-7 in the ANSI 837 claim file).
Before you give up your search for an appropriate HCPCS code and decide to use the unlisted or unclassified codes be sure to check out the DMEPOS Product search tool Find-A-Code offers. This tool will allow you to search the product name, manufacturer name or model number giving you information that is not found with any other tool. This tool may help you avoid a claim denial due to an incorrect code, claims will be denied if there is a more specific code available and a non-specific code is billed.
If there is not a specific HCPCS code contact the labeler or vendor to see if they have applied for a HCPCS code for their product, it may have already been requested and may be pending or if CMS HCPCS workgroup is considering a coding request. If you would like to request or suggest a revision or apply for a permanent HCPCS code you can contact CMS.
###
Questions, comments?
If you have questions or comments about this article please contact us. Comments that provide additional related information may be added here by our Editors.
Latest articles: (any category)
CMS says Codes are on the Move!
December 9th, 2019 - Chris Woolstenhulme, QCC, CMCS, CPC, CMRS
Have you noticed your LCDs are missing something? CMS is moving codes out of LCDs and into Billing and Coding Articles. MACs began moving ICD-10-CM, CPT/HCPCS, Bill Type, and Revenue codes in January 2019, and will continue through January 2020. Therefore, if there is an LCD with its codes removed, you will find ...
Preview the PDGM Calculator for Home Health Today
December 4th, 2019 - Wyn Staheli, Director of Research
Until February 1, 2020, you can preview Find-A-Code's Patient-Driven Groupings Model (PDGM) home health payment calculator by going to https://www.findacode.com/tools/home-health/ .
Hypertension ICD-10-CM Code Reporting Table
November 25th, 2019 - Wyn Staheli, Director of Research
In ICD-10-CM, hypertension code options do not distinguish between malignant and benign or between controlled and uncontrolled. What is important for code selection is knowing if the hypertension is caused by or related to another condition. The following table shows some of these options.
New Medicare Home Health Care Payment Grouper — Are You Ready?
November 25th, 2019 - Wyn Staheli, Director of Research
In 2020, Medicare will begin using a new Patient-Driven Groupings Model (PDGM) for calculating Medicare payment for home health care services. This is probably the biggest change to affect home health care since 2000.
VA: How UCR Charges are Determined
November 20th, 2019 - Chris Woolstenhulme, QCC, CMCS, CPC, CMRS
How does the VA determine charges billed to third party payers for Veterans with private health insurance? According to the VA. "38 C.F.R 17.101 stipulates the basic methodology by which VA bills third party insurance carriers. In order to generate a charge for medical services, VA establishes reasonable charges for five ...
Medical Insurance Coverage for TMJ Disorders (TMD)
November 19th, 2019 - Christine Taxin
It is agreed that TMJ disorders should be covered by insurance. There are often questions whether it is covered by medical insurance or dental insurance and where the line is that separates coverage.Medical Insurance typically is the primary insurance for TMJ disorders. The reason is that joints are found anywhere ...
Changes to Portable X-Ray Requirements
November 19th, 2019 - Wyn Staheli, Director of Research
On September 30, 2019, CMS published a final rule which made changes to portable x-ray services requirements as found in the law.