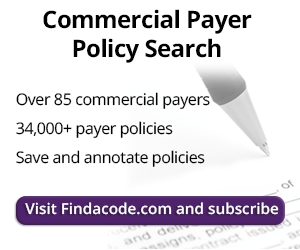 No HCPCS Code Available? Now What?
February 21st, 2018 - Chris Woolstenhulme, QCC, CMCS, CPC, CMRS
0 Votes -

Sign in

to vote or comment.
---
HCPCS level II codes classify products into categories for the purpose of claims processing. HCPCS level II codes are alphanumeric with a descriptive terminology that identifies the item or service used primarily for billing purposes.
There are several types of HCPCS level II codes such as:
Permanent National Codes
Dental Codes
Miscellaneous Codes
Temporary National Codes
Most products and procedures have a code assigned; in fact, there are approximately 6,000 separate categories of items or services that include millions of products from different manufacturers. However, when there is not a HCPCS code that accurately describes a particular service or product you are required to use a miscellaneous or not otherwise classified code.
In fact, there are many occasions you will find you need to use an unlisted HCPCS code, for example, if it is a new product or there has not been an application submitted to CMS to assign a new code. Using the unlisted, miscellaneous or unclassified drug code(s) require more information submitted on your claim form with additional attention and details when billing.
New supplies or drugs are often left with an unspecified or unclassified code. Suppliers frequently contact us for a billing code on a new product when there is not a specific HCPCS code that fits the supply or drug they need to bill for, hoping to eliminate the need for the additional information to be reported on the claim form.
For example for submitting a claim for an unlisted drug, you need to supply the payer with:
Name, strength, and dosage.
Some Payers require different information, for example, United Healthcare requires the NDC number, quantity and the unit of measure when billing unlisted drugs. This required information on your claim should be submitted in block 19 on the CMS-1500 claim form (or in 2400.SV101-7 in the ANSI 837 claim file).
Before you give up your search for an appropriate HCPCS code and decide to use the unlisted or unclassified codes be sure to check out the DMEPOS Product search tool Find-A-Code offers. This tool will allow you to search the product name, manufacturer name or model number giving you information that is not found with any other tool. This tool may help you avoid a claim denial due to an incorrect code, claims will be denied if there is a more specific code available and a non-specific code is billed.
If there is not a specific HCPCS code contact the labeler or vendor to see if they have applied for a HCPCS code for their product, it may have already been requested and may be pending or if CMS HCPCS workgroup is considering a coding request. If you would like to request or suggest a revision or apply for a permanent HCPCS code you can contact CMS.
###
Questions, comments?
If you have questions or comments about this article please contact us. Comments that provide additional related information may be added here by our Editors.
Latest articles: (any category)
VA Expands Telehealth
June 14th, 2018 - Wyn Staheli, Director of Research
On May 11, 2018, the Department of Veterans Affairs (VA) released its final rule on the "Authority of VA Health Care Providers to Practice Telehealth." Effective June 11, 2018, VA providers will be able to provide telehealth services across state lines. This move will make it easier for veterans to obtain ...
Will Medicare's Proposed Reformations Affect Your Practice?
June 12th, 2018 - Wyn Staheli, Director of Research
Recently, Medicare's Innovation Center released an informal Request for Information (RFI) seeking input on several different system reformation proposals. As the market moves towards more value based payment systems, innovation and new models are being sought to both reduce costs and increase quality. This article outlines the ideas presented in the ...
Inappropriate Use of Units Costs Practice Over $800,000
June 11th, 2018 - Wyn Staheli, Director of Research & Aimee Wilcox, CPMA, CCS-P, CMHP, CST, MA, MT
A recent OIG enforcement action emphasizes the need to understand the proper use of units. A healthcare provider in Connecticut improperly submitted multiple units for drug screening urine tests. The proper billing of units has proven to be problematic for more than just lab tests. Is your billing of drugs & biologicals, injections and timed codes appropriate?
Coding for Strains in ICD 10
May 30th, 2018 - BC Advantage
According to the National Institutes of Health, a review was carried out on 20 patients who had a pectoralis major muscle repair between 2003 and 2011, and the results were as follows....
AMA vs Medicare rules and the use of the PT modifier
May 22nd, 2018 - Chris Woolstenhulme, QCC, CMCS, CPC, CMRS
Be sure to review the specific payer policy you are submitting claims to. Medicare's policy requires the use of a different code when a screening colonoscopy becomes a diagnostic procedure requiring you to bill with CPT code 00811 when treating a Medicare Beneficiary. The use of the PT modifier is ...
CMS Compliance Guidelines Focused Trainings
April 9th, 2018 - Christine Woolstenhulme, QCC, CMCS, CPC, CMRS
Since the publication of the Compliance Program Guidelines in 2012, the Medicare Part C & D Oversight and Enforcement Group, Division of Compliance Enforcement, has presented a series of focused trainings for the industry on the application of the seven elements of an effective compliance program. These trainings are designed ...
Coverage Criteria for Peripheral Venous Examinations
April 9th, 2018 - Find-A-Code
According to National Government Services LCD L33627, indications for venous examinations are separated into three major categories: deep vein thrombosis (DVT), chronic venous insufficiency, and vein mapping. Studies are medically necessary only if the patient is a candidate for anticoagulation, thrombolysis or invasive therapeutic procedure(s). Since the signs and symptoms of ...