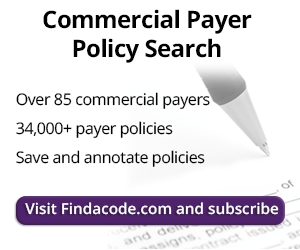 Auditing Vaccines
July 28th, 2017 - Paul Chandler
0 Votes -

Sign in

to vote or comment.
---
Auditing vaccines can be difficult, as precise attention needs to be paid to the documentation to extract all variables needed for proper coding. Details such as age of the patient, format of administration, counseling performed, and quantity are all needed to properly code. Being familiar with those variables is needed to audit the chart and coding.
Vaccinations administered with counseling are coded with CPT© codes 90460 and 90461. Both codes require the patient to be through 18 years of age. Injections, intranasal, and oral forms of administration are covered with these codes. The first component is used with code 90460, with each additional component addressed with code 90461. Part of the difficulty in coding, and later in auditing, is being knowledgeable with the number of components per vaccine. Some are easy, such as code 90636 (Hepatitis A and hepatitis B vaccine (HepA-HepB), adult dosage, for intramuscular use) with two components. Others are more difficult to decipher. A good example is CPT code 90698: Diphtheria, tetanus toxoids, acellular pertussis vaccine, Haemophilus influenzae type b, and inactivated poliovirus vaccine, (DTaP-IPV/Hib), for intramuscular use. CPT code 90698 has five components. The proper administration when provided to a patient through 18 years of age, with counseling performed is: 90460, 90461 x 4.
Vaccinations administered without counseling to patients through 18 years of age have different coding options, based on the method of administration. Injections, whether it be percutaneous, intradermal, subcutaneous, or intramuscular are coded as 90471 for the first vaccine with 90472 used for each additional vaccine. Using the same example above, CPT 90698 would be coded with only one administration code, 90471, if the patient was through 18 years of age and no documentation of counseling being performed.
If the vaccine provided to the patient was given via intranasal or oral routes, with the patient being through 18 years of age with no documentation of counseling performed, the administration codes would be 90473 for the first vaccine, with 90474 for each additional vaccine.
Vaccine administration codes have a major impact on selection if the patient is through 18 years of age. The provider must document that he/she provided the patient counseling on the vaccines received. Depending on the coder and/or the office, the documentation may not support counseling was performed; however, the chart was coded with counseling because the physician may "always counsel her/his patients". The old phrase applies: if it is not documented, it did not happen.
For patients over 18 years of age the administration codes are more simplified. The physician does not get credit for counseling the patient in the code selection as codes 90460- 90461 would not apply. CPT codes 90471-90472 are used for the administration of vaccines performed by injection. CPT codes 90473-90474 are used for the administration of vaccines performed by intranasal or oral routes. Both code range sets apply per vaccine, not per component of the vaccine.
In auditing vaccines, the main focus is to be knowledgeable on the number of components per vaccine. With that information to audit, along with the understanding of the administration codes based on age, counseling, and route of administration, the auditor will be able to successfully ensure proper coding rules were followed for proper reimbursement.
###
Questions, comments?
If you have questions or comments about this article please contact us. Comments that provide additional related information may be added here by our Editors.
Latest articles: (any category)
Act Now on CMS Proposal to Cover Acupuncture for Chronic Low Back Pain
July 17th, 2019 - Wyn Staheli, Director of Research
Now is the time to comment on a proposal to cover acupuncture for chronic low back pain. This comment period is the part of the HHS response to the opioid crisis. You only have until August 14th to officially comment.
Denial Management is Key to Profitability
July 15th, 2019 - Wyn Staheli, Director of Research
A recent article by Modern Medicine cited a report by Becker's Hospital Review which stated that it costs approximately $118 per claim to resolve a claim denial. Granted, these were hospital claims, but the process is essentially the same for outpatient services. In fact, you could say it is...
Q/A: Do I Use 7th Character A for all Sprain/Strain Care Until MMI?
July 15th, 2019 - Wyn Staheli, Director of Research
Question: It is in regards to the Initial and Subsequent 7th digit (A and D) for sprains and strains. Recently, I have been told that I should continue with the A digit until the patient has reached Maximum Medical Improvement (MMI) and then switch over to the D place holder. Is ...
The Importance of Medical Necessity
July 9th, 2019 - Marge McQuade, CMSCS, CHCI, CPOM
ICD-10-CM codes represent the first line of defense when it comes to medical necessity. Correctly chosen diagnosis codes support the reason for the visit as well as the level of the E/M services provided. The issue of medical necessity is one of definitions and communication. What is obvious to the ...
When Can You Bill Orthosis Components Separately?
July 9th, 2019 - Wyn Staheli, Director of Research
Othoses often have extra components. When can you bill those components separately? For example, can you bill for a suspension sleeve (L2397) with a knee orthosis (e.g., L1810)?
Q/A: Can I Put the DC's NPI in Item Number 24J for Massage Services?
July 8th, 2019 - Wyn Staheli, Director of Research
Question: Are there scenarios in which it is acceptable to put the DC's NPI in box 24j for massage services? Answer: While the answer to this is yes, it is essential to understand that there are very limited scenarios. In most cases, Item Number 24J is only for the NPI of the individual ...
Will the New Low Level Laser Therapy Code Solve Your Billing Issues?
July 8th, 2019 - Wyn Staheli, Director of Research
Low level laser therapy (LLLT), also known as cold laser therapy, is a form of phototherapy which uses a device that produces laser beam wavelengths, typically between 600 and 1000 nm and watts from 5–500 milliwatts (mW). It is often used to treat the following: Inflammatory conditions (e.g., Rheumatoid Arthritis, Carpal ...