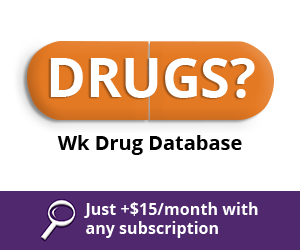 Q/A: Which Modifiers to Use When Billing 44005 and 36556 Together
March 26th, 2018 - Chris Woolstenhulme QCC, CMCS, CPC, CMRS
0 Votes -

Sign in

to vote or comment.
---
Q: I have a denial for 44005 and 36556 being billed together. I added modifiers 51, 59, and Q6 to 36556 but I am afraid it will deny again?
A: Take a look at how you used your modifiers; you would not report both Modifier 51 and Modifier 59 on the same code.
44005 - Enterolysis (freeing of intestinal adhesion) (separate procedure)
36556 - Insertion of the non-tunneled centrally inserted central venous catheter; age 5 years or older
Modifier 51 - Multiple Procedures
Modifier 59 - Distinct Procedural Service
Modifier 59 should be appended to the "Separate Procedure" per AMA
Per AMA Guidelines, "When a procedure or service that is designated as a "separate procedure" is carried out independently or considered to be unrelated or distinct from other procedures/services provided at that time, it may be reported by itself, or in addition to other procedures/ services by appending modifier 59 to the specific "separate procedure" code to indicate that the procedure is not considered to be a component of another procedure, but is a distinct, independent procedure. This may represent a different session, different procedure or surgery, different site or organ system, separate incision/excision, separate lesion, or separate injury (or area of injury in extensive injuries)."
Using modifier 51 may depend on your carrier; there are some carriers that do not require the use of Modifier 51 when using this modifier you will usually receive reduced reimbursement.
Modifier 51 indicates: The same procedure performed on different sites; Multiple operations during the same session; or One procedure performed multiple times.
###
Questions, comments?
If you have questions or comments about this article please contact us. Comments that provide additional related information may be added here by our Editors.
Latest articles: (any category)
Present on Admission POA Indicator
November 26th, 2018 - BC Advantage
This article will focus on the Present on Admission (POA) indicator which is used as a method of reporting whether a patient's diagnoses are present at the time they are admitted to a facility. We'll look at a few scenarios to determine the correct reporting of POA and the impact...
Billing 99211 Its not a freebie
November 9th, 2018 - BC Advantage
It seems like a simple code to bill, but CPT 99211 (established patient office visit) is by no means a freebie when it comes to documentation and compliance. This lowest level office visit code is sometimes called a "nurse visit" because CPT does not require that a physician be present...
Muscle Testing and Range of Motion Information
November 8th, 2018 - Wyn Staheli, Director of Research
Be sure to understand the unique code requirements for Muscle and Range of Motion Testing.
Medi-Cal Coverage Criteria for Hospital Beds and Accessories
November 7th, 2018 - Raquel Shumway
Medi-Cal coverage of child and adult hospital beds and accessaries. What is covered and what documentation is required.
Are you Ready for CMS' 2019 Medicare Physician Fee Schedule Final Rule?
November 7th, 2018 - Wyn Staheli, Director of Research
The waiting is over, the Final Rule for CMS' 2019 Medicare Physician Fee Schedule (MPFS) is available - all 2,379 pages for those looking for a little light reading. As anticipated, there are some pretty significant changes. Most of us were carefully watching the proposed changes to the Evaluation and ...
How to Use Modifier Indicators with NCCI Edits (2018-10-31)
October 31st, 2018 - Chris Woolstenhulme, QCC, CMCS, CPC, CMRS
To verify if clinical circumstances might justify the use of a modifier when billing code pairs, look at the NCCI edits and the modifier indicator.  Medicare may have restrictions on the use of a modifier used to bypass an edit.  This important part of coding can alert a payer or ...
Anesthesia and Pain Management
October 31st, 2018 - Chris Woolstenhulme, QCC, CMCS, CPC, CMRS
Anesthesia and Pain management is under close watch from the OIG according to a report from Anesthesia Business consultants, they stated, "The Health and Human Services Office of Inspector General (HHS OIG) reports in its most recent Semi-annual Report to Congress that in FY 2017 it brought criminal actions against 881 individuals or organizations ...