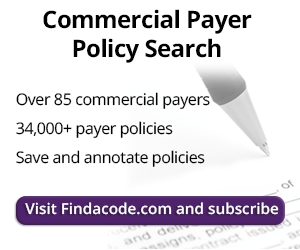 Provide Proof of a Qualified Professional with QPro!
August 1st, 2018 - Chris Woolstenhulme, QCC, CMCS, CPC, CMRS
0 Votes -

Sign in

to vote or comment.
---
QPro - Announces the Launch of an Innovative Testing Site!
Innovation is paving the way once again! Unlike other certification bodies, QPro does not certify the ability to pass a test but instead verifies members qualifications are proven. QPro offers a measurement of knowledge and skills testing. Tests are easy to access online using real-life coding resources and coding books commonly used in the office setting.
Who can Benefit from QPro?
Job Seekers: Use your professional coding and billing skills to acquire a QPro qualification to add to your resume. QPro credentials and proven qualifications will help you get the position you have always wanted. Keep learning with QPro CEUs, FREE with your membership!
Managers: Ensure the person you hire is a qualified professional in the area you are looking to fill. Rest assured QPro members are not just able to pass a coding test; once credentialed they are proven adept in their credential. In addition, to maintain a QPro certification, members are required to maintain current CEUs.
Staffing Agencies: We make it simple for you to hire qualified staff for outsourcing. Every staffing company should be able to hire with confidence and be able to verify proper qualifications. Rest assured when using our testing platform, you have the most up-to-date tests written by professionals with years of coding, billing, management, and auditing experience.
Why is a Proven Qualification Important?
In the healthcare industry, it is essential to have a knowledge of the codes and regulations necessary for proper billing and documenting patient encounters. Ever-changing regulations and code requirements mean that those involved in this industry need to stay current with the new trends and challenges. Reimbursement by third-party payers is about more than just sending in a claim. Medical coding and billing certifications through QPro let employers and other organizations know that you understand these requirements.
How can we Help you?
QPro (Qualified Professionals) is a member support system dedicated to enhancing coding and management through certification for healthcare coders and managers. Through increased knowledge of coding principles, changes in coding policies, and the experiences of fellow coders and managers in resolving office challenges, QPro members confidently code for maximum and ethical reimbursement.
Benefits of Certification
A qualified certification:
Provides credible evidence of your commitment to compliance and your profession
Demonstrates that you are a professional
Validates that you have attained a competent level of knowledge in your certified area
Often leads to higher salaries as employers recognize the value of certified employees
Shows an ongoing commitment to excellence
Membership
QPro Membership is most beneficial to medical practice managers and coders, however, it is open to all who wish to maintain best practices in the medical industry. They demonstrate knowledge and the ability to provide medical coding and billing in accordance with current coding and reimbursement standards and principles.
Membership dues are $97 per year. CLICK HERE for more information on membership.
QPro Membership is designed to help you maintain your credentials by offering continuing education (CEUs) and support. The following are some of the benefits of becoming a QPro Member:
Professionalism: Demonstrate to employers that you are a qualified professional with a solid understanding of what it takes to do your job right.
Networking: Associate with a nationwide network of like-minded professionals.
Resources: You need information and we have it. From access to information on the QPro website to a free Codapedia.com subscription, offering a forum and healthcare articles, we help you stay informed and offer solutions to coding and management problems.
Education: Continuing education is vital to maintaining professional certifications. Members get FREE CEUs and have access to Find-A-Code webinars.
Pricing
Membership: $97 per year
Study Guides: $65 (optional)
Specialty Certification Examination: $197 per exam
Questions? See our FAQ page
###
Questions, comments?
If you have questions or comments about this article please contact us. Comments that provide additional related information may be added here by our Editors.
Latest articles: (any category)
Q/A: What Diagnosis Codes Should I Use for TMJ Headache Massage for Coverage?
October 16th, 2018 - Wyn Staheli, Director of Research
Question: We have been receiving several DDS referrals to our massage therapists who do intra-oral work. The only problem is that the referral from the DDS lists code R51 for headaches as the only DX code. Since most plans don't cover massage therapy for headaches alone, are there any codes that can distinguish the headaches as ...
Q/A: What Codes do I use for CLIA-Waived Tests?
October 16th, 2018 - Wyn Staheli, Director of Research
Question: I am a certified DOT medical examiner and have applied to get my CLIA lab (waiver) for urinalysis, finger prick blood tests for A1c, cholesterol and glucose. I realize I cannot diagnose patients with these tests, but I am using them to make decisions in the DOT process and with ...
Pelvic Floor Dysfunction Treatment Coverage
October 16th, 2018 - Wyn Staheli, Director of Research
Pelvic floor dysfunction is often the underlying cause of conditions such as pelvic pain; urinary or bowel dysfunction; and/or sexual symptoms. Treatment generally begins with an evaluation and testing (e.g, EMG) followed by a variety of services (e.g., biofeedback, manipulation, pelvic floor electrical stimulation), depending on the findings. Coverage by payers ...
Prolonged Services Its Not Just About Time
October 5th, 2018 - BC Advantage
Time, as it applies to E/M codes, has often been viewed as an "if/then" proposition. "If" the documentation shows that a majority of the encounter was based on counseling and/or coordination of care, "then" we choose the highest level of service based on the total time of the encounter. However, a ...
HCC - Acceptable Provider Interpretation for Diagnostic Testing
October 1st, 2018 - Wyn Staheli, Director of Research
The following table is taken from the Contract-Level Risk Adjustment Data Validation Medical Record Reviewer Guidance dated 2017-09-27 (see References). It is a listing of acceptable provider interpretation of diagnostic testing. Acceptable Examples include: Cardiology and Vascular Surgeons Echocardiogram (including Doppler, Duplex, Color flow of the heart vessels) EKG (electrocardiogram) – Stress test, Cardiac ...
When to Use Modifier 25 and Modifier 57 on Physician Claims
October 1st, 2018 - BC Advantage
The biggest thing modifiers 25 and 57 have in common is that they both assert that the E/M service should be payable based on documentation within the record showing the procedure should not be bundled into the E/M. After that, the similarities end, and it is important to know the...
Chiropractic OIG Audit Recommendations - Lessons Learned
September 28th, 2018 - Wyn Staheli, Director of Research
The OIG recently concluded an audit on a chiropractic office located in Florida and had some significant findings. They recommended the following: Refund to the Federal Government the portion of the estimated $169,737 overpayment for claims for chiropractic services that did not comply with Medicare requirements and are within the 4-year ...