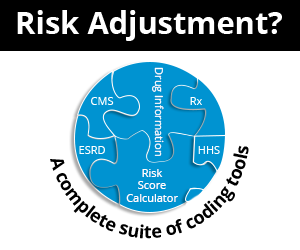 When Medical Necessity and Medical Decision Making Don't Match
August 3rd, 2018 - BC Advantage
0 Votes -

Sign in

to vote or comment.
---
As coders and auditors, we are taught the documentation guidelines on how to determine medical decision making. However, Medicare is clear that medical necessity is what determines the overall payment. In order to know what to do when medical necessity and medical decision making do not line up, you must first look at how they are determined.
Determining Medical Necessity (MN)
Although there are great tools and resources to determine MDM, the documentation guidelines do not illuminate how to capture this elusive, yet critical element, for supporting the level of service. There are caveats, and exclusions, but nothing that says "x documentation equals Y medical necessity."
Even without these firm, easy, explicit guidance, as coders and auditors, we have all found that note, the note that has clear life threatening medical necessity, and codes out to low or moderate MDM. What is supposed to happen in these cases? First, we must look at how the medical necessity is created in the encounter.
The History of Present Illness (HPI)
When the patient is being queried on the how, when, what, etc., the provider is determining whether this condition is something that is critical, major or minor. For example, a patient presenting with a cough, this can be something that will resolve on its own (seasonal allergies) or could be a sign of respiratory failure.
Examination
This is the element in which the provider uses his or her own expertise to determine if they feel it is minor, or major based on the physical health of the patient.
Determining Medical Decision Making (MDM)
This is where the provider illuminates his or her thoughts, concerns, and determinations. In the perfect example, with explain where the patient is in the process, and what they intend to do to prevent progression. Just like with HPI, MDM can often be found throughout the encounter, not just at the usual designated spot.
NAMAS has created a tool that helps determine the level of medical necessity, for E/M Services, Inpatient Services and Emergency Room Services, to give a more clear guidance on how to capture the critical elements. In my opinion, when the medical necessity is higher than the MDM, and supported by the history and/or exam, I will always support the level of service that I feel lines up with it. If the documentation clearly supports a life threatening exacerbation of an existing problem, to where the patient is transported by ambulance to a hospital, this would be high medical necessity. Even though the MDM might only below for one established worsening chronic problem.
As coders and auditors, our job is to find these gaps, and not get weighed down by checking boxes on our resources.
This Week's Audit Tip Written By:
---
Omega Renne, CPC, CPCO, CPMA, CEMC, CIMC
Omega is a Compliance Consultant for our parent organization, DoctorsManagement.
###
Questions, comments?
If you have questions or comments about this article please contact us. Comments that provide additional related information may be added here by our Editors.
Latest articles: (any category)
Present on Admission POA Indicator
November 26th, 2018 - BC Advantage
This article will focus on the Present on Admission (POA) indicator which is used as a method of reporting whether a patient's diagnoses are present at the time they are admitted to a facility. We'll look at a few scenarios to determine the correct reporting of POA and the impact...
Billing 99211 Its not a freebie
November 9th, 2018 - BC Advantage
It seems like a simple code to bill, but CPT 99211 (established patient office visit) is by no means a freebie when it comes to documentation and compliance. This lowest level office visit code is sometimes called a "nurse visit" because CPT does not require that a physician be present...
Muscle Testing and Range of Motion Information
November 8th, 2018 - Wyn Staheli, Director of Research
Be sure to understand the unique code requirements for Muscle and Range of Motion Testing.
Medi-Cal Coverage Criteria for Hospital Beds and Accessories
November 7th, 2018 - Raquel Shumway
Medi-Cal coverage of child and adult hospital beds and accessaries. What is covered and what documentation is required.
Are you Ready for CMS' 2019 Medicare Physician Fee Schedule Final Rule?
November 7th, 2018 - Wyn Staheli, Director of Research
The waiting is over, the Final Rule for CMS' 2019 Medicare Physician Fee Schedule (MPFS) is available - all 2,379 pages for those looking for a little light reading. As anticipated, there are some pretty significant changes. Most of us were carefully watching the proposed changes to the Evaluation and ...
How to Use Modifier Indicators with NCCI Edits (2018-10-31)
October 31st, 2018 - Chris Woolstenhulme, QCC, CMCS, CPC, CMRS
To verify if clinical circumstances might justify the use of a modifier when billing code pairs, look at the NCCI edits and the modifier indicator.  Medicare may have restrictions on the use of a modifier used to bypass an edit.  This important part of coding can alert a payer or ...
Anesthesia and Pain Management
October 31st, 2018 - Chris Woolstenhulme, QCC, CMCS, CPC, CMRS
Anesthesia and Pain management is under close watch from the OIG according to a report from Anesthesia Business consultants, they stated, "The Health and Human Services Office of Inspector General (HHS OIG) reports in its most recent Semi-annual Report to Congress that in FY 2017 it brought criminal actions against 881 individuals or organizations ...