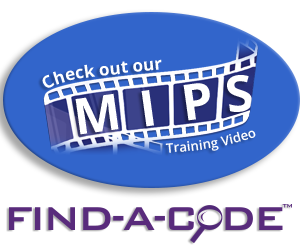 2019 Coding Changes for Chiropractic
January 3rd, 2019 - Wyn Staheli, Director of Research
0 Votes -

Sign in

to vote or comment.
---
The new year is upon us and so it's time to double check and make sure we are ready. Those with Premium Membership can use the ChiroCode Online Library and search all the official code sets: ICD-10-CM, CPT, and HCPCS. It also includes the updated NCCI edits and RVUs for fees.
Diagnosis Code Changes
For the official ICD-10-CM code set fiscal year 2019 which began October 1, 2018, there were 279 new codes, 51 deleted codes, and 143 revised codes. However, there weren't very many changes which affect chiropractic. As we mentioned back in September, the most significant change is the expansion of code M79.1 "Myalgia" to 4 new codes. M79.12 "Myalgia of auxiliary muscles, head and neck" and M79.18 "Myalgia, other site" will most likely be the ones used in your office. Since M79.12 says 'auxiliary muscles', it seems that M79.18 would be the most commonly used code of the two.
Code G71.0 "Muscular dystrophy" has also been expanded to define the type of dystrophy.
In the External Causes, Chapter 20, there were no new codes added that are of primary interest in a chiropractic setting. However, it should be noted that there were quite a few minor revisions to the External Causes, Chapter 20. For example, snowboarding is now one word instead of two (e.g., snow boarding) and baby stroller is two words instead of one.
Procedure Code Changes
For the CPT code set, there are 168 new codes, 72 deleted codes, and 49 revised codes for 2019. There were also many HCPCS code set revisions, but out of all these changes, there were only a few of particular note for chiropractic.
Remote Patient Monitoring Code Changes: Code 99090 "Analysis of clinical data stored in computers" was deleted. There were also changes to code 99091 and they added three new codes for these services (99453, 99454, 99457). There is also a new HCPCS code (G2010) for remotely evaluating recorded video and/or images submitted by an established patient.
New virtual check-in code: G2012 "Brief communication technology-based service, e.g. virtual check-in, by a physician or other qualified health care professional who can report evaluation and management services, provided to an established patient, not originating from a related e/m service provided within the previous 7 days nor leading to an e/m service or procedure within the next 24 hours or soonest available appointment; 5-10 minutes of medical discussion"
Deletion of Code 64550 "Application of surface (transcutaneous) neurostimulator (eg, TENS unit)" has been deleted. It appears that the surface application of neurostimulators is no longer separately payable.
Supply Code Changes
Please note that when the 2019 ChiroCode DeskBook was published, the HCPCS code set had not been released. The following are changes which might affect your practice:
Code A9273 description changed to "Cold or hot fluid bottle, ice cap or collar, heat and/or cold wrap, any type"
Code E0218 description changed to "Fluid circulating cold pad with pump, any type"
New code for diabetic foot inserts: A5514 "For diabetics only, multiple density insert, made by direct carving with cam technology from a rectified cad model created from a digitized scan of the patient, total contact with patient's foot, including arch, base layer minimum of 3/16 inch material of shore a 35 durometer (or higher), includes arch filler and other shaping material, custom fabricated, each"
Be sure to get your 2019 books today - CLICK HERE.
###
Questions, comments?
If you have questions or comments about this article please contact us. Comments that provide additional related information may be added here by our Editors.
Latest articles: (any category)
HHS Proposes Significant Changes to Patient Access Rules
February 11th, 2019 - Wyn Staheli, Director of Research
In a significant announcement on February 11, 2019, HHS proposed new rules aimed at improving interoperability of electronic health information. This announcement was made in support of the MyHealthEData initiative which was announced by the Trump administration on March 6, 2018. The goal of that initiative was to break down ...
Charging Missed Appointment Fees for Medicare Patients
February 7th, 2019 - Wyn Staheli, Director of Research
Some providers mistakenly think that they cannot bill a missed appointment fee for Medicare beneficiaries. You can, but Medicare has specific rules that must be followed. These rules are outlined in the Medicare Claims Policy Manual, Chapter 1, Section 30.3.13. You must have an official "Missed Appointment Policy" which is ...
Q/A: Do Digital X-rays Have Their Own Codes?
February 7th, 2019 - Wyn Staheli, Director of Research
Question Are you aware if digital x-ray of the spine requires a different code than plain x-ray? If so, where can I find the information specific to digital x-ray codes? Answer There are no separate codes for digital x-rays. However, there may be modifiers that are required to be submitted with the usual ...
Clinical Staff vs Healthcare Professional
February 5th, 2019 - Chris Woolstenhulme, QCC, CMCS, CPC, CMRS
State scope of practice laws and regulations will help determine who is considered Clinical staff and Other qualified Health Care professionals.  Physician or other qualified healthcare professionals:  Must have a State license, education training showing qualifications as well as facility privileges.  Examples of Qualified Healthcare professionals: (NOTE: this list is not all-inclusive, please refer to your payer ...
BC Advantage Now Offering Q-Pro CEUs!
February 5th, 2019 - Find-A-Code
We are excited to announce BC Advantage is now offering Q-Pro CEUs! It is now even easier to get your QPro CEUs and stay current with BC Advantage: offering news, CEUs, webinars and more. BC Advantage is the largest independent resource provider in the industry for Medical Coders, Medical Billers,...
Attestations Teaching Physicians vs Split Shared Visits
February 1st, 2019 - BC Advantage
Physicians often use the term "attestation" to refer to any kind of statement they insert into a progress note for an encounter involving work by a resident, non-physician practitioner (NPP), or scribe. However, for compliance and documentation purposes, "attestation" has a specific meaning and there are distinct requirements for what ...
Q/A: Can I Bill a Review of X-Rays?
February 1st, 2019 - Wyn Staheli, Director of Research & Aimee Wilcox, CPMA, CCS-P, CMHP, CST, MA, MT
It is not unusual for a healthcare provider to review x-rays taken and professionally read by another entity. Questions arise regarding how to bill this second review. It is essential to keep in mind that the global (complete) service of taking an x-ray is composed of both a professional and ...