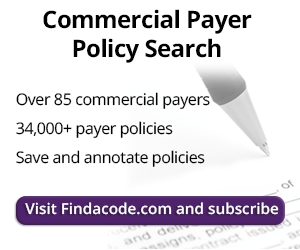 2019 Coding Changes for Chiropractic
January 3rd, 2019 - Wyn Staheli, Director of Research
0 Votes -

Sign in

to vote or comment.
---
The new year is upon us and so it's time to double check and make sure we are ready. Those with Premium Membership can use the ChiroCode Online Library and search all the official code sets: ICD-10-CM, CPT, and HCPCS. It also includes the updated NCCI edits and RVUs for fees.
Diagnosis Code Changes
For the official ICD-10-CM code set fiscal year 2019 which began October 1, 2018, there were 279 new codes, 51 deleted codes, and 143 revised codes. However, there weren't very many changes which affect chiropractic. As we mentioned back in September, the most significant change is the expansion of code M79.1 "Myalgia" to 4 new codes. M79.12 "Myalgia of auxiliary muscles, head and neck" and M79.18 "Myalgia, other site" will most likely be the ones used in your office. Since M79.12 says 'auxiliary muscles', it seems that M79.18 would be the most commonly used code of the two.
Code G71.0 "Muscular dystrophy" has also been expanded to define the type of dystrophy.
In the External Causes, Chapter 20, there were no new codes added that are of primary interest in a chiropractic setting. However, it should be noted that there were quite a few minor revisions to the External Causes, Chapter 20. For example, snowboarding is now one word instead of two (e.g., snow boarding) and baby stroller is two words instead of one.
Procedure Code Changes
For the CPT code set, there are 168 new codes, 72 deleted codes, and 49 revised codes for 2019. There were also many HCPCS code set revisions, but out of all these changes, there were only a few of particular note for chiropractic.
Remote Patient Monitoring Code Changes: Code 99090 "Analysis of clinical data stored in computers" was deleted. There were also changes to code 99091 and they added three new codes for these services (99453, 99454, 99457). There is also a new HCPCS code (G2010) for remotely evaluating recorded video and/or images submitted by an established patient.
New virtual check-in code: G2012 "Brief communication technology-based service, e.g. virtual check-in, by a physician or other qualified health care professional who can report evaluation and management services, provided to an established patient, not originating from a related e/m service provided within the previous 7 days nor leading to an e/m service or procedure within the next 24 hours or soonest available appointment; 5-10 minutes of medical discussion"
Deletion of Code 64550 "Application of surface (transcutaneous) neurostimulator (eg, TENS unit)" has been deleted. It appears that the surface application of neurostimulators is no longer separately payable.
Supply Code Changes
Please note that when the 2019 ChiroCode DeskBook was published, the HCPCS code set had not been released. The following are changes which might affect your practice:
Code A9273 description changed to "Cold or hot fluid bottle, ice cap or collar, heat and/or cold wrap, any type"
Code E0218 description changed to "Fluid circulating cold pad with pump, any type"
New code for diabetic foot inserts: A5514 "For diabetics only, multiple density insert, made by direct carving with cam technology from a rectified cad model created from a digitized scan of the patient, total contact with patient's foot, including arch, base layer minimum of 3/16 inch material of shore a 35 durometer (or higher), includes arch filler and other shaping material, custom fabricated, each"
Be sure to get your 2019 books today - CLICK HERE.
###
Questions, comments?
If you have questions or comments about this article please contact us. Comments that provide additional related information may be added here by our Editors.
Latest articles: (any category)
Q/A: How Many Diagnosis Codes do I use?
April 15th, 2019 - Wyn Staheli, Director of Research
Question: My patient has a lot of chronic conditions. Do I need to include all these on the claim? I know that I can have up to 12 diagnoses codes on a single claim. What if I need more than that? Answer: More is not always better. You only need to ...
Watch out for People-Related 'Gotchas'
April 15th, 2019 - Wyn Staheli, Director of Research
In Chapter 3 — Compliance of the ChiroCode DeskBook, we warn about the dangers of disgruntled people (pages 172-173). Even if we think that we are a wonderful healthcare provider and office, there are those individuals who can and will create problems. As frustrating as it may be, there are ...
Q/A: What do I do When a Medicare Patient Refuses to Sign an ABN?
April 8th, 2019 - Wyn Staheli, Director of Research
Question: What do I do when a Medicare patient refuses to sign an ABN? Answer: That depends on whether the patient is still demanding to have/receive the service/supply. If they aren't demanding the service, then there is no need to force the issue. Just make sure that you still have an ...
Prepayment Review Battle Plan
April 8th, 2019 - Wyn Staheli, Director of Research
Any type of payer review can create some headaches for providers and cause problems for a healthcare office. Even for a practice that has taken administrative steps to try and prevent a prepayment review, it can still happen. A prepayment review means that you must include documentation WITH your claim. ...
Looking Ahead - Changes in Dentistry!
April 3rd, 2019 - Christine Taxin
In the next 10 years, what is the biggest change dentistry will experience? FW: We all know healthcare in the U.S. is changing rapidly. Dentistry is no exception. My opinion is that several big changes are forthcoming. Most often, I think about changes that benefit patients and/or providers. Here are three ...
Q/A: I Submitted a Claim to the VA and it's Being Denied. Why?
April 1st, 2019 - Wyn Staheli, Director of Research
I submitted a claim to the VA and it's being denied. Why? There are several reasons why your claim might be denied by the Veterans Administration (VA). However, without more information about the claim itself (e.g., services billed), we can only provide the following general information about the VA and chiropractic ...
Corrections and Updates
April 1st, 2019 - Wyn Staheli, Director of Research
One constant in our industry is change. Policies change, contracts change, and there are updates. Also, people aren't perfect and mistakes can be made. So this article will cover a variety of topics. Published Articles We appreciate feedback from our valued customers. We have received feedback regarding two of our articles which ...