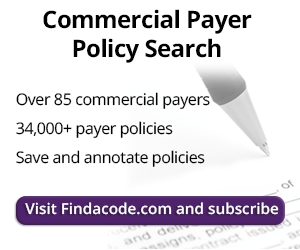 Q/A: Do Digital X-rays Have Their Own Codes?
February 7th, 2019 - Wyn Staheli, Director of Research
0 Votes -

Sign in

to vote or comment.
---
Question
Are you aware if digital x-ray of the spine requires a different code than plain x-ray? If so, where can I find the information specific to digital x-ray codes?
Answer
There are no separate codes for digital x-rays. However, there may be modifiers that are required to be submitted with the usual imaging codes. The Consolidated Appropriations Act of 2016, titled "Medicare Payment Incentive for the Transition from Traditional X-Ray Imaging to Digital Radiography and Other Medicare Imaging Payment Provision" makes it clear that Medicare wants providers to use digital imaging and like EHR, they will penalize you for not using the newer technology.
Effective January 1, 2017, Medicare requires modifier FX if the image is done with film. This modifier reduces payment of the technical component (and the technical component of the global fee) by 20 percent. It is important to note that this reduction ONLY applies to the technical component. This fee reduction can not be passed on to the beneficiary.
Effective January 1, 2018, Medicare also began to require modifier FY when the image utilizes computed radiography technology which Medicare defines as "cassette-based imaging which utilizes an imaging plate to create the image involved." This modifier reduces the payment by 7% until 2023 when it increases to 10 percent reduction.
Note: If an imaging service has both computed radiography (CR) technology and images taken using digital radiography (DR) views, then there will be no payment reduction.
Other Payers
Even though Medicare does not cover imaging taken by doctors of chiropractic, it is apparent that some other payers are also beginning to require these new modifiers. For example, Aetna's March 2017 newsletter states that they require modifier FX as of June 1, 2017. Moda Health seems to be following suit. Another payer policy that we found stated that although they require modifier FX now, they would not be reducing payment, but that policy was dated March 2017 so they may have updated their policy since that time.
Bottom line is that regardless of payer, we are recommending that you use these new modifiers on every applicable claim. Please note that "accidentally forgetting" to include them does not exclude you and future payer audits will require you to pay back the insurance amounts incorrectly paid.
###
Questions, comments?
If you have questions or comments about this article please contact us. Comments that provide additional related information may be added here by our Editors.
Latest articles: (any category)
Denial Management is Key to Profitability
July 15th, 2019 - Wyn Staheli, Director of Research
A recent article by Modern Medicine cited a report by Becker's Hospital Review which stated that it costs approximately $118 per claim to resolve a claim denial. Granted, these were hospital claims, but the process is essentially the same for outpatient services. In fact, you could say it is...
Q/A: Do I Use 7th Character A for all Sprain/Strain Care Until MMI?
July 15th, 2019 - Wyn Staheli, Director of Research
Question: It is in regards to the Initial and Subsequent 7th digit (A and D) for sprains and strains. Recently, I have been told that I should continue with the A digit until the patient has reached Maximum Medical Improvement (MMI) and then switch over to the D place holder. Is ...
The Importance of Medical Necessity
July 9th, 2019 - Marge McQuade, CMSCS, CHCI, CPOM
ICD-10-CM codes represent the first line of defense when it comes to medical necessity. Correctly chosen diagnosis codes support the reason for the visit as well as the level of the E/M services provided. The issue of medical necessity is one of definitions and communication. What is obvious to the ...
When Can You Bill Orthosis Components Separately?
July 9th, 2019 - Wyn Staheli, Director of Research
Othoses often have extra components. When can you bill those components separately? For example, can you bill for a suspension sleeve (L2397) with a knee orthosis (e.g., L1810)?
Q/A: Can I Put the DC's NPI in Item Number 24J for Massage Services?
July 8th, 2019 - Wyn Staheli, Director of Research
Question: Are there scenarios in which it is acceptable to put the DC's NPI in box 24j for massage services? Answer: While the answer to this is yes, it is essential to understand that there are very limited scenarios. In most cases, Item Number 24J is only for the NPI of the individual ...
Will the New Low Level Laser Therapy Code Solve Your Billing Issues?
July 8th, 2019 - Wyn Staheli, Director of Research
Low level laser therapy (LLLT), also known as cold laser therapy, is a form of phototherapy which uses a device that produces laser beam wavelengths, typically between 600 and 1000 nm and watts from 5–500 milliwatts (mW). It is often used to treat the following: Inflammatory conditions (e.g., Rheumatoid Arthritis, Carpal ...
Helping Others Understand How to Apply Incident to Guidelines
July 5th, 2019 - Namas
Over the past few months, I have worked with different organizations that have been misinterpreting the "incident to" guidelines and, in return, have been billing for services rendered by staff that are not qualified to perform the services per AMA and CPT. What I found within the variances is that ...