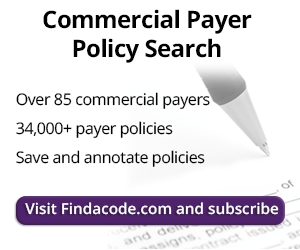 Medicare Revises Their Appeals Process
April 29th, 2019 - Wyn Staheli, Director of Research
0 Votes -

Sign in

to vote or comment.
---
On April 12, 2019, Medicare announced that there will be some changes to their appeals process effective June 13, 2019. According to the MLN Matters release (see References), the following policy revisions in the Medicare Claims Processing Manual (MCPM), Chapter 29 are taking place:
The policy on use of electronic signatures
Timing of signatures on transfer of appeal rights and the appointment of representative forms
Tolling an adjudication timeframe when trying to cure a defective appointment form
Limiting scope of redetermination review in certain instances
Application of good cause for late filing involving beneficiary accessibility
Application of good cause where there is a declared disaster: There are new instructions about what constitutes a disaster and what is allowed

— MLN Matters #MM11042
Of all these revisions, unless you are in a disaster area, the ones that will primarily affect most appeals are:
Electronic signatures are acceptable for submitting the appointment of a representative, as long as you use a CMS-approved secure Internet portal/application.
If there is a problem with the appeal request or a transfer of appeal rights, the MAC can notify the provider and/or beneficiary using mail, fax, or a secure internet portal/application.
Appeals need to include both the Health Insurance Claim Number (HICN) and the Medicare Beneficiary Identifier (MBI). There will likely be a new form that you will need to be using to ensure that you have both these required items.
Extra time is allowed if the beneficiary asks for documents to be converted into an accessible format (e.g., large print, Braille) or if they are getting help, due to a disability, from someone else (e.g., senior center) to file the appeal for them.
Amount in controversy changes — be sure to review all the red in section 250.2 of the MCPM (see References below).
The ongoing problem of the backlog of appeals necessitated some of the changes to MCPM. Throughout Chapter 29, there are numerous references to the Attorney Adjudicator Review at the Office of Medicare Hearings and Appeals (OMHA) as well as the Administrative Law Judge (ALJ).
###
Questions, comments?
If you have questions or comments about this article please contact us. Comments that provide additional related information may be added here by our Editors.
Latest articles: (any category)
Denial Management is Key to Profitability
July 15th, 2019 - Wyn Staheli, Director of Research
A recent article by Modern Medicine cited a report by Becker's Hospital Review which stated that it costs approximately $118 per claim to resolve a claim denial. Granted, these were hospital claims, but the process is essentially the same for outpatient services. In fact, you could say it is...
Q/A: Do I Use 7th Character A for all Sprain/Strain Care Until MMI?
July 15th, 2019 - Wyn Staheli, Director of Research
Question: It is in regards to the Initial and Subsequent 7th digit (A and D) for sprains and strains. Recently, I have been told that I should continue with the A digit until the patient has reached Maximum Medical Improvement (MMI) and then switch over to the D place holder. Is ...
The Importance of Medical Necessity
July 9th, 2019 - Marge McQuade, CMSCS, CHCI, CPOM
ICD-10-CM codes represent the first line of defense when it comes to medical necessity. Correctly chosen diagnosis codes support the reason for the visit as well as the level of the E/M services provided. The issue of medical necessity is one of definitions and communication. What is obvious to the ...
When Can You Bill Orthosis Components Separately?
July 9th, 2019 - Wyn Staheli, Director of Research
Othoses often have extra components. When can you bill those components separately? For example, can you bill for a suspension sleeve (L2397) with a knee orthosis (e.g., L1810)?
Q/A: Can I Put the DC's NPI in Item Number 24J for Massage Services?
July 8th, 2019 - Wyn Staheli, Director of Research
Question: Are there scenarios in which it is acceptable to put the DC's NPI in box 24j for massage services? Answer: While the answer to this is yes, it is essential to understand that there are very limited scenarios. In most cases, Item Number 24J is only for the NPI of the individual ...
Will the New Low Level Laser Therapy Code Solve Your Billing Issues?
July 8th, 2019 - Wyn Staheli, Director of Research
Low level laser therapy (LLLT), also known as cold laser therapy, is a form of phototherapy which uses a device that produces laser beam wavelengths, typically between 600 and 1000 nm and watts from 5–500 milliwatts (mW). It is often used to treat the following: Inflammatory conditions (e.g., Rheumatoid Arthritis, Carpal ...
Helping Others Understand How to Apply Incident to Guidelines
July 5th, 2019 - Namas
Over the past few months, I have worked with different organizations that have been misinterpreting the "incident to" guidelines and, in return, have been billing for services rendered by staff that are not qualified to perform the services per AMA and CPT. What I found within the variances is that ...