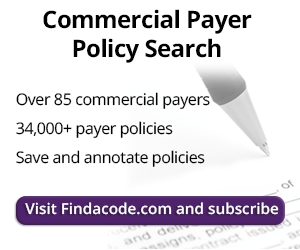 Medicare Revises Their Appeals Process
April 29th, 2019 - Wyn Staheli, Director of Research
0 Votes -

Sign in

to vote or comment.
---
On April 12, 2019, Medicare announced that there will be some changes to their appeals process effective June 13, 2019. According to the MLN Matters release (see References), the following policy revisions in the Medicare Claims Processing Manual (MCPM), Chapter 29 are taking place:
The policy on use of electronic signatures
Timing of signatures on transfer of appeal rights and the appointment of representative forms
Tolling an adjudication timeframe when trying to cure a defective appointment form
Limiting scope of redetermination review in certain instances
Application of good cause for late filing involving beneficiary accessibility
Application of good cause where there is a declared disaster: There are new instructions about what constitutes a disaster and what is allowed

— MLN Matters #MM11042
Of all these revisions, unless you are in a disaster area, the ones that will primarily affect most appeals are:
Electronic signatures are acceptable for submitting the appointment of a representative, as long as you use a CMS-approved secure Internet portal/application.
If there is a problem with the appeal request or a transfer of appeal rights, the MAC can notify the provider and/or beneficiary using mail, fax, or a secure internet portal/application.
Appeals need to include both the Health Insurance Claim Number (HICN) and the Medicare Beneficiary Identifier (MBI). There will likely be a new form that you will need to be using to ensure that you have both these required items.
Extra time is allowed if the beneficiary asks for documents to be converted into an accessible format (e.g., large print, Braille) or if they are getting help, due to a disability, from someone else (e.g., senior center) to file the appeal for them.
Amount in controversy changes — be sure to review all the red in section 250.2 of the MCPM (see References below).
The ongoing problem of the backlog of appeals necessitated some of the changes to MCPM. Throughout Chapter 29, there are numerous references to the Attorney Adjudicator Review at the Office of Medicare Hearings and Appeals (OMHA) as well as the Administrative Law Judge (ALJ).
###
Questions, comments?
If you have questions or comments about this article please contact us. Comments that provide additional related information may be added here by our Editors.
Latest articles: (any category)
RT and LT Modifier Usage Change (effective 2019-03-01)
May 21st, 2019 - Chris Woolstenhulme, QCC, CMCS, CPC, CMRS
According to Noridian Medicare, there are new changes required when reporting the RT and LT modifier(s). In the past, it was appropriate to bill the RT and LT modifier on the same line when it was required for certain HCPCS codes. Noridian released a publication stating claims reported with RT/LT on the same ...
Do You Understand Medicare
May 21st, 2019 - Christine Taxin
Even though we may think we truly understand what it means to be a participating provider, Medicare doesn't quite work the way that other insurance plans do. Far too many providers do not understand the difference and get into hot water. To further complicate matters, the rules are different for ...
An Update on the DHS OIG's Effort to Combat Fraud & Abuse
May 17th, 2019 - Namas
An Update on the DHS OIG's Effort to Combat Fraud & Abuse Every year, the Department of Health and Human Services (DHS) Office of Inspector General (OIG) is required by law to release a report detailing the amounts deposited and appropriated to the Medicare Trust Fund, and the source of such ...
Prioritize Your Patient's Financial Experience
May 13th, 2019 - Wyn Staheli, Director of Research
For many years, the ChiroCode DeskBook has emphasized the need for providers to firmly establish the patient's financial responsibility through clear communication. We even created a "Patient Financial Responsibility Acknowledgment Form" to help providers with this process. Lately, the lack of pricing transparency has been in the news and even ...
Q/A: Two Payers Both Paid the Claim. Who Gets the Refund?
May 13th, 2019 - Wyn Staheli, Director of Research
Question We have a personal injury situation where we submitted a claim was sent to the patient's auto policy carrier who refused payment. We then submitted it to her other insurance. Eventually, both companies paid her claims. Her auto paid at full value, and her secondary paid at a reduced rate ...
HIPAA Violation Penalties Revised
May 6th, 2019 - Wyn Staheli, Director of Research
On April 30, 2019 The Department of Health and Human Services (HHS) announced that "HHS will apply a different cumulative annual CMP limit for each of the four penalties tiers in the HITECH Act." Unlike other notices which require a proposed rule with a comment period, this notice will take ...
Q/A: If Orthopedic Tests are Negative, do You List Them in Your Treatment Notes?
May 6th, 2019 - Wyn Staheli, Director of Research
Question: If orthopedic tests are negative, do you need to still list them in your treatment notes? Answer: Yes. Any tests which are performed by a healthcare provider, regardless of the result, should be documented in the patient record. This record is the only way that a reviewer or another provider ...