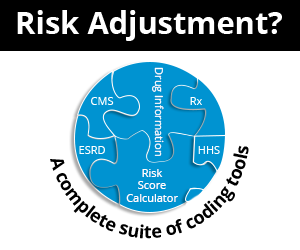 What Medical Necessity Tools Does Find-A-Code Offer?
June 13th, 2019 - Aimee Wilcox, CPMA, CCS-P, CST, MA, MT, Director of Content
0 Votes -

Sign in

to vote or comment.
---
Find-A-Code is a great resource for individuals working in all aspects of healthcare, from providers and ancillary staff to the attorneys and payers who assess and critique the documentation supporting the services performed. When recently asked what tools Find-A-Code has to help support medical necessity, our response was, "We provide many resources on medical necessity."
Some of the Find-A-Code resources that help identify medical necessity include:
Medicare-specific resources:

National Coverage Determinations (NCDs) and Local Coverage Determinations (LCDs) identify medical necessity in the Coverage Guidance section and ICD-10-CM codes which support a particular CPT or HCPCS code are found in the Coding Information section.
Medicare Pub100 publications in the Info tab at the top of the screen facilitate access to Medicare policies and guidelines where medical necessity is often further defined.
Medicare's 1995 and 1997 Evaluation and Management Guidelines, including the Table of Risk, helps identify the severity of an illness, condition, injury, or symptom that may support the work required at a specific level of service.

Commercial payer resources:

Our Commercial Payer Policies add-on tool is a great resource for quickly accessing specific payer policies pertaining the ICD-10-CM, CPT, or HCPCS code. Quickly identify if a policy is in place for the service you are reviewing, along with any identifiably linked ICD-10-CM codes or documentation requirements.

Find-A-Code also provides access to specific code-set resources:

American Medical Association's (AMA) CPT code set and complete guidelines. These include general and chapter-specific guidelines, including those associated with identifying the proper level of E/M service based on Nature of Presenting Problems (NPP). The NPP explanations are very helpful when trying to decide if the level of service is warranted.
Common Language Descriptions (CLDs) for ICD-10-CM codes assist in defining the diagnosis and understanding the terminology in layman's terms. Additionally, access to both the General and Chapter-specific ICD-10-CM Coding Guidelines identify coding conventions for sequencing and multiple code reporting to ensure accuracy and support medical necessity.
Current Dental Terminology (CDT) facilitates access to dental-specific codes and their guidelines.

Newsletters and Articles that provide additional understanding of appropriate code reporting and medical necessity at the individual code level or in general:

CPT Assistant
Decision Health
American Hospital Association
Just Coding Newsletter
BC Advantage
Find-A-Code subject matter expert articles listed on the Topics page or at the bottom of the home page under "Articles."
As you can see, Find-A-Code is a comprehensive online tool that links vital resources directly to each code in any of the code sets, often removing the need for bookmarks or browser history searches. Find-A-Code saves your last 10 codes, searches, and pages visited so you can quickly find them in one location and you can even save specific codes and customized notes specific to them within the "My Codes" tool that can then be easily shared among others within your organization and subscription group.
If you've been searching for that "all-in-one" online resource but haven't had an opportunity to play around in Find-A-Code, register today for the 28-day Free Trial (no credit card required) and get a feel for how this time-(and revenue) saving product can increase productivity and reduce stress.
###
Questions, comments?
If you have questions or comments about this article please contact us. Comments that provide additional related information may be added here by our Editors.
Latest articles: (any category)
Healthcare Common Procedure Coding System (HCPCS)
August 13th, 2019 - Chris Woolstenhulme, QCC, CMCS, CPC, CMRS
There are three main code sets and Healthcare Common Procedure Coding System (HCPCS), is the third most common code set used. They are often called Level II codes and are used to report non-physician products supplies and procedures not found in CPT, such as ambulance services, DME, drugs, orthotics, supplies, ...
Q/A: I Billed 2 Units of L3020 and Claim was Denied. Why?
August 13th, 2019 - Brandy Brimhall, CPC, CMCO, CCCPC, CPCO, CPMA
Question: We billed 2 units of L3020 but were denied for not using the right modifiers. What should we do? Answer: Rather than submitting two units of the L3020 to indicate that the patient one orthotic for each foot, you would need to use modifiers identifying left foot and right foot. Appropriate coding ...
Will Medicare Change Their Rules Regarding Coverage of Services Provided by a Chiropractor?
August 13th, 2019 - Wyn Staheli, Director of Research
Two separate pieces of legislation introduced in the House of Representatives (H.R. 2883 and H.R. 3654) have the potential to change some of Medicare's policies regarding doctors of chiropractic. Find out what these two bills are all about and how they could affect Medicare policies.
The OIG Work Plan: What Is It and Why Should I Care?
August 9th, 2019 - Namas
The Department of Health and Human Services (HHS) founded its Office of Inspector General (OIG) in 1976 and tasked it with the responsibility to combat waste, fraud, and abuse within Medicare, Medicaid, and the other HHS programs. With approximately 1,600 employees, HHS OIG is the largest inspector general's office within ...
CMS Proposes to Reverse E/M Stance to Align with AMA Revisions
August 6th, 2019 - Wyn Staheli, Director of Research
On July 29, 2019, CMS released their proposed rule for the Medicare Physician Fee Schedule for 2020. Last year's final rule "finalized the assignment of a single payment rate for levels 2 through 4 office/outpatient E/M visits beginning in CY 2021." It also changed some of the documentation requirements (e.g., ...
Q/A: What if my Patient Refuses to Fill out the Outcome Assessment Questionnaire?
August 6th, 2019 - ChiroCode
Question: What if my Medicare patient refuses to fill out the outcome assessment questionnaire? Answer: Inform the patient that Medicare requires that you demonstrate functional improvement in order for them to determine if the care is medically necessary. In other words, they may have to pay for the care out of pocket if ...
The Slippery Slope For CDI Specialists
August 2nd, 2019 - Namas
Who knew that when Jack & Jill when up the hill to fetch a pail of water, they would have to ensure that in order to keep the level of water the same on the way back down, they would need to both support the pail. Many of you in this industry are ...