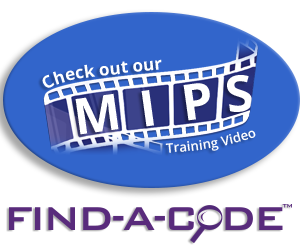 Q/A: How do I Bill Mobile Clinic Services?
July 29th, 2019 - Evan Gwilliam DC, MBA, BS, CPC, CCPC, CPC-I, QCC, MCS-P, CPMA, CMHP, AAPC Fellow
0 Votes -

Sign in

to vote or comment.
---
Question:
I have a part time mobile clinic. I travel to treat patients at their homes. Are there special considerations when billing for these encounters?
Answer:
On the CMS 1500 Claim Form, Item Number 24b, there is a space to designate where a service was rendered. Place of Service Codes are two-digit codes placed on health care professional claims to indicate the setting in which a service was provided. Most chiropractors use code 11 which designates that it was in an office setting. But here are a few others that you might consider:
04 Homeless Shelter A facility or location whose primary purpose is to provide temporary housing to homeless individuals (e.g., emergency shelters, individual or family shelters).

09 Prison/ Correctional Facility A prison, jail, reformatory, work farm, detention center, or any other similar facility maintained by either Federal, State or local authorities for the purpose of confinement or rehabilitation of adult or juvenile criminal offenders.
11 Office Location, other than a hospital, skilled nursing facility (SNF), military treatment facility, community health center, State or local public health clinic, or intermediate care facility (ICF), where the health professional routinely provides health examinations, diagnosis, and treatment of illness or injury on an ambulatory basis.
12 Home Location, other than a hospital or other facility, where the patient receives care in a private residence.
13 Assisted Living Facility Congregate residential facility with self-contained living units providing assessment of each resident's needs and on-site support 24 hours a day, 7 days a week, with the capacity to deliver or arrange for services including some health care and other services. (effective 10/1/03)
14 Group Home A residence, with shared living areas, where clients receive supervision and other services such as social and/or behavioral services, custodial service, and minimal services (e.g., medication administration).
15 Mobile Unit A facility/unit that moves from place-to-place equipped to provide preventive, screening, diagnostic, and/or treatment services.
16 Temporary Lodging A short term accommodation such as a hotel, camp ground, hostel, cruise ship or resort where the patient receives care, and which is not identified by any other POS code. (effective 4/1/08)
18 Place of Employment/Worksite A location, not described by any other POS code, owned or operated by a public or private entity where the patient is employed, and where a health professional provides on-going or episodic occupational medical, therapeutic or rehabilitative services to the individual.
Therefore, code 12 might be the next most commonly used after code 11. You might also consider code 15 for mobile unit, but note that special rules apply. Here is some guidance from CMS:
Special Considerations
When services are furnished in a mobile unit, they are often provided to serve an entity for which another POS code exists. For example, a mobile unit may be sent to a physician's office or a skilled nursing facility. If the mobile unit is serving an entity for which another POS code already exists, providers should use the POS code for that entity. However, if the mobile unit is not serving an entity which could be described by an existing POS code, the providers are to use the Mobile Unit POS code 15. Apply the nonfacility rate to payments for services designated as being furnished in POS code 15; apply the appropriate facility or nonfacility rate for the POS code designated when a code other than the mobile unit code is indicated.
###
Questions, comments?
If you have questions or comments about this article please contact us. Comments that provide additional related information may be added here by our Editors.
Latest articles: (any category)
Eliminating Consultation Codes?
October 10th, 2019 - Chris Woolstenhulme, QCC, CMCS, CPC, CMRS
There are a few payers that have joined with CMS in discontinuing payment for consultation codes. Most recently, Cigna stated that, as of October 19, 2019, they will implement a new policy to deny the following consultation codes: 99241, 99242, 99243, 99244, 99245, 99251, 99252, 99253, 99254 and 99255. United Healthcare announced they ...
Hypertension & ICD-10
October 7th, 2019 - Raquel Shumway
Hypertensive Diseases and ICD-10. Helps and examples for these codes.
CMS and HHS Tighten Enrollment Rules and Increase Penalties
October 1st, 2019 - Wyn Staheli, Director of Research
This ruling impacts what providers and suppliers are required to disclose to be considered eligible to participate in Medicare, Medicaid, and Children's Health Insurance Program (CHIP). The original proposed rule came out in 2016 and this final rule will go into effect on November 4, 2019. There have been known problems ...
Federal Workers Compensation Information
October 1st, 2019 - Wyn Staheli, Director of Research
When federal employees sustain work-related injuries, it does not go through state workers compensation insurance. You must be an enrolled provider to provide services or supplies. The following are some recommended links for additional information about this program. Division of Federal Employees' Compensation (DFEC) website Division of Federal Employees' Compensation (DFEC) provider ...
2020 Official ICD-10-CM Coding Guideline Changes Are Here!
October 1st, 2019 - Wyn Staheli, Director of Research
It's that time of year for offices to get ready for the ICD-10-CM code revisions. As part of that process, it's also good to know what is going on with the ICD-10-CM Official Guidelines for Coding and Reporting. In the examples listed below, strikeout text is deleted and highlighted text ...
The New ICD-10-CM Code Updates Are Here — Are You Ready?
October 1st, 2019 - Aimee Wilcox, CPMA, CCS-P, CST, MA, MT, Director of Content
Chapter 1: Certain Infectious and Parasitic Diseases (A00-B99) A small revision in the description changed[STEC] to (STEC) for B96.21, B96.22, B96.23. Remember, in the instructional guidelines, ( ) parentheses enclose supplementary words not included in the description (or not) and [ ] brackets enclose synonyms, alternative wording, or explanatory phrases. Chapter 2: ...
New Codes for Dry Needling
September 30th, 2019 - Wyn Staheli, Director of Research
Find out what you need to know about the new codes for dry needling, also known as trigger point acupuncture.