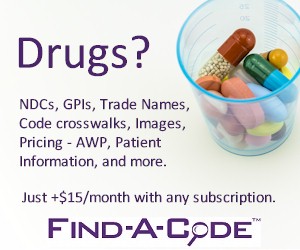 Subsequent nursing home visits
December 29th, 2015 - Codapedia Editor
0 Votes -

Sign in

to vote or comment.
---
Subsequent nursing facility visits are reported with codes 99307--99310. These codes are defined as per day codes, and do not have new and established patient divisions. There are also initial nursing facility codes, which only a physician may use. A physician or NPP may use the subsequent facility codes, either before or after the initial service (the admission) is performed. It is often the case that an NPP sees the patient before the physician, in order to write initial orders and make sure the patient is stable on the first or second day of their stay in the nursing facility. Then, the physician comes in at a later date to do the admission.
The subsequent nursing facility visits require 2 of 3 of the key components of history, exam and MDM. Because they are defined as per day codes, there is no additional payment if the clinician sees the patient more than once in the same calendar date.
There are no frequency rules about these codes. A physician may see the patient as many times as is medically necessary. There is no doubt that seeing the patient very frequently will result in carrier notice. Also, CMS is wary of physicians who provide "gang" visits. That is, as long as I'm here, I might as well see all my patients. See patients outside of the mandated visits (mandated by the nursing home's condition of participation) only as often as is medically necessary. If the nurse or family asks you to see a patient, document that and the reason why.
Be careful about billing a low level nursing facility visit with a procedure. This is a trigger to your carrier and may result in an audit. Bill for both only if they are both medically necessary, and documented and the E/M service is separate and distinct.
For patients in skilled nursing facility, a visit is required every 30 days for the first 90 days, and every 60 days after that.
There are two place of service codes relevant: POS 31 for a skilled facility and POS 32 for nursing facility.
Use these codes for patients in swing beds, as well.
###
Questions, comments?
If you have questions or comments about this article please contact us. Comments that provide additional related information may be added here by our Editors.
Latest articles: (any category)
Behavioral Health Provider Types
October 3rd, 2017 - Raquel
In the behavioral health profession there are a several different types of providers with varying degrees and credentials. Third party payer coverage, billing requirements, and reimbursement vary depending on the practitioner's professional type or specialty. Also, it is important to be aware...
Annual Wellness Visit & Health Risk Assessment
September 30th, 2017 - Find-A-Code
Coding tips regarding Annual Wellness Visit and Health Risk Assessments
How to Properly Report Prolonged Evaluation and Management Services
September 13th, 2017 - Aimee Wilcox
Have you ever had a patient take more time with the provider than they were scheduled for? Do you understand which codes to report and the rules that govern them to allow for better reimbursement? Prolonged Service codes were created just for that reason but you must carefully follow the documentation ...
Auditing Prolonged Evaluation and Management Services
September 12th, 2017 - Aimee Wilcox
At times, there are patients who require prolonged face-to-face time with the provider to discuss or be counseled about their condition, plan of care, risks, complications, alternative therapies, or other medical issues. When E/M services go wild, taking significantly longer than the typical time associated with it, that direct face-to-face ...
Medicare Improper Payment Report (2016)
September 1st, 2017 - Wyn Staheli
The Medicare Improper Payment Report for 2016 has been released by the OIG. Please note that the improper payment rate does not measure fraud. Rather, it estimates the payments that did not meet Medicare coverage, coding, and billing rules. The estimated Medicare FFS payment accuracy rate (claims...
Quality Measures for Chiropractic - 2017
August 29th, 2017 - Wyn Staheli
Performance Measurement Codes for Chiropractic: Although there are hundreds of Performance Measurement (PM) services and events, only two may be reported for chiropractors for the 2017 reporting year. Pain Assessment and Follow-Up 131 ENCOUNTER: 90791, 90792, 92002, 92004, 92012, 92014, 92507, 92508, 92526, 96116, 96118, 96150, 96151, 97161, 97162, 97163, 97164, 97165, 97166, 97167, ...
VA Patient-Centered Community Care and Veterans Choice Program: Worth it for Providers?
August 23rd, 2017 - Jared Staheli
As the opportunities for providers outside the VA system expand in order to meet demand, you may be interested in offering services to veterans and the VA, if you are not already. With overwhelming bipartisan support, the opportunities are not likely to abate, but are those opportunities worth it for ...