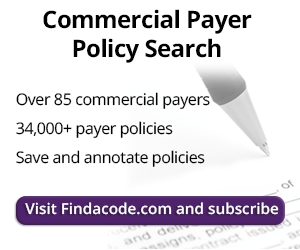 How to research coding questions
June 1st, 2015 - Christina Benjamin
0 Votes -

Sign in

to vote or comment.
---
How to Research Answers to Coding Questions
Perform a search of the discussion board or listserv website prior to posting a new question. For your search terms, include specific words such as the diagnostic statement or procedure statement or the specific code number or the words "ICD-9 code" or "CPT® code." Use quotation marks as necessary to limit your search further. This same searching technique can be applied to general Google searches as well. For Codapedia, the search box is clearly visible and oftentimes articles that are pertinent to hot topics are already posted and may have the answer that you are looking for. If you want to see an extensive list of the available articles in Codapedia, use the search term "Codapedia Editor." This brings up all the articles written by the original codapedia editors. Articles contributed by other specified individuals will not show up from this search.

If a search fails to reveal the specific information you are seeking, try posting a new question. Here are some tips for posting or asking a question.

Always remember that per HIPAA laws, no personally identifying patient information should be submitted via any forum or website. Also, be sure to read the terms or guidelines for the usage of the listserv or forum prior to posting your question. These guidelines also give you information on how to unsubscribe to the forum or listserv or discussion board if you wish negating the need to post a request to the whole forum to be unsubscribed. Also, the directions to unsubscribe are almost always at the bottom of every email that you receive from any listserv including Codapedia's listserv.
It is also easy to make this mistake; you are in the middle of coding or billing and you have your CAPs lock on because the system requires it and then you run out to a forum and start typing in all caps without realizing it…it only takes a second to hit the caps lock button before typing the message and to hit it again when you are done and are back to your system that you were working in.
Subject line note: for a discussion board or listserv, be sure to post a descriptive subject line for your question and be sure to identify the most appropriate area of the board for the nature of your question. Don't tag your question onto and older post that had nothing to do with your topic; change the subject line if the discussion topic changes within a thread or better yet start a new thread if possible. Keep all replies to any answers you receive on that same discussion thread instead of starting a new one so that others can follow the discussion. Often the discussion groups are divided by coding specialty or organized in some other way. Otherwise a descriptive subject line describes the nature of your question such as "coding knee arthroscopy."

Non-descriptive subject line examples include just listing

"your name" or

putting the term "coding question" or "CPT® coding help" or "Help" etc. You may have to repost your question or directly email one of the experts on the board who answers many of the questions if you don't get a response after a few days.
It is recommended that you ask only one question at a time; multiple questions can be confusing and all of them may not be recognized by the colleague responding to you
It is recommended that you provide as much detail about the medical record documentation that you have when submitting your inquiry without providing any personally identifying patient information, of course. Such as an extensive excerpt of the operative note for a CPT® or ICD-9 procedure code.
It is recommended that you list the kind of payer involved, if possible or applicable
It is recommended that you list the state in which the provider and payer are located as each this can have an effect on the billing and coding rules and reporting requirements
It is recommended that you specify the setting for which you are coding or billing for (facility fees on the UB-04 or professional fees on the CMS 1500; inpatient—acute care or emergency department or skilled nursing facility, etc.)
It is recommended that you specify the type of coding guidance that you need (ICD-9 diagnosis code, ICD-9 procedure code, CPT® procedure code, both ICD-9 and CPT® procedure code, ICD-9 diagnosis code and CPT® procedure code, etc.)

Remember that the advice given by anyone other than by an official source is not to be considered authoritative or legal. It is given only as a professional opinion and you are solely responsible for final code assignment and other reimbursement-related decisions. Here are some tips on how to evaluate answers you may be given.
Don't just take the answer; think it through and carefully evaluate it!
Note whether the response included official references or is consistent with basic coding rules/guidelines or whether it was simply an opinion, from experience, insurance specific, facility policy specific answer
If necessary, do further research and ask other sources. Nothing is wrong with getting a second or more opinion. As you gain experience with different sources, you will be able to determine what the best sources are. Don't be afraid to professionally (not critically) challenge any advice given with further questions.
Use your gut! Learn to fine tune your personal judgment skills and to constantly reevaluate advice you have received on confusing coding issues. This is a sort of safety measure to catch anything inaccurate or faulty that you may have inadvertently picked up along the way and it will help to improve confidence in your own judgment.
It is my personal practice to make computerized notes of many of the answers I have received along with any references given for these answers. It is important to have a separate electronic personal file that you can keep with you so that you can readily search the file in the future if the question comes up again. You can also review the entire file periodically for errors and to update it with any new information as it comes available. This electronic file will also help you to apply previous answers given to future questions when appropriate. The goal is to detect patterns and principles so that you can apply them for new situations.
###
Questions, comments?
If you have questions or comments about this article please contact us. Comments that provide additional related information may be added here by our Editors.
Latest articles: (any category)
CMS says Codes are on the Move!
December 9th, 2019 - Chris Woolstenhulme, QCC, CMCS, CPC, CMRS
Have you noticed your LCDs are missing something? CMS is moving codes out of LCDs and into Billing and Coding Articles. MACs began moving ICD-10-CM, CPT/HCPCS, Bill Type, and Revenue codes in January 2019, and will continue through January 2020. Therefore, if there is an LCD with its codes removed, you will find ...
Preview the PDGM Calculator for Home Health Today
December 4th, 2019 - Wyn Staheli, Director of Research
Until February 1, 2020, you can preview Find-A-Code's Patient-Driven Groupings Model (PDGM) home health payment calculator by going to https://www.findacode.com/tools/home-health/ .
Hypertension ICD-10-CM Code Reporting Table
November 25th, 2019 - Wyn Staheli, Director of Research
In ICD-10-CM, hypertension code options do not distinguish between malignant and benign or between controlled and uncontrolled. What is important for code selection is knowing if the hypertension is caused by or related to another condition. The following table shows some of these options.
New Medicare Home Health Care Payment Grouper — Are You Ready?
November 25th, 2019 - Wyn Staheli, Director of Research
In 2020, Medicare will begin using a new Patient-Driven Groupings Model (PDGM) for calculating Medicare payment for home health care services. This is probably the biggest change to affect home health care since 2000.
VA: How UCR Charges are Determined
November 20th, 2019 - Chris Woolstenhulme, QCC, CMCS, CPC, CMRS
How does the VA determine charges billed to third party payers for Veterans with private health insurance? According to the VA. "38 C.F.R 17.101 stipulates the basic methodology by which VA bills third party insurance carriers. In order to generate a charge for medical services, VA establishes reasonable charges for five ...
Medical Insurance Coverage for TMJ Disorders (TMD)
November 19th, 2019 - Christine Taxin
It is agreed that TMJ disorders should be covered by insurance. There are often questions whether it is covered by medical insurance or dental insurance and where the line is that separates coverage.Medical Insurance typically is the primary insurance for TMJ disorders. The reason is that joints are found anywhere ...
Changes to Portable X-Ray Requirements
November 19th, 2019 - Wyn Staheli, Director of Research
On September 30, 2019, CMS published a final rule which made changes to portable x-ray services requirements as found in the law.