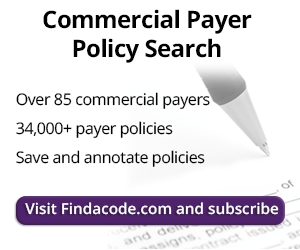 Endocrinology - Articles
Preventive Medicine: Diabetes Screening
May 9th, 2018 - Find-A-Code™
Preventive Medicine Topics Page Diabetes Screening Procedure Codes 82947: Glucose; quantitative, blood (except reagent strip) 82948: Glucose; blood, reagent strip 82950: Glucose; post glucose dose (includes glucose) 82951: Glucose; tolerance test (GTT), 3 specimens (includes glucose) 82952: Glucose; tolerance test, each additional beyond 3 specimens (List separately in addition to ...
Preventive Medicine: Diabetes Self-Management Training
May 9th, 2018 - Find-A-Code™
Preventive Medicine Topics Page Diabetes Self-Management Training Procedure Codes G0108: DSMT, individual, per 30 minutes G0109: GDSMT, group (2 or more), per 30 minutes ICD-10-CM G0108-G0109: Contact payer for more specific guidelines Frequency G0108-G0109 Initial year: Up to 10 hours of initial training within a continuous 12-month period Subsequent years: Up to 2 ...
Diagnosis billing with J0888
January 9th, 2018 - Find-A-Code
The following information is from LCD L36276. The diagnosis codes listed below require the use of the EC modifier (ESA administered to treat anemia not due to anti-cancer radiotherapy or anti-cancer chemotherapy) when submitting claims for J0888. In addition, these diagnosis codes are marked with an * indicating they require a dual diagnosis. The ...
Common Diseases Treated by an Endocrinologist
July 31st, 2017 - Chris Woolstenhulme, CPC, CMRS
Some of the most common diseases treated by an Endocrinologist are: Adrenal disorders Diabetes (Type 1 and 2) All Endocrine disorders in children and adults Thyroid disorders such as Hypothyroidism, Hyperthyroidism, Hashimoto's Thyroiditis, Thyroid cancer, Graves' Disease, and Thyroid Nodules Polycystic Ovarian Syndrome (PCOS) Osteoporosis Men's Health-Low testosterone; infertility Pituitary tumors Thyroid Cancer Adrenal insufficiency; Addison's Disease Disorders of mineral metabolism Parathyroid tumors ...
Clinical Scenario for Coding with ICD-10-CM: Abdominal Pain
January 31st, 2017 - Chris Woolstenhulme, CPC, CMRS
Chief Complaint • "My stomach hurts and I feel full of gas." History • 47 year old male with mid-abdominal epigastric pain, associated with severe nausea & vomiting; unable to keep down any food or liquid. Pain has become "severe" and constant. • Has had an estimated 13 pound weight loss over the past ...
Article categories