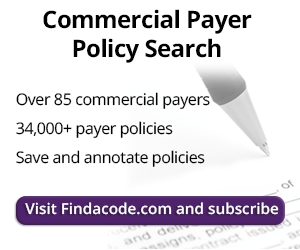 Diagnosis Coding - Articles
Present on Admission POA Indicator
November 26th, 2018 - BC Advantage
This article will focus on the Present on Admission (POA) indicator which is used as a method of reporting whether a patient's diagnoses are present at the time they are admitted to a facility. We'll look at a few scenarios to determine the correct reporting of POA and the impact...
Q/A: What Diagnosis Codes Should I Use for TMJ Headache Massage for Coverage?
October 16th, 2018 - Wyn Staheli, Director of Research
Question: We have been receiving several DDS referrals to our massage therapists who do intra-oral work. The only problem is that the referral from the DDS lists code R51 for headaches as the only DX code. Since most plans don't cover massage therapy for headaches alone, are there any codes that can distinguish the headaches as ...
HCC - Acceptable Provider Interpretation for Diagnostic Testing
October 1st, 2018 - Wyn Staheli, Director of Research
The following table is taken from the Contract-Level Risk Adjustment Data Validation Medical Record Reviewer Guidance dated 2017-09-27 (see References). It is a listing of acceptable provider interpretation of diagnostic testing. Acceptable Examples include: Cardiology and Vascular Surgeons Echocardiogram (including Doppler, Duplex, Color flow of the heart vessels) EKG (electrocardiogram) – Stress test, Cardiac ...
Pre-Existing or Gestational?
February 1st, 2018 - Chris Woolstenhulme, QCC, CMCS, CPC, CMRS
It is important to make a clear distinction between pre-existing conditions and conditions brought on by the pregnancy (gestational) or pregnancy related conditions. Condition Detail: Was the condition pre-existing (i.e., present before pregnancy)? Trimester: When did the pregnancy-related condition develop? Casual Relationship: Establish the relationship between the pregnancy and the complication (e.g., preeclampsia) Code examples: O99.011 Anemia ...
Important CDI and Coding Updates
February 1st, 2018 - Richard Pinson, MD, FACP, CCS, and Cynthia Tang, RHIA, CCS
COPD and Pneumonia The requirement for code J44.0 (chronic obstructive pulmonary disease with acute lower respiratory infection) to be coded first when a patient has pneumonia and COPD has been eliminated as of October 1. The 2018 version of ICD-10-CM replaced the "use additional code" with "code also." According...
Patients Undergoing a Bone Marrow Transplant (BMT)
February 1st, 2018 - Find-A-Code
Accoring to Wisconsin Physicians Service Insurance Corporation L34699, when using J2820 for patients undergoing a bone marrow transplant (BMT), 2 diagnosis codes are required:1) Z76.82 Awaiting organ transplant status2) Pick a code from one of these categories: C81- Hodgkin Lymphoma C82- Follicular Lymphoma Non-follicular Lymphoma C83.1- Mantle cell lymphoma C83.3- Diffuse large B-cell lymphoma C83.7- Burkitt lymphoma C83.8- Other (Intravascular large B-cell lymphoma, Primary effusion B-cell lymphoma, or Lymphoid granulomatosis) Mature T/NK-cell lymphomas C84.4- Peripheral T-cell ...
Q and A: Coding Mixed Cardiogenic and Septic Shock
February 1st, 2018 - BC Advantage
Q: If the attending documented, "likely mixed cardiogenic and septic shock," can I assign codes R57.0 and R65.21? A: Refer to the documentation within the code book. If you open the book to the R57 code grouping (Shock not elsewhere classified) listed below there is an Excludes1 note. Remember,...
Traumatic Subluxation Coding Controversy
February 1st, 2018 - Wyn Staheli, Director of Research
There has been some controversy over the use of the ICD-10-CM subluxation codes commonly referred to as traumatic (S13.1-, S23.1-, and S33.1-). Are they appropriate for chiropractors to use? The answer to that question is complicated. The problem basically lies in the lack of official guidance and differing opinions on ...
Aftercare Z Codes
January 29th, 2018 - Find-A-Code
Aftercare visit codes cover situations when the initial treatment of a disease has been performed, and the patient requires continued care during the healing or recovery phase, or for the long-term consequences of the disease. The aftercare Z code should not be used if treatment is directed at a current, ...
Coding for Pain in ICD-10-CM
January 29th, 2018 - Chris Woolstenhulme, QCC, CMCS, CPC, CMRS
The following codes are the most common Pain codes used in ICD-10 G89.0                      Central pain syndrome   Chronic Condition G89.11‑G89.18         G89.1 Acute pain, not elsewhere classified G89.21‑G89.29         G89.2 Chronic pain, not elsewhere classified G89.3                      Neoplasm related pain (acute) (chronic)   Chronic Condition G89.4                      Chronic pain syndrome There are more specific pain ...
Non-Coronary Vascular Stents: Mesenteric Vessels
January 29th, 2018 - Find-A-Code
The following information is according to Novitas Solutions L35084. Mesenteric vessels: This includes Acute mesenteric ischemia Chronic mesenteric ischemia Mesenteric thrombosis Dissection or any other vascular insufficiency resulting in gastrointestinal symptoms Stenting of the mesenteric vessels is covered only when angioplasty of the vessels would not suffice and after the patient has had a thorough medical evaluation and management of symptoms, and for whom surgical intervention is the likely ...
Observation Z Codes
January 29th, 2018 - Find-A-Code
There are three observation Z code categories. They are for use in very limited circumstances when a person is being observed for a suspected condition that is ruled out. The observation codes are not for use if an injury or illness or any signs or symptoms related to the suspected ...
Prior years: (click bar to view articles)
Article categories