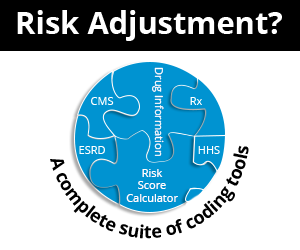 Insurance - Articles
Medi-Cal Coverage Criteria for Hospital Beds and Accessories
November 7th, 2018 - Raquel Shumway
Medi-Cal coverage of child and adult hospital beds and accessaries. What is covered and what documentation is required.
Q/A: What Diagnosis Codes Should I Use for TMJ Headache Massage for Coverage?
October 16th, 2018 - Wyn Staheli, Director of Research
Question: We have been receiving several DDS referrals to our massage therapists who do intra-oral work. The only problem is that the referral from the DDS lists code R51 for headaches as the only DX code. Since most plans don't cover massage therapy for headaches alone, are there any codes that can distinguish the headaches as ...
Q/A: What Codes do I use for CLIA-Waived Tests?
October 16th, 2018 - Wyn Staheli, Director of Research
Question: I am a certified DOT medical examiner and have applied to get my CLIA lab (waiver) for urinalysis, finger prick blood tests for A1c, cholesterol and glucose. I realize I cannot diagnose patients with these tests, but I am using them to make decisions in the DOT process and with ...
Pelvic Floor Dysfunction Treatment Coverage
October 16th, 2018 - Wyn Staheli, Director of Research
Pelvic floor dysfunction is often the underlying cause of conditions such as pelvic pain; urinary or bowel dysfunction; and/or sexual symptoms. Treatment generally begins with an evaluation and testing (e.g, EMG) followed by a variety of services (e.g., biofeedback, manipulation, pelvic floor electrical stimulation), depending on the findings. Coverage by payers ...
Getting the Right Eligibility Information for Payment Your Rights and Health Plans Requirement
September 11th, 2018 - BC Advantage
We need timely and accurate patient information to bill health plans and receive appropriate payment. Clinical information is, of course, important. But we also need the "administrative" data - patient demographics and especially the insurance information. Physician offices create their clinical information, but usually rely on patients for information on...
Risky Business The CMS HCC Risk Model
July 27th, 2018 - Terry Ketchersid, MD, MBA
Today's catchy title may invoke memories of that risqué movie from the 80's starring a young Tom Cruise famously dancing in his "tighty whities." But today's post is not about that type of risk. Instead we are going to spend some time with a risk adjustment model that's quietly become...
Dual Medicare-Medicaid Billing Problems
July 12th, 2018 - Wyn Staheli, Director of Research
It is important to keep in mind that Medicaid is run at a state level so there can be some differences when it comes to coverage. However, the rules regarding balance billing of covered services is set at the federal level. The law states (emphasis added): A state plan must provide ...
VA Expands Telehealth
June 14th, 2018 - Wyn Staheli, Director of Research
On May 11, 2018, the Department of Veterans Affairs (VA) released its final rule on the "Authority of VA Health Care Providers to Practice Telehealth." Effective June 11, 2018, VA providers will be able to provide telehealth services across state lines. This move will make it easier for veterans to obtain ...
Three Ways Bundled Payments Can Be a Success
June 7th, 2018 - BC Advantage
Bundled payment models continue to attract interest for their potential benefits over traditional fee-for-service payment models. With bundled payments, also known as episode-based payments or packaged pricing, a group of providers is reimbursed based on a contracted price to cover all of the care and services related to a particular ...
Q/A: Billing for GI Anesthesia
March 21st, 2018 - Chris Woolstenhulme, QCC, CMCS, CPC, CMRS
Medicare's policy requires the use of a different code when a screening colonoscopy becomes a diagnostic procedure requiring you to bill with CPT code 00811 when treating a Medicare Beneficiary.
Anthem Will Not Give Modifier 25 a Pay Cut
March 1st, 2018 - Chris Woolstenhulme, QCC, CMCS, CPC, CMRS
Anthems original plan was to take a 50% reduction when providers reported claims using modifier 25, it was then lowered to a 25% reduction and has now been fully rescinded, to the relief of providers.  The policy was to go into effect March 1, 2018, however, due to strong opposition from ...
Adjusting Your Collection Strategies to HDHPs
January 31st, 2018 - Ashley Choate
High Deductible Health Plans (HDHPs) are recent and growing trend in healthcare that is probably here to stay, regardless of the future changes to the national healthcare system or federal regulations.....
Prior years: (click bar to view articles)
Article categories