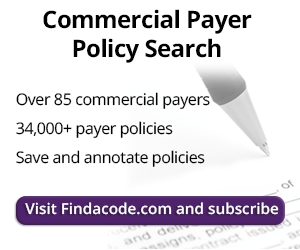 Practice Management - Articles
Quality Measures Finalized for 2019
December 18th, 2018 - Wyn Staheli, Director of Research
CMS recently announced that the quality measures for 2019 have been finalized. There are new eligible clinicians so be aware of how that may affect your organization. New ECs are: Physical therapists Occupational therapists Qualified speech-language pathologists Qualified audiologists Clinical psychologists Registered dietitian or nutrition professionals The following are changes to Electronic Clinical Quality Measures (eCQMs) available ...
We've Always Done It This Way and Other Challenges in Education
October 19th, 2018 - BC Advantage
As coders, auditors, and compliance professionals, we are the provider's advocates in closing the gap between what is medically necessary and what is required for documentation. Sometimes that places us in the role where we need to save our clinicians from themselves, and the patterns they have fallen into...
HIPAA Handling Patient Requests for Medical Record Restriction
September 26th, 2018 - BC Advantage
Healthcare compliance professionals frequently face confusing situations about sharing of protected health information (PHI). The Health Insurance Portability and Accountability Act (HIPAA) supports the protection of privacy of medical records. However, even when a patient does not authorize sharing of his record, there are permitted uses and disclosures, such as...
Getting the Right Eligibility Information for Payment Your Rights and Health Plans Requirement
September 11th, 2018 - BC Advantage
We need timely and accurate patient information to bill health plans and receive appropriate payment. Clinical information is, of course, important. But we also need the "administrative" data - patient demographics and especially the insurance information. Physician offices create their clinical information, but usually rely on patients for information on...
Finalized Confidentiality of Alcohol and Drug Abuse Patient Records Regulations
August 31st, 2018 - Wyn Staheli, Director of Research
In January, the U.S. Department of Health and Human Services (HHS) issued updates to the privacy regulations regarding the confidentiality of patient information of substance use disorder patients (42 CFR Part 2).  This notice included references to better alignment with HIPAA regulations, but did state that Part 2 is more protective ...
Pricing for ASC's and APC's
August 27th, 2018 - Chris Woolstenhulme, QCC, CMCS, CPC, CMRS
For Medicare purposes, an Ambulatory Surgical Center Resources (ASC) is a distinct entity that operates exclusively to furnish surgical services to patients who do not require hospitalization and in which the expected duration of services does not exceed 24 hours following admission. ASC payment groups determine the amount that...
PSAVE Pilot Program - What Does it Mean to You?
August 20th, 2018 - Wyn Staheli, Director of Research
Noridian's pilot program Provider Self-Audit with Validation and Extrapolation (PSAVE) has been extended which means that it has been successful for the payer, which means that they are saving money. Historically, when a pilot program is proven to be successful, it isn't too long before other MACs follow. Before signing up to participate, providers need to carefully evaluate the program. Are the benefits worth the costs?
Are incident to services worth the risk
August 13th, 2018 - BC Advantage
Incident-to services allow non-physician practitioners (NPPs) such as nurse practitioners and physician assistants to bill under a supervising physician if they perform services that are incidental to a physician-created plan of care. Incident-to billing offers two key benefits: First, the physician is reimbursed at 100% of the contracted rate with...
Risky Business The CMS HCC Risk Model
July 27th, 2018 - Terry Ketchersid, MD, MBA
Today's catchy title may invoke memories of that risqué movie from the 80's starring a young Tom Cruise famously dancing in his "tighty whities." But today's post is not about that type of risk. Instead we are going to spend some time with a risk adjustment model that's quietly become...
Patients Over Paperwork?! We have Great News!
July 18th, 2018 - Chris Woolstenhulme, QCC, CMCS, CPC, CMRS
Spend more time with patients and less time documenting? Great Concept! Document meaningful information? Sound good? CMS is proposing just that! CMS released a new proposal July 12, 2018, focused on streamlining clinician billing and expanding access to high-quality care. The goal is to improve and restore the doctor-patient relationship, modernize Medicare ...
The Money in MIPS
June 15th, 2018 - Diana Strubler
Seema Verma, Administrator of the Centers for Medicare and Medicaid Services (CMS), recently announced that 91% participated in the first year of the Quality Payment Program (QPP), barely squeaking by their goal of 90%....
Will Medicare's Proposed Reformations Affect Your Practice?
June 12th, 2018 - Wyn Staheli, Director of Research
Recently, Medicare's Innovation Center released an informal Request for Information (RFI) seeking input on several different system reformation proposals. As the market moves towards more value based payment systems, innovation and new models are being sought to both reduce costs and increase quality. This article outlines the ideas presented in the ...
Three Ways Bundled Payments Can Be a Success
June 7th, 2018 - BC Advantage
Bundled payment models continue to attract interest for their potential benefits over traditional fee-for-service payment models. With bundled payments, also known as episode-based payments or packaged pricing, a group of providers is reimbursed based on a contracted price to cover all of the care and services related to a particular ...
Are Your Computers Vulnerable to Cyber Attacks?
February 1st, 2018 - Wyn Staheli, Director of Research
Healthcare providers must be vigilant in ensuring that software upgrades, also known as patches, are kept current. Failure to do so can lead to a HIPAA Security Breach with all its associated penalties. For example Windows XP no longer has security updates and should not be used in healthcare settings. On ...
Don't Be Hesitant About Collecting Co-Pays
February 1st, 2018 - Christine Taxin
If you are hesitant about collecting co-pays, consider that you may be paying interest on credit cards, property mortgages, and business loans. Each dollar that you do not collect in co-pays could have been used to pay down the practice debt. Without question, if you are having difficulty finding ways ...
Mobile Health: Growing Engagement and New Responsibilities
January 31st, 2018 - Dugan Maddux, MD, FACP
This week I'm blogging about an M-word. Not MACRA or MIPS, but Mobile Health or mHealth....
Better Office Communication Leads to Stronger RCM
January 24th, 2018 - Ashley Choate
According to a recent Physicians Practice study, one of the top five reasons for denied medical claims is a lack of adequate documentation. While this might seem like an electronic records issue, the problem may be bigger than that. ...
Prior years: (click bar to view articles)
Article categories