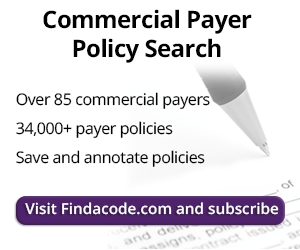 Allergy|Immunology - Articles
Common Allergy CPT Codes and MUEs
October 30th, 2018 - Find-A-Code™
Below is a list of common CPT codes for Allergy and Immunology. Each code is listed with the following information: Medicare Unlikely Edits (MUEs) for both a Non-Facility (NF) and Facility (F) setting. Professional/Technical Component (PC/TC) Indicator. Key Indicator or Procedure Code Status Indicator, which is a Medicare assigned "Indicator" to each code in ...
Allergy Testing 10/29/2018
October 29th, 2018 - Chris Woolstenhulme, QCC, CMCS, CPC, CMRS
Allergy testing may be performed due to exaggerated sensitivity or hypersensitivity.  Using findings based on the patient's complaint and face-to-face exam. Testing may be required to identify and determine a patient's immunologic sensitivity or reaction to certain allergens using certain CPT codes.  According to CMS, LCD 33261, allergy testing can be ...
Influenza, Are You Billing Correctly?
January 31st, 2018 - Chris Woolstenhulme, QCC, CMCS, CPC, CMRS
With this year's Flu season being the most widespread on record, providers are seeing more patients and giving more immunizations for influenza than normal. Here are a few things to keep in mind during this flu season.  Know the rules with your payers to ensure proper reimbursement and correct billing. For example, did you ...
Article categories