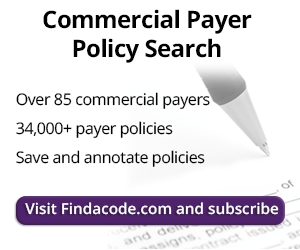 Anesthesia|Pain Management - Articles
Anesthesia and Pain Management
October 31st, 2018 - Chris Woolstenhulme, QCC, CMCS, CPC, CMRS
Anesthesia and Pain management is under close watch from the OIG according to a report from Anesthesia Business consultants, they stated, "The Health and Human Services Office of Inspector General (HHS OIG) reports in its most recent Semi-annual Report to Congress that in FY 2017 it brought criminal actions against 881 individuals or organizations ...
Q/A: Billing for GI Anesthesia
March 21st, 2018 - Chris Woolstenhulme, QCC, CMCS, CPC, CMRS
Medicare's policy requires the use of a different code when a screening colonoscopy becomes a diagnostic procedure requiring you to bill with CPT code 00811 when treating a Medicare Beneficiary.
Anesthesia Fee Calculation
January 29th, 2018 - Find-A-Code
Fees for anesthesia services are not calculated the same as for other types of procedures. There are four elements to consider when calculating anesthesia fees. Medicare accepts base units and time units; however, depending on the third party payer, they may or may not accept physical status units and/or qualifying circumstances units. Base Unit (of the CPT code) Time (in ...
Anesthesia Documentation Modifiers - Jurisdictions: J8A, J5A, J8B, J5B
January 29th, 2018 - Christine Woolstenhulme, QCC, CMCS, CPC, CMRS
Documentation Modifiers direct prompt and correct payment of the anesthesia claims submitted. Documentation modifiers (AA, QK, AD, QY, QX and QZ) must be billed in the first modifier field. If a QS modifier applies, it must be in the second modifier field. Processing delays and denials may occur for claims submitted ...
Moderate Sedation Services - CPT has 6 Codes to One Dental Code
March 30th, 2017 - Chris Woolstenhulme, CPC, CMRS
When billing a medical code instead of the dental code D9223 -Deep sedation/general anesthesia - each 15 minute increment, consider the following medical codes: (Be sure to review the AMA guidelines to see if they fit the procedure you are doing). If a dental office is doing conscious sedation for a patient ...
Anesthesia Code Changes in 2017- Epidural Steroid Injections (ESI)
January 23rd, 2017 - Chris Woolstenhulme, CPC, CMRS
Pay close attention to the new 2017 Anesthesia codes there are a few notable changes. There is a new code set for Epidural Steroid Injections (ESI). The difference in the new codes set has a clear distinction on a single injection or a catheter placement for continuous infusion/intermittent bolus and if ...
Anesthesia and E/M services
July 29th, 2016 - Codapedia
Anesthesia services are billed using CPT® codes 00100-01999. These CPT® codes are cross-walked to surgical codes. The crosswalk is available from the American Society of Anesthesiologists at www.asahq.org. Each anesthesia code has a base unit assigned to it. The anesthetist also bills the number of time units, with a single...
Article categories