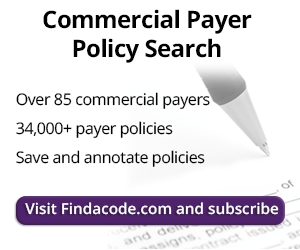 Optometry - Articles
New Taxonomy Codes Added for Glaucoma Specialists
March 8th, 2017 - Chris Woolstenhulme, CPC, CMRS
NUCC announced a new set of codes released 01/01/2017 with the effective date of 04/01/2017 for Allopathic & Osteopathic Physicians. For ophthalmology, the new taxonomy codes are specifically for Glaucoma Specialists in Healthcare. 207WX0009X Under the Allopathic & Osteopathic Physicians; Ophthalmology was added: Glaucoma Specialist - An ophthalmologist who specializes in the treatment of glaucoma and other ...
Visual Field Examination
August 10th, 2016 - Chris Woolstenhulme, CPC, CMRS
The following information from one Medicare payer includes indications and limiatations of coverage as well as Medical Necessity standards for visual field examinations. 92081 Visual field examination, unilateral or bilateral, with interpretation and report; limited examination (eg, tangent screen, Autoplot, arc perimeter, or single stimulus level automated test, such as Octopus 3 or ...
Article categories