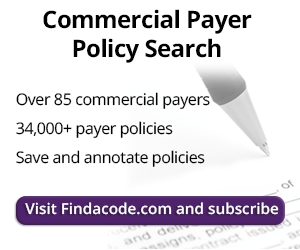 Optometry - Articles
How to Code Ophthalmologic Services Accurately
June 6th, 2019 - Aimee Wilcox, CPMA, CCS-P, CST, MA, MT, Director of Content
Have you ever tried to quickly recall the elements required to support a comprehensive ophthalmologic exam versus an intermediate one? Make coding decisions quickly by creating a cheat sheet containing vital information that allows you to quickly select the right code. According to Article A19881 which was published in 2004 and ...
Auditing Ophthalmology and Optometry Exams
April 19th, 2019 - Namas
Auditing Ophthalmology and Optometry Exams If you work in an ophthalmology group or audit ophthalmology then you are most likely aware of the caveats that exist in this specialty. Ophthalmology and Optometry practitioners can select from either the E/M code set or the Ophthalmologic exam code set. Having this knowledge in ...
Preventive Medicine: Glaucoma Screening
May 9th, 2018 - Find-A-Code™
Preventive Medicine Topics Page Glaucoma Screening Procedure Codes G0117: Glaucoma screening for high risk patients furnished by an optometrist or ophthalmologist G0118: Glaucoma screening for high risk patient furnished under the direct supervision of an optometrist or ophthalmologist ICD-10-CM G0117-G0118: Z13.5 Frequency G0117-G0118: Once a year Additional information G0117-G0118 Coverage as is indicated with ...
New Taxonomy Codes Added for Glaucoma Specialists
March 8th, 2017 - Chris Woolstenhulme, CPC, CMRS
NUCC announced a new set of codes released 01/01/2017 with the effective date of 04/01/2017 for Allopathic & Osteopathic Physicians. For ophthalmology, the new taxonomy codes are specifically for Glaucoma Specialists in Healthcare. 207WX0009X Under the Allopathic & Osteopathic Physicians; Ophthalmology was added: Glaucoma Specialist - An ophthalmologist who specializes in the treatment of glaucoma and other ...
Visual Field Examination
August 10th, 2016 - Chris Woolstenhulme, CPC, CMRS
The following information from one Medicare payer includes indications and limiatations of coverage as well as Medical Necessity standards for visual field examinations. 92081 Visual field examination, unilateral or bilateral, with interpretation and report; limited examination (eg, tangent screen, Autoplot, arc perimeter, or single stimulus level automated test, such as Octopus 3 or ...
Article categories