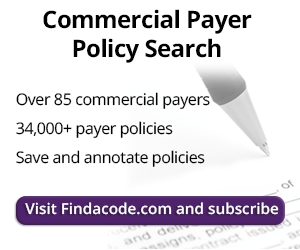 Pediatrics - Articles
Answers to Your Auditing & Compliance Questions
March 4th, 2019 - Namas
National Alliance of Medical Auditing Specialists (NAMAS) hosts a forum where auditing and compliance professionals can get answers to their questions, and exchange information with other professionals across the country. Recently, we've received the following question regarding fracture care that we'd like to share below. Q: I recently noticed CPT 26600, ...
Rhizotomy Procedures
September 26th, 2018 - BC Advantage
The terms "rhizotomy" and "Radiofrequency Ablation" (RFA) both mean "destruction of a nerve." Another term for this is "neurolysis." The CPT coding choices for a rhizotomy procedure reflect the methods chosen to destroy the nerve(s). Nerve Destruction choices include the following: Chemical Neurolytic Blocks - These require substances that are...
Article categories