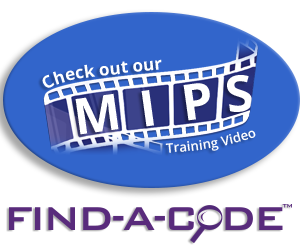 Small Practices are Affected by MIPS Increased Thresholds
June 25th, 2018 - Wyn Staheli, Director of Research
0 Votes -

Sign in

to vote or comment.
---
We recently heard about a small practice that had been faithfully submitting all the required "G" codes for the Quality Payment Program (QPP) only to discover that for 2018 they are excluded from MIPS because the low volume threshold increased from $30,000 in Part B allowed charges or 100 Part B beneficiaries to $90,000 in Part B allowed charges or 200 Part B beneficiaries. They were unsure about what they needed to do at this point and how it would impact their practice.
An increase from $30,000 to $90,000 is a significant increase for a small or solo practice. This step was taken by CMS due, in part, to feedback they received about small practices having a hard time meeting all the participation requirements. In fact, some specialties (e.g., chiropractic) have very few applicable quality measures to report.
Along with this low-volume threshold increase, they also added the following to help small practices:
5 bonus points
3 points for measures in the quality performance category if they don't meet the completeness requirements
Hardship exception for the Promoting Interoperability (PI) performance category
So what does all that mean for small practices (groups of less than 15 clinicians)? The bottom line is that these practices are now exempt from MIPS which means that they don't have the administrative burdens. However, it also means that they do not qualify for bonuses which could be viewed as a "small provider pay cut."
While it may be nice to not have to worry about reporting quality measures, the downside is that CMS will now be viewing flawed quality data because small practices do not operate the same as larger organizations. Statisticians like to see a variety of organizations, as a representative sample, which means the data would better match reality. CMS estimates that only 37% of Medicare providers will now need to comply with MIPS. That means that they may be making erroneous decisions based on data from a small, more homogenous group.
Another potential problem is the physician review rankings. We discussed this in a January 2018 article about how non-participation can affect your practice. CLICK HERE to read that article.
The following are options for a small or solo practice:
Remain exempt: Just don't report anything and you won't be penalized. It's one less thing to worry about.
Voluntarily report: Even if you are exempt, you can voluntarily report quality data to CMS. You will get feedback on quality measures which will prepare you should MIPS reporting ever be required again. You will not be subject to payment adjustments (positive or negative). It's like auditing a class. You learn, but you don't get the grade.
Virtual Group: Join with other providers to pool your data to meet volume thresholds. See "Virtual Groups" below for more about the pros and cons of this option.
Alternative Payment Model (APM): Consider becoming an APM Participant. Small or solo practitioners are allowed to participate in an APM instead of MIPS. Even if you are too small to qualify for payment adjustments from MIPS, you would still be eligible for the 5% incentive payment for APM participation. There are only a handful of APMs and you may not qualify for them. CLICK HERE to read more about APMs.
Virtual Groups
Virtual Groups are something new for 2018. It's where 2-10 eligible clinicians (ECs) join together to report their data as if they were a single group. It is limited to 10 ECs so they are still considered a "small practice," which means that the small practice bonus points and PI exemption would still apply. The only 'catch' is that there must be at least one MIPS eligible clinician in the group.
You don't have to join with another practice of the same specialty. This could be beneficial in promoting practice integration. For example, adding a psychologist or chiropractor to a family practice has shown to improve patient outcomes. There does need to be a formal written agreement that they are entering into a virtual group, however, they don't need to be practicing in the same building or location. It just means that they are working together in reporting quality measures. They must also have a single official representative that works with CMS on behalf of the group.
On the plus side, this can help providers work together to get good scores, while still maintaining their 'independent' status. However, if one individual in the group performs poorly, it can negatively impact the entire group; it really becomes a team effort to keep those scores high. Providers can learn from each other and bring the quality of all practices up.
One potential problem with a virtual group is that obtaining the necessary reporting data might be a little difficult if one or more of the providers has a different reporting mechanism.
Election period: For 2018, there was only a window of October 11-December 31, 2017 to elect to participate. This means it's too late for this year, but you could be planning and preparing for next year's reporting period. CMS did anticipate that the number of providers to join a virtual group the first year would be low because of the time it takes (typically 3-6 months) to form groups and establish the necessary agreements. By their estimates, there would only be 16 groups.
In summary, virtual groups are currently in the 'testing' phase. At the time of publication, there was not any information about how they were faring. However, it is something to consider.
###
Questions, comments?
If you have questions or comments about this article please contact us. Comments that provide additional related information may be added here by our Editors.
Latest articles: (any category)
Muscle Testing and Range of Motion Information
November 8th, 2018 - Wyn Staheli, Director of Research
Be sure to understand the unique code requirements for Muscle and Range of Motion Testing.
Medi-Cal Coverage Criteria for Hospital Beds and Accessories
November 7th, 2018 - Raquel Shumway
Medi-Cal coverage of child and adult hospital beds and accessaries. What is covered and what documentation is required.
Are you Ready for CMS' 2019 Medicare Physician Fee Schedule Final Rule?
November 7th, 2018 - Wyn Staheli, Director of Research
The waiting is over, the Final Rule for CMS' 2019 Medicare Physician Fee Schedule (MPFS) is available - all 2,379 pages for those looking for a little light reading. As anticipated, there are some pretty significant changes. Most of us were carefully watching the proposed changes to the Evaluation and ...
How to Use Modifier Indicators with NCCI Edits (2018-10-31)
October 31st, 2018 - Chris Woolstenhulme, QCC, CMCS, CPC, CMRS
To verify if clinical circumstances might justify the use of a modifier when billing code pairs, look at the NCCI edits and the modifier indicator.  Medicare may have restrictions on the use of a modifier used to bypass an edit.  This important part of coding can alert a payer or ...
Anesthesia and Pain Management
October 31st, 2018 - Chris Woolstenhulme, QCC, CMCS, CPC, CMRS
Anesthesia and Pain management is under close watch from the OIG according to a report from Anesthesia Business consultants, they stated, "The Health and Human Services Office of Inspector General (HHS OIG) reports in its most recent Semi-annual Report to Congress that in FY 2017 it brought criminal actions against 881 individuals or organizations ...
Common Allergy CPT Codes and MUEs
October 30th, 2018 - Find-A-Code™
Below is a list of common CPT codes for Allergy and Immunology. Each code is listed with the following information: Medicare Unlikely Edits (MUEs) for both a Non-Facility (NF) and Facility (F) setting. Professional/Technical Component (PC/TC) Indicator. Key Indicator or Procedure Code Status Indicator, which is a Medicare assigned "Indicator" to each code in ...
Allergy Testing 10/29/2018
October 29th, 2018 - Chris Woolstenhulme, QCC, CMCS, CPC, CMRS
Allergy testing may be performed due to exaggerated sensitivity or hypersensitivity.  Using findings based on the patient's complaint and face-to-face exam. Testing may be required to identify and determine a patient's immunologic sensitivity or reaction to certain allergens using certain CPT codes.  According to CMS, LCD 33261, allergy testing can be ...