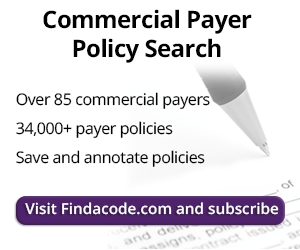 | | |
| --- | --- |
| | Coding articles, advice and answers. |
Codapedia provides in-depth documentation, coding and billing information to ensure medical professionals are fairly paid and reimbursed for services.
Available now:

Articles: votes and comments
Forum posts: votes

ICD-10-CM training videos (must be signed in to view)
Article/forum tool: favorites list (by votes - on Account page)
Show new articles/posts since last sign in
See what's new since your last visit.
Latest articles
Q/A: How Many Diagnosis Codes do I use?
April 15th, 2019 - Wyn Staheli, Director of Research
Question: My patient has a lot of chronic conditions. Do I need to include all these on the claim? I know that I can have up to 12 diagnoses codes on a single claim. What if I need more than that? Answer: More is not always better. You only need to ...
Watch out for People-Related 'Gotchas'
April 15th, 2019 - Wyn Staheli, Director of Research
In Chapter 3 — Compliance of the ChiroCode DeskBook, we warn about the dangers of disgruntled people (pages 172-173). Even if we think that we are a wonderful healthcare provider and office, there are those individuals who can and will create problems. As frustrating as it may be, there are ...
Q/A: What do I do When a Medicare Patient Refuses to Sign an ABN?
April 8th, 2019 - Wyn Staheli, Director of Research
Question: What do I do when a Medicare patient refuses to sign an ABN? Answer: That depends on whether the patient is still demanding to have/receive the service/supply. If they aren't demanding the service, then there is no need to force the issue. Just make sure that you still have an ...
Prepayment Review Battle Plan
April 8th, 2019 - Wyn Staheli, Director of Research
Any type of payer review can create some headaches for providers and cause problems for a healthcare office. Even for a practice that has taken administrative steps to try and prevent a prepayment review, it can still happen. A prepayment review means that you must include documentation WITH your claim. ...
Looking Ahead - Changes in Dentistry!
April 3rd, 2019 - Christine Taxin
In the next 10 years, what is the biggest change dentistry will experience? FW: We all know healthcare in the U.S. is changing rapidly. Dentistry is no exception. My opinion is that several big changes are forthcoming. Most often, I think about changes that benefit patients and/or providers. Here are three ...
Editors choice articles
Voluntary Repayments
March 8th, 2019 - Namas
Should you volunteer to repay money from Medicare or other federal healthcare programs if you believe they were the result of errors on your end? The penalties for not doing so could be severe. Under the Federal False Claims Act, if retained overpayments can be shown to be to false ...
Q/A: Can you Help me Understand the New Medicare Insurance Cards?
March 7th, 2019 - Wyn Staheli, Director of Research
As many of you are aware, CMS began issuing new Medicare identification cards last year which required the replacement of social security numbers with a new Medicare Beneficiary Identifier (MBI). All cards have now been mailed out and patient's should have the new cards when they come in. Currently, we are in the transition period until January 2020.
Medicare Physician Fee Schedule Indicators
March 4th, 2019 - Brittney Murdock, QCC, CMCS, CPC
Many denials can be avoided when you understand how a payer looks at a code. Find-A-Code puts a lot of this information all on one page. Under Additional Code Information on CPT codes you will find a lot of questions can be answered. In addition to the global policy, uniform...
UnitedHealthcare to Discontinue Coverage of Consultations
March 4th, 2019 - Wyn Staheli, Director of Research
In United Healthcare's March provider bulletin, they announced that beginning on June 1, 2019, they will be phasing out coverage of consultation services (99241-99255).
Billing Guidelines for Repositioning
March 4th, 2019 - Wyn Staheli, Director of Research
Code 95992 has some very limited payer payment guidelines which need to be understood for proper reimbursement. Many payer policies consider this service bundled with Evaluation and Management Services, therefore, it would not be separately payable if there was an E/M service performed on the same date. Some providers have reported having trouble ...
Latest questions/posts
96372 Billing
Apr 18th, 2019 - dlstoner512 1
Appropriate Modifier for 83615 @ 2 Units for CMS?
1st Apr 11th, 2019 - RNokes
43249 with 43236
Apr 2nd, 2019 - AMat 2
Synagis Injection
Mar 28th, 2019 - Hgorby
nurse practitioner/hospital charges
Mar 19th, 2019 - anitac
Codes effective 4/12019
1st Mar 12th, 2019 - Haley33TK
Diagnostic Angiograms prior to Intervention
1st Feb 28th, 2019 - Jodi
P59.9 (Neonatal jaundice)
1st Feb 27th, 2019 - olerip
Brand new to ENT and I have a question
Feb 17th, 2019 - rdinaso 12 1
nephrology capitation codes
Feb 11th, 2019 - anitac
27369 subsequent visit.
1st Feb 8th, 2019 - StevenH
20610 & 27369 on the same day
Feb 8th, 2019 - ranawaheed321 4
MRI without contrast on Monday followed by an MRI with contrast on Tuesday.
Jan 25th, 2019 - rdinaso 12 1
PCS code
1st Jan 18th, 2019 - Csara19
Neo coding
1st Jan 17th, 2019 - Telle
Critical Care vs. Split Shared Services
Jan 15th, 2019 - Andrea58
leuprolide acetate Lupron/Eligard J1950 versus J9217
Jan 14th, 2019 - bets14687 1
Hospitalist and specialist billing E/M on same day
Dec 11th, 2018 - rdinaso 12 1
93351 in office Stress Echo billing question
1st Dec 6th, 2018 - JL81
Leaderboard
New Codapediasts
Apr 16th, 2019: Jagadesan Manickam
Apr 16th, 2019: mls5502
Apr 16th, 2019: KLinkRED
Apr 16th, 2019: eva007
Apr 15th, 2019: lynndavis

New Profiles
Apr 17th, 2019: Jagadesan Manickam
Feb 9th, 2019: amniotictreatment
Jan 23rd, 2019: daphne
Jan 15th, 2019: bets14687 1
Dec 31st, 2018: AMat 2

Forum Posts (past year)
48: ChrisW 122 1
6: MargeM 11
5: MarinENTzac 5
4: Numberlast 4
3: DWare 3

Forum Posts (all time)
rphelps 615 1
jschmutz 323
youngblood 278
LBAROGIANIS 250
petunia 195

The Leaderboard is updated every 10 minutes.
Sponsored by: