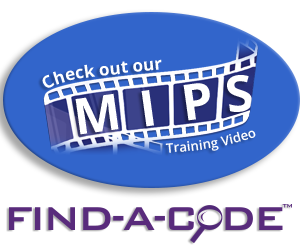 | | |
| --- | --- |
| | Coding articles, advice and answers. |
Codapedia provides in-depth documentation, coding and billing information to ensure medical professionals are fairly paid and reimbursed for services.
Available now:

Articles: votes and comments
Forum posts: votes

ICD-10-CM training videos (must be signed in to view)
Article/forum tool: favorites list (by votes - on Account page)
Show new articles/posts since last sign in
See what's new since your last visit.
Latest articles
A Step by Step Guide to Medical Billing
August 20th, 2019 - Christine Taxin
The next 4 weeks we will be providing you with a step by step guide to why medical billing is now part of our Dental future. Dental surgery is performed to treat various conditions of the teeth, jaws, and gums. Surgical procedures that dentists perform include dental implants, treatment for temporomandibular ...
Are You Aware of Medicare Advantage Plans Timely Filing Rules?
August 20th, 2019 - Aimee Wilcox
The Medicare Fee for Service (FFS) program (Traditional or Original Medicare) has a timely filing requirement; a clean claim for services rendered must be received within one year of the date of service or risk payment denial. As any company who has billed Medicare services can attest, the one-year timely filing ...
Understanding Payment Indicators
August 19th, 2019 - Chris Woolstenhulme, QCC, CMCS, CPC, CMRS
Understanding how payment works with Medicare payment indicators and the impact a modifier has on payment is vital to pricing. Even if you are not billing Medicare, most carriers follow Medicare's policies for participating and non-participating rules.  Here is an article from Regence on their policy statement, describing the rules ...
Medical ID Theft
August 16th, 2019 - Namas
Medical ID Theft "So, do you guys think you can do something with that?" John asked angrily at our first meeting with him in August 2017 as he slammed a stack of medical bills, EOBs and collection letters - three inches high - down in front of my partner and I. ...
Healthcare Common Procedure Coding System (HCPCS)
August 13th, 2019 - Chris Woolstenhulme, QCC, CMCS, CPC, CMRS
There are three main code sets and Healthcare Common Procedure Coding System (HCPCS), is the third most common code set used. They are often called Level II codes and are used to report non-physician products supplies and procedures not found in CPT, such as ambulance services, DME, drugs, orthotics, supplies, ...
Editors choice articles
Tips to Preventing Audits
July 23rd, 2019 - Christine Taxin
There is an ever-increasing number of dental claims that have come under scrutiny for fraud. One such payer, Aetna, is actively pursuing dental fraud by employing their special investigative units (SIUs) to identify and investigate providers who demonstrate unusual coding and billing practices. When payers identify the activities they deem ...
Act Now on CMS Proposal to Cover Acupuncture for Chronic Low Back Pain
July 17th, 2019 - Wyn Staheli, Director of Research
Now is the time to comment on a proposal to cover acupuncture for chronic low back pain. This comment period is the part of the HHS response to the opioid crisis. You only have until August 14th to officially comment.
Denial Management is Key to Profitability
July 15th, 2019 - Wyn Staheli, Director of Research
A recent article by Modern Medicine cited a report by Becker's Hospital Review which stated that it costs approximately $118 per claim to resolve a claim denial. Granted, these were hospital claims, but the process is essentially the same for outpatient services. In fact, you could say it is...
5 Ways to Minimize HIPAA Liabilities
July 12th, 2019 - BC Advantage
Last year was historic for HIPAA enforcement. The HHS Office of Civil Rights collected a record $23.5 million in settlements and judgments against providers guilty of HIPAA violations. To avoid becoming part of that unwanted statistic, it's important to pay extra close attention to five key areas of HIPAA vulnerability. Take ...
Helping Others Understand How to Apply Incident to Guidelines
July 5th, 2019 - Namas
Over the past few months, I have worked with different organizations that have been misinterpreting the "incident to" guidelines and, in return, have been billing for services rendered by staff that are not qualified to perform the services per AMA and CPT. What I found within the variances is that ...
Latest questions/posts
Body Start Keto
1st Aug 23rd, 2019 - remaalina
CPT 93925
Aug 20th, 2019 - stomach1 3
Code for physical activity counseling
1st Aug 9th, 2019 - Corley
CPT 29799
Jul 30th, 2019 - RedKat
Physician ESRD Capitation Billing
Jul 11th, 2019 - anitac
CPT 99441
Jul 9th, 2019 - abbyakinleye 9
UNNA boot application
1st Jul 3rd, 2019 - cmarsh
CPT Code for Repositioning of endothelial keratoplasty
Jun 12th, 2019 - yml3768 31
CPT for Long Term Acute Care Hospital
1st Jun 11th, 2019 - nwettach
UnitedHealthcare to Discontinue Coverage of Consultations
May 28th, 2019 - msimmons11
MDM in Table B
May 17th, 2019 - damills 3
Level 3 & Level 4 Hospital Consults
May 15th, 2019 - nate0922 7
Bone Stimulator Billable Amount
1st May 8th, 2019 - pattybth
Podiatry - CPT codes 99222 & 99223
May 1st, 2019 - daystarjj 4
Coding for respiratory tract infections and other conditions during pregnancy
1st Apr 25th, 2019 - Paramesh
Medicare Annual Wellness Visit in the Nursing Home Setting
1st Apr 22nd, 2019 - staracres
96372 Billing
Apr 18th, 2019 - dlstoner512 1
Appropriate Modifier for 83615 @ 2 Units for CMS?
1st Apr 11th, 2019 - RNokes
43249 with 43236
Apr 2nd, 2019 - AMat 2
Leaderboard
New Codapediasts
Aug 25th, 2019: cupknzec
Aug 23rd, 2019: loriaker
Aug 23rd, 2019: CMSteven
Aug 23rd, 2019: Agnell
Aug 23rd, 2019: remaalina

New Profiles
Aug 21st, 2019: taheresajors
Aug 20th, 2019: jeauneavis
Aug 13th, 2019: baillrivera
Aug 13th, 2019: Elizebeth
Jul 15th, 2019: DeJudice

Forum Posts (past year)
49: ChrisW 141 1
3: DWare 3
2: damills 3
2: DDIAZ 2
2: AMat 2

Forum Posts (all time)
rphelps 615 1
jschmutz 323
youngblood 278
LBAROGIANIS 250
petunia 195

The Leaderboard is updated every 10 minutes.
Sponsored by: