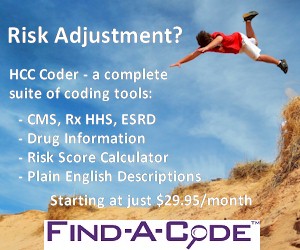 Colonoscopy
September 10th, 2009 - Codapedia Editor
0 Votes -

Sign in

to vote or comment.
---
Colonoscopy
Screening versus diagnostic—Medicare patients

Medicare develops HCPCS codes for some preventive medicine services when it wants to differentiate between a diagnostic test (which has a CPT® code) and a screening test. Colonoscopy is a good example. There are a series of colonoscopy codes, starting with the base code 45378. CMS has developed a set of G codes for screening tests, in the range of G0104—G0106, and G0120—G0122.

In 2009, the OIG included the billing of colonoscopy in their Work Plan. Here's what they said:

Medicare Payments for Colonoscopy Services
We will review the appropriateness of Medicare payments to physicians for colonoscopy services. A colonoscopy is a complex procedure for examining the entire colon and may include, for example, biopsy to remove polyps, tumors, or other lesions or related services that the physician may deem necessary, such as medical consultations and office visits. A colonoscopy generally requires that the patient be placed under sedation in an outpatient hospital setting. The Social Security Act, § 1833(e), precludes payment to any service provider unless the provider has furnished the information necessary to determine the amounts due such provider. We will determine whether Medicare payments for colonoscopy services were properly supported, billed, and paid in accordance with Medicare requirements.
(OAS; W-00-09-35221; various reviews; expected issue date: FY 2009; new start)

A few other issues about colonoscopy:
For a screening colonoscopy, Medicare will not pay for an E/M service (office visit or consult) prior to the colonoscopy. Some physicians complain about having to meet the patient for the first time on the day of the procedure, but for a screening colonoscopy, Medicare and many third party payers will not pay for the visit prior to the procedure.
A patient with a symptom or complaint who requires a colonoscopy may be billed for the E/M service prior to the colonoscopy.
Payment for moderate sedation is included in the payment for the colonosocpy, and is not separately payable.
Multiple endoscopic procedures are paid under the multiple endoscopy rule, not the multiple surgical procedure rule.
There are frequency limits for Medicare screening colonoscopy services. These follow the US Preventive Task Force Guidelines. When billing Medicare for a screening colonoscopy, use the HCPCS codes and the appropriate V codes for screening. The CMS reference guide for preventive services is included in the resources for this article
A service that is scheduled as a screening colonoscopy may be billed as a diagnostic colonoscopy if polyps are found and removed/destroyed.
A physician may bill for multiple endoscopies when removing/destroying multiple polyps. For any one polyp, only one technique may be used.
Match the diagnosis codes (screening versus symptom/condiiton) with the type of procedure. Use screening diagnoses with the HCPCS codes and symptom/condition codes with the CPT® codes.
From the Q&A section about procedural coding:
Question: I need some help. Our general surgeon performed a snare of a polyp during a colonoscopy, but he also cauterized it. He wanted to know if he could charge both a 45385 and 45384, and I said only if they were performed on different polyps. But since he cauterized it, he wanted to know if there was a more appropriate code. I didn't think there was; he then asked which of the two codes he recommended and I said 45385 because he removed it via snare technique. Is there a charge that I don't know about that can also capture the cautery of this removed polyp? Thanks for your help!
Answer: One lesion, one technique for removal. No, you cannot code and bill multiple techniques on same lesion.
Question: When different polyps are removed by different means ie: hot bx and snare...can they be coded together? thank you!!!
Answer: If multiple polyps or lesions are removed with different techniques, you may report each separately. When multiple colonoscopy procedures are performed during the same session, documentation must identify the technique used to perform each procedure. One code is used to report multiple procedures performed using the same technique. Multiple codes are reported when more than one procedure was performed using multiple techniques
Question: Can you bill a colonoscopy with a modifier if more than one polyp was removed? If so which modifier would I use. Procedure is 45384. The reason I am asking this one of our Drs was @ a seminar and someone there told him that they bill theirs with a 59??
Answer: The code states lesion(s) and includes single or multiple lesions, this is billed only once. 45384 - Colonoscopy, flexible, proximal to the splenic flexure; with removal of tumor(s), polyp(s), or other lesion(s) by hot biopsy forceps or bipolar cautery. What is heard is sometimes misinterpreted. When tumors or polyps of different sizes are removed from different sites in the colon, clinical circumstances might require that different techniques be used. In these instances, it is appropriate to report both codes 45384 and 45385, as an example. Modifier 59 (distinct procedural service) is used to identify different procedures/services that are not normally reported together, but are appropriate under the circumstances as different techniques were used on separate sites. The appropriate coding reports the higher valued of the procedures first, unmodified, and add the -59 modifier to the second or subsequent service(s) to indicate that it is separately reportable.
Question: Can you code 45380 with 45385. Can you code biopsy colonoscopies with polypectomies?
Answer from Nancy Maguire: If a physician performs a biopsy on one lesion (45380) and also removes a polyp, through the scope (45385), Medicare pays based on "Special Endoscopy" rule. The value of codes 45380 and 45385 both have the value of the diagnostic colonoscopy (45378) built in (not separately billed). Rather than paying 100 percent for the highest valued procedure (45385) and 50 percent for the next (45380), Medicare will pay the full value of the higher valued endoscopy (45385) plus the difference between the next highest endoscopy (45380) and the base endoscopy (45378). Assume the following are the fee schedule allowables for these codes (check your fee schedule for your actual amounts): 45378 - $266.48 45380 - $291.97 45385 - $387.90 Medicare will approve payment for the full value of 45385 ($387.90) plus the difference between 45380 and 45378 ($25.49) for a total of $413.39.
###
Questions, comments?
If you have questions or comments about this article please contact us. Comments that provide additional related information may be added here by our Editors.
Latest articles: (any category)
Should ROM Testing be Reported with Evaluation and Management Services?
January 9th, 2018 - Aimee Wilcox, CPMA, CCS-P, CST, MA, MT
Reporting the performance of range of motion testing (95851-95852) at the same encounter of an Evaluation and Management (EM) service, produces an NCCI edit resulting in payment for the EM service and denial of the ROM testing. Read the article to learn what other codes ROM testing is considered incidental to.
OIG Advisory Opinion Recinded - Lessons Learned
December 21st, 2017 - Wyn Staheli
In the compliance world, it is important to know when the OIG makes an advisory opinion on a subject. For example, the advisory on Time of Service or Prompt Pay Discounts helps to ensure that providers are creating policies and procedures which will meet the standards of the OIG in the case ...
Specialty Exceptions — 2018 PE RVU Changes
December 13th, 2017 - Raquel
Some specialties are not included in the new PPIS PE/HR RVU changes
Escharotomy Procedural Cross-Walking CPT to ICD-10-PCS
November 10th, 2017 - Brandon Dee Leavitt CPC, QCC
An Escharotomy is used for "local treatment of burned surface" per the AMA Guidelines, when incisions are performed on the burn site. Notice, when cross-walking 16035 or 16036 to inpatient codes, Find-A-Code crosswalks lead to Body System H, Operation 8 - Division of the skin, and Operation N -...
Four Final Rules Affecting CMS Payments for 2018
November 7th, 2017 - Wyn Staheli
It's a season for changes. CMS just finalized four rules which directly impact the following payment systems: Physician Fee Schedule Final Policy, Payment, and Quality Provisions for CY 2018 Hospital OPPS and ASC Payment System and Quality Reporting Programs Changes for 2018 HHAs: Payment Changes for 2018 Quality Payment Program Rule for Year 2 This ...
CMS Proposes to Revise Evaluation & Management Guidelines
October 26th, 2017 - BC Advantage
According to the recently released 2018 Physician Fee Schedule Proposed Rule, published in the Federal Register, dated July 21, 2017, the Centers for Medicare & Medicaid Services (CMS) acknowledges that the current Evaluation and Management (E/M) documentation guidelines create an administrative burden and increased audit risk for providers. In response, ...
Summary of OIG Reports for Chiropractic
October 23rd, 2017 - Evan M. Gwilliam DC MBA BS CPC CCPC QCC CPC-I MCS-P CPMA CMHP
The Office of the Inspector General was created to protect the integrity of the U.S. Department of Health and Human Services. They investigate fraud, waste, and abuse in HHS programs and make recommendations to various enforcement agencies. Every few years they investigate chiropractic services. Here is a summary of the reports the ...