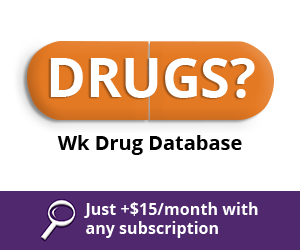 Requirements for Physicians Orders for DME/HCPCS
August 1st, 2017 - Chris Woolstenhulme, CPC, CMRS
0 Votes -

Sign in

to vote or comment.
---
Effective July 1, 2013, certain DME/HCPCS codes require a valid detailed written order prior to delivery. There are very specific rules and requirements requiring medical necessity and orders/prescriptions. It is also required to keep a copy in the patients chart. If billing CMS and commercial payers payers, the DME prescribed may be denied as non-covered if a proper order is not on file. Without proper physicians orders, reimbursement is not made and by contractual agreement, the patient is not liable.
If you are dispensing in your office be sure you are a contracted supplier with a DME number. If you are the referring or the ordering physician/supplier, be sure the following requirements are met:
Physician Orders: The supplier for all Durable Medical Equipment, Prosthetic, and Orthotics Supplies (DMEPOS) is required to keep on file a physician prescription (order). A supplier must have an order from the treating physician before dispensing any DMEPOS item to a beneficiary.
Verbal and Preliminary Written Orders: With some exceptions, suppliers may dispense most items of DMEPOS based on a verbal order or preliminary written order from the treating physician.
NOTE: If the supplier does not have an order from the treating physician before dispensing an item, the contractor shall consider the item as non-covered.
Covered orders must include:
description of the item
the beneficiary's name
the physician's name
start date of the order
the DME item ordered
the NPI of the prescribing physician/practitioner
signature of the prescribing physician/practitioner and the date of the order
**If this information is not included on the written order, the claim will be denied**
Medicare requires that the written order is completed after the face-to-face encounter. If the date of the written order is prior to the date of the face-to-face encounter, the contractor shall deny the claim.
Suppliers must maintain the preliminary written order or written documentation of the verbal order and this documentation must be available to the DME MACs, Zone Program Integrity Contractors (ZPICs), or other CMS review contractor upon request. If the supplier does not have an order from the treating physician before dispensing an item, the contractor shall consider the item as non-covered. For items that are dispensed based on a verbal order or preliminary written order, the supplier must obtain a detailed written order that meets the requirements of section 5.2.3 before submitting the claim.
Detailed Written Orders: Detailed written orders may take the form of a photocopy, facsimile image, electronically maintained, or original "pen-and-ink" document. The written order must be sufficiently detailed, including all options or additional features that will be separately billed or that will require an upgraded code. The description can be either a narrative description (e.g., lightweight wheelchair base) or a brand name/model number. All orders must clearly specify the start date of the order.
If the written order is for supplies that will be provided on a periodic basis, the written order should include appropriate information on the quantity used, frequency of change, and duration of need. For example, an order for surgical dressing might specify one 4 x 4
hydrocolloid dressing that is changed 1-2 times per week for 1 month or until the ulcer heals.
If the supply is a drug, the order must specify the name of the drug, concentration (if applicable), dosage, frequency of administration, and duration of infusion (if applicable).
Face-to-Face Encounter Requirements: For covered items; a physician, a physician assistant (PA), a nurse practitioner (NP), or a clinical nurse specialist (CNS) must document that he/she has had a face-to-face encounter with the beneficiary within six (6) months prior to completing the written order. On claims selected for review if there is no documentation of a face-to-face encounter, contractors shall deny the claim when directed by CMS.
If the physician is not billing the E&M code and a PA, NP, or CNS performed a face-to-face encounter for covered items, consider billing the following G-Code:
G0454 - Physician documentation of face-to-face visit for durable medical equipment determination performed by nurse practitioner, physician assistant or clinical nurse specialist.
###
Questions, comments?
If you have questions or comments about this article please contact us. Comments that provide additional related information may be added here by our Editors.
Latest articles: (any category)
Billing for Telemedicine in Chiropractic
January 14th, 2020 - Evan M. Gwilliam DC MBA BS CPC CCPC QCC CPC-I MCS-P CPMA CMHP
Many large private payers recognize the potential cost savings and improved health outcomes that telemedicine can help achieve, therefore they are often willing to cover it. While there are several considerations, there could be certain circumstances where telemedicine might apply to chiropractic care.
Non-Surgical Periodontal Treatment
January 14th, 2020 - Christine Taxin
AAP treatment guidelines stress that periodontal health should be achieved in the least invasive and most cost-effective manner. This is often accomplished through non-surgical periodontal treatment.Non-surgical periodontal treatment does have its limitations. When it does not achieve periodontal health, surgery may be indicated to restore periodontal health.SCALING AND ROOT PLANINGScaling ...
Q/A: Can Chiropractors Bill 99211?
January 14th, 2020 - Wyn Staheli, Director of Research
Can chiropractic offices bill code 99211? Technically it can be used by chiropractors, but in most instances, it is discouraged. Considering that 99211 is a low complexity examination for an established patient, this code is not really made for the physician to use. In fact, in 2021, changes are coming for this code...
Denials due to MUE Usage - This May be Why!
January 7th, 2020 - Chris Woolstenhulme, QCC, CMCS, CPC, CMRS
CMS assigns Medically Unlikely Edits (MUE's) for HCPCS/CPT codes, although not every code has an MUE. MUE edits are used to limit tests and treatments provided to a Medicare patient for a single date of service or for a single line item on a claim form. It is important to understand MUE's are ...
CMS Report on QPP Shows Increasing Involvement
January 6th, 2020 - Wyn Staheli, Director of Research
MIPS 2018 participation increased according to the final report issued by CMS on January 6, 2020.
CPT 2020 Changes to Psychiatry Services
January 3rd, 2020 - Namas
As of January 1, 2020, CPT made changes to the health and behavior assessment and intervention codes (96150-96155) and therapeutic interventions that focus on cognitive function (97127). If you code and audit services in this category, you must pay close attention to the changes as they include the removal and ...
Medicare Changes Bilateral Reporting Rules for Certain Supplies
December 30th, 2019 - Wyn Staheli, Director of Research
DME suppliers must bill bilateral supplies with modifiers RT and LT on separate claim lines or they are being rejected.