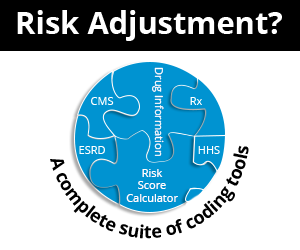 Billing - Articles
Reporting Unilateral or Bilateral Codes
December 18th, 2018 - Chris Woolstenhulme, QCC, CMCS, CPC, CMRS
Generally, Audiology tests are coded as if they were performed on both ears, if the testing was performed only on one ear, you are required to append a modifier to acknowledge there was a reduced service or a unilateral assessment, using modifier 52 - Reduced Services. (Be sure to read...
Medi-Cal Coverage Criteria for Hospital Beds and Accessories
November 7th, 2018 - Raquel Shumway
Medi-Cal coverage of child and adult hospital beds and accessaries. What is covered and what documentation is required.
HCC - Acceptable Provider Interpretation for Diagnostic Testing
October 1st, 2018 - Wyn Staheli, Director of Research
The following table is taken from the Contract-Level Risk Adjustment Data Validation Medical Record Reviewer Guidance dated 2017-09-27 (see References). It is a listing of acceptable provider interpretation of diagnostic testing. Acceptable Examples include: Cardiology and Vascular Surgeons Echocardiogram (including Doppler, Duplex, Color flow of the heart vessels) EKG (electrocardiogram) – Stress test, Cardiac ...
Pricing for ASC's and APC's
August 27th, 2018 - Chris Woolstenhulme, QCC, CMCS, CPC, CMRS
For Medicare purposes, an Ambulatory Surgical Center Resources (ASC) is a distinct entity that operates exclusively to furnish surgical services to patients who do not require hospitalization and in which the expected duration of services does not exceed 24 hours following admission. ASC payment groups determine the amount that...
Importance of Depression Screenings
August 16th, 2018 - Wyn Staheli, Director of Research
Why would a chiropractor be concerned about depression screenings when you aren't trained to be a mental health provider? The answer lies in patient outcomes. Many quality care organizations recommend depression screenings for patients with a chronic condition. According to The National Institute of Mental Health, "People with other chronic ...
Dual Medicare-Medicaid Billing Problems
July 12th, 2018 - Wyn Staheli, Director of Research
It is important to keep in mind that Medicaid is run at a state level so there can be some differences when it comes to coverage. However, the rules regarding balance billing of covered services is set at the federal level. The law states (emphasis added): A state plan must provide ...
Inappropriate Use of Units Costs Practice Over $800,000
June 11th, 2018 - Wyn Staheli, Director of Research & Aimee Wilcox, CPMA, CCS-P, CMHP, CST, MA, MT
A recent OIG enforcement action emphasizes the need to understand the proper use of units. A healthcare provider in Connecticut improperly submitted multiple units for drug screening urine tests. The proper billing of units has proven to be problematic for more than just lab tests. Is your billing of drugs & biologicals, injections and timed codes appropriate?
Provider-Based Facilities and Split Billing Is Your Facility Being Reimbursed for All Work Performed?
June 8th, 2018 - Sharon Hoglund, CPC, CPMA, CEMC, CEMA
Are you stumped by billing guidelines for provider-based facilities? Who bills for what and why? Read on to hear how a little extra time and effort spent on researching split billing coding guidelines can greatly impact your facility, and even your budget ensuring reimbursement for all services performed...
Three Ways Bundled Payments Can Be a Success
June 7th, 2018 - BC Advantage
Bundled payment models continue to attract interest for their potential benefits over traditional fee-for-service payment models. With bundled payments, also known as episode-based payments or packaged pricing, a group of providers is reimbursed based on a contracted price to cover all of the care and services related to a particular ...
Q/A: Coding for Lesion Removal and Repair
June 5th, 2018 - Chris Woolstenhulme QCC, CMCS, CPC, CMRS
The CPT book does not indicate repairs, measuring .5 cm and less, during lesion removal. Does this mean that...
Q/A: Modifiers for Injections
April 17th, 2018 - Nicole Olsen QCC
I'm currently receiving a rejection for my billing with BCBS. We've entered 20550 and 20600 as services for the visit....
Documentation for Enteral Nutrition
March 9th, 2018 - Medicare Learning Network
The Medicare Learning Network provides guidance on required documentation for enteral nutrition. ...
Documentation for Negative Pressure Wound Therapy
March 9th, 2018 - Medicare Learning Network
The Medicare Learning Network provides guidance on required documentation for negative pressure wound therapy.
Anthem Will Not Give Modifier 25 a Pay Cut
March 1st, 2018 - Chris Woolstenhulme, QCC, CMCS, CPC, CMRS
Anthems original plan was to take a 50% reduction when providers reported claims using modifier 25, it was then lowered to a 25% reduction and has now been fully rescinded, to the relief of providers.  The policy was to go into effect March 1, 2018, however, due to strong opposition from ...
No HCPCS Code Available? Now What?
February 21st, 2018 - Chris Woolstenhulme, QCC, CMCS, CPC, CMRS
HCPCS level II codes classify products into categories for the purpose of claims processing. HCPCS level II codes are alphanumeric with a descriptive terminology that identifies the item or service used primarily for billing purposes. There are several types of HCPCS level II codes such as: Permanent National Codes Dental Codes Miscellaneous Codes Temporary National ...
Multiple Diagnostic Imaging Payment Reduction
February 1st, 2018 - Wyn Staheli, Director of Research
CMS and some other payers have adopted policies of reducing payments when certain multiple diagnostic imaging procedures (see Applicable Codes below) are performed in a single session by the same healthcare provider and/or group. They have done the same when there are multiple units for a procedure code. The rationale ...
OIG Reviews Medicare Advantage Claims
February 1st, 2018 - Wyn Staheli, Director of Research
On January 16, 2018, the OIG released a report of their findings on claims data for Medicare Advantage plans. While it appears that there were not significant issues, they did find that: "Types of potential errors included inactive or invalid billing provider identifiers; duplicated service lines; missing required data; inconsistent dates; ...
Physical Therapists: Rules For Nerve Conduction And Needle Electromyographic (EMG) Codes
February 1st, 2018 - Find-A-Code
According to Noridian L35081, nerve conduction code 95905 does not have levels of supervision 21, 22, 6a, 66, 77 or 7a assigned to it and is therefore not allowed by Physical Therapists. Nerve conduction codes 95907-95913 had their Physician Supervision of Diagnostic Tests Indicators adjusted to 7A effective 01/01/2013 (CR 8169). Therefore, if authorized by state law, ...
Reporting Tooth Numbers and Oral Cavity Areas
February 1st, 2018 - Chris Woolstenhulme, QCC, CMCS, CPC, CMRS
When billing for dental procedures you need to identify the exact tooth and/or location in the oral cavity. Qualifiers are used to report the location and tooth number. When billing procedures on teeth and the oral cavity, the JP qualifier is used to identify the tooth number(s) and the JO ...
Observation Z Codes
January 29th, 2018 - Find-A-Code
There are three observation Z code categories. They are for use in very limited circumstances when a person is being observed for a suspected condition that is ruled out. The observation codes are not for use if an injury or illness or any signs or symptoms related to the suspected ...
Paravertebral Joint/Nerve Denervation
January 10th, 2018 - Find-A-Code
A facet joint is supplied by two medial branch nerves. Each medial branch nerve supplies sensation to one half of each facet joint above and below the spinal nerve of origin. Therefore, both of the two related medial nerve branches for each facet joint must be treated. The CPT codes 64635-64636 have a ...
Should ROM Testing be Reported with Evaluation and Management Services?
January 9th, 2018 - Aimee Wilcox, CPMA, CCS-P, CST, MA, MT
Reporting the performance of range of motion testing (95851-95852) at the same encounter of an Evaluation and Management (EM) service, produces an NCCI edit resulting in payment for the EM service and denial of the ROM testing. Read the article to learn what other codes ROM testing is considered incidental to.
Prior years: (click bar to view articles)
Article categories