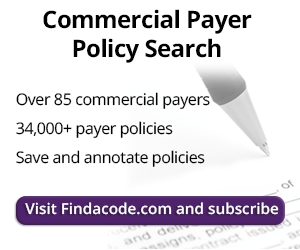 Q/A: Coding for Lesion Removal and Repair
June 5th, 2018 - Chris Woolstenhulme QCC, CMCS, CPC, CMRS
0 Votes -

Sign in

to vote or comment.
---
Q: The CPT book does not indicate repairs, measuring .5 cm and less, during lesion removal. Does this mean that an intermediate or complex repair of .5 cm is not billable? If it can be billed, and the lesion is .5 or less, but the repair is bigger, do we decide based on the size of the lesion or the size of final defect?
A: Repair and closures are determined by the three classifications Simple, Intermediate and Complex. These classifications are determined by the effort involved in the repair.

For example a simple repair: is reported for a superficial wound that involves primarily the epidermis, dermis, or subcutaneous tissues, requiring a one layer closure.

Intermediate repair is reported for one or deeper layers (non-muscle) or a single layer closure of heavily contaminated, that required extensive cleaning, also the removal of particulate matter constitutes intermediate repair.

Complex repair requires more than layer closures, with extensive undermining, stents or retention sutures, scar revision, debridement for traumatic lacerations or avulsions. (NOTE, decontamination and debridement is considered a separate procedure).

With that being said once the classification has been determined you then add the sum of lengths or repairs for each group of anatomic site and code according to the site and length of the repair.

12001 - Simple repair is for 2.5 cm or less
12031 - Intermediate repair of 2.5 cm or less

Anything less than a simple repair such as using adhesive strips would be reported with an E/M code.
###
Questions, comments?
If you have questions or comments about this article please contact us. Comments that provide additional related information may be added here by our Editors.
Latest articles: (any category)
Preview the PDGM Calculator for Home Health Today
December 4th, 2019 - Wyn Staheli, Director of Research
Until February 1, 2020, you can preview Find-A-Code's Patient-Driven Groupings Model (PDGM) home health payment calculator by going to https://www.findacode.com/tools/home-health/ .
Hypertension ICD-10-CM Code Reporting Table
November 25th, 2019 - Wyn Staheli, Director of Research
In ICD-10-CM, hypertension code options do not distinguish between malignant and benign or between controlled and uncontrolled. What is important for code selection is knowing if the hypertension is caused by or related to another condition. The following table shows some of these options.
New Medicare Home Health Care Payment Grouper — Are You Ready?
November 25th, 2019 - Wyn Staheli, Director of Research
In 2020, Medicare will begin using a new Patient-Driven Groupings Model (PDGM) for calculating Medicare payment for home health care services. This is probably the biggest change to affect home health care since 2000.
VA: How UCR Charges are Determined
November 20th, 2019 - Chris Woolstenhulme, QCC, CMCS, CPC, CMRS
How does the VA determine charges billed to third party payers for Veterans with private health insurance? According to the VA. "38 C.F.R 17.101 stipulates the basic methodology by which VA bills third party insurance carriers. In order to generate a charge for medical services, VA establishes reasonable charges for five ...
Medical Insurance Coverage for TMJ Disorders (TMD)
November 19th, 2019 - Christine Taxin
It is agreed that TMJ disorders should be covered by insurance. There are often questions whether it is covered by medical insurance or dental insurance and where the line is that separates coverage.Medical Insurance typically is the primary insurance for TMJ disorders. The reason is that joints are found anywhere ...
Changes to Portable X-Ray Requirements
November 19th, 2019 - Wyn Staheli, Director of Research
On September 30, 2019, CMS published a final rule which made changes to portable x-ray services requirements as found in the law.
Q/A: Q/A: How do I Code a Procedure for the Primary Insurance so the Secondary Can Get Billed?
November 19th, 2019 - Wyn Staheli, Director of Research
Question: How do you modify a code submitted to the primary insurance company to let them know it is not covered by them so you can bill to a secondary?