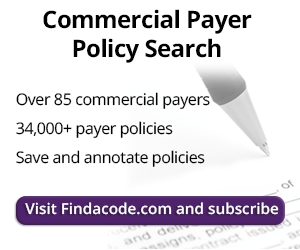 Primary Care|Family Care - Articles
Q/A: Coding for Lesion Removal and Repair
June 5th, 2018 - Chris Woolstenhulme QCC, CMCS, CPC, CMRS
The CPT book does not indicate repairs, measuring .5 cm and less, during lesion removal. Does this mean that...
Pre-Existing or Gestational?
February 1st, 2018 - Chris Woolstenhulme, QCC, CMCS, CPC, CMRS
It is important to make a clear distinction between pre-existing conditions and conditions brought on by the pregnancy (gestational) or pregnancy related conditions. Condition Detail: Was the condition pre-existing (i.e., present before pregnancy)? Trimester: When did the pregnancy-related condition develop? Casual Relationship: Establish the relationship between the pregnancy and the complication (e.g., preeclampsia) Code examples: O99.011 Anemia ...
Influenza, Are You Billing Correctly?
January 31st, 2018 - Chris Woolstenhulme, QCC, CMCS, CPC, CMRS
With this year's Flu season being the most widespread on record, providers are seeing more patients and giving more immunizations for influenza than normal. Here are a few things to keep in mind during this flu season.  Know the rules with your payers to ensure proper reimbursement and correct billing. For example, did you ...
Prior years: (click bar to view articles)
Article categories