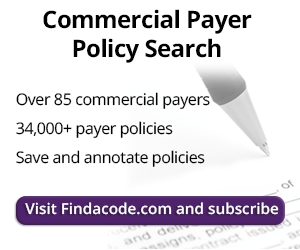 Hospital discharge, nursing facility admit billable on same day by same provider in most instances
November 18th, 2013 - Scott Kraft
0 Votes -

Sign in

to vote or comment.
---
Medicare will typically pay for a hospital discharge service (billed with 99238-99239) and a nursing facility admission visit (99304-99306) when billed on the same date of service (DOS) by the same provider without the need for a modifier. As always, however, there are a couple of exceptions.
The discharge day management services are billed for the services provided to the patient at discharge. You use 99238 for a service of 30 minutes or less and 99239 for services of 31 minutes or more. The pay difference between the services is approximately $35, depending upon where you're located.
Discharge services run the gamut from the exam provided to the patient that day, furnishing of discharge instructions, arrangement of follow-up care after the hospitalization, writing prescriptions, etc. The service technically does not need to always be billed on the actual date of discharge, but can be billed only once during the hospitalization.
When the same provider admits the patient to the skilled nursing facility or nursing facility, the physician may bill the appropriate admission code from the 99304-99306 range.
Of the admit codes,99304 requires a detailed or comprehensive history and exam and medical decision making of straightforward or low complexity; 99305 requires a comprehensive history and exam and medical decision making of moderate complexity; 99306 requires a comprehensive history and exam and medical decision making of high complexity.
The exception: A surgeon cannot bill for an admission to a nursing facility when the reason for the admission is directly related to the surgery that has a global period. In that case, the nursing facility admit and any subsequent nursing facility services are including in the global payment for the surgery, according to CMS.
The exception to the exception: When the surgeon refers the patient to a nursing facility for a reason that is not related to the surgery, the surgeon may bill the nursing facility admit along with modifier 24 for unrelated E/M services during a global period.
One last reminder: When the patient is admitted to and discharged from inpatient status on the same date of service, don't bill 99238-99239. Instead, bill the appropriate code from the 99234-99236 series.
These policies are detailed in Medicare's Internet Only Manual, Pub. 100-04, Chapter 12, Section 30.6.9.2.
###
Questions, comments?
If you have questions or comments about this article please contact us. Comments that provide additional related information may be added here by our Editors.
Latest articles: (any category)
Preview the PDGM Calculator for Home Health Today
December 4th, 2019 - Wyn Staheli, Director of Research
Until February 1, 2020, you can preview Find-A-Code's Patient-Driven Groupings Model (PDGM) home health payment calculator by going to https://www.findacode.com/tools/home-health/ .
Hypertension ICD-10-CM Code Reporting Table
November 25th, 2019 - Wyn Staheli, Director of Research
In ICD-10-CM, hypertension code options do not distinguish between malignant and benign or between controlled and uncontrolled. What is important for code selection is knowing if the hypertension is caused by or related to another condition. The following table shows some of these options.
New Medicare Home Health Care Payment Grouper — Are You Ready?
November 25th, 2019 - Wyn Staheli, Director of Research
In 2020, Medicare will begin using a new Patient-Driven Groupings Model (PDGM) for calculating Medicare payment for home health care services. This is probably the biggest change to affect home health care since 2000.
VA: How UCR Charges are Determined
November 20th, 2019 - Chris Woolstenhulme, QCC, CMCS, CPC, CMRS
How does the VA determine charges billed to third party payers for Veterans with private health insurance? According to the VA. "38 C.F.R 17.101 stipulates the basic methodology by which VA bills third party insurance carriers. In order to generate a charge for medical services, VA establishes reasonable charges for five ...
Medical Insurance Coverage for TMJ Disorders (TMD)
November 19th, 2019 - Christine Taxin
It is agreed that TMJ disorders should be covered by insurance. There are often questions whether it is covered by medical insurance or dental insurance and where the line is that separates coverage.Medical Insurance typically is the primary insurance for TMJ disorders. The reason is that joints are found anywhere ...
Changes to Portable X-Ray Requirements
November 19th, 2019 - Wyn Staheli, Director of Research
On September 30, 2019, CMS published a final rule which made changes to portable x-ray services requirements as found in the law.
Q/A: Q/A: How do I Code a Procedure for the Primary Insurance so the Secondary Can Get Billed?
November 19th, 2019 - Wyn Staheli, Director of Research
Question: How do you modify a code submitted to the primary insurance company to let them know it is not covered by them so you can bill to a secondary?