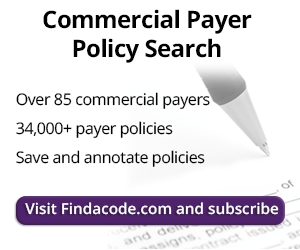 Should ROM Testing be Reported with Evaluation and Management Services?
January 9th, 2018 - Aimee Wilcox, CPMA, CCS-P, CST, MA, MT
0 Votes -

Sign in

to vote or comment.
---
We recently received an email from a reader asking whether or not range of motion (ROM) testing (95851-95852) using a duel computerized inclinometer with a separate report when done at the same time as an Evaluation and Management (E/M) services, could be billed if reported with modifier 59 to override the NCCI edit. The reader referred to the patient's condition indicating the need for "more definitive and quantifiable data" and referred to the specific ROM Assessment guides set by the AMA.
Although it may seem justifiable and even medically necessary to perform these services simultaneously, CMS has determined they are incidental to each other. According to the National Correct Coding Initiative (NCCI) edits, when range of motion (ROM) testing is performed (95851-95852) at the same time as an Evaluation and Management (E/M) service it will be denied as incidental (or an expected part of) the physical examination portion of the EM service. In other words, the physical examination portion of the E/M service should include ROM testing, if performed so they will not pay for it separately. Medicare addresses exactly this situation in the Medicare Benefit Policy Manual, Chapter 15, Section 240.1.2:
A subluxation may be demonstrated by….Physical Examination Evaluation of musculoskeletal/nervous system to identify:
Pain/tenderness evaluated in terms of location, quality, and intensity;

Asymmetry/misalignment identified on a sectional or segmental level;

Range of motion abnormality (changes in active, passive, and accessory joint movements resulting in an increase or a decrease of sectional or segmental mobility); and

Tissue, tone changes in the characteristics of contiguous, or associated soft tissues, including skin, fascia, muscle, and ligament.
To demonstrate a subluxation based on physical examination, two of the four criteria mentioned under "physical examination" are required, one of which must be asymmetry/misalignment or range of motion abnormality."
Additionally, according to the NCCI edits ROM testing can only be reported with certain critical care E/M services but these would not likely be performed by Chiropractors in the hospital setting.
So when can you be reimbursed for reporting ROM testing?

A provider, properly educated, licensed, and allowed under state practicing laws who performs ROM testing (95851 - 95852) as a separate and independent service could be eligible for reimbursement, as long as a separate written report identifying any findings is included in the medical record.
Many physical therapists routinely perform both ROM testing (95852-95852) and manual muscle testing (MMT) (95831 - 95834) as a routine part of 97750. In this situation, ROM and MMT would not be separately billable, but rather would be billed as part of 97750 instead.
A caveat about this code, that many forget is the description for 95851 is that it is range of motion testing per extremity (each extremity), meaning for each extremity you do, you can bill one (1) unit of service. However, each extremity has the ability to check range of motion for each joint pertaining to that extremity and many times only one is performed. Documentation must clearly identify the complete ROM testing for each extremity for which a unit of service is reported.
The specialized software for ROM testing is useful for many providers; however, the circumstances surrounding the reason for the test and the other services performed at the same encounter will completely determine whether or not these services are reimbursable or considered incidental to the other services provided. To ensure proper reporting, always check your codes using the NCCI Validator Tool, available through certain Find-A-Code subscriptions.
###
Questions, comments?
If you have questions or comments about this article please contact us. Comments that provide additional related information may be added here by our Editors.
Latest articles: (any category)
Billing for Telemedicine in Chiropractic
January 14th, 2020 - Evan M. Gwilliam DC MBA BS CPC CCPC QCC CPC-I MCS-P CPMA CMHP
Many large private payers recognize the potential cost savings and improved health outcomes that telemedicine can help achieve, therefore they are often willing to cover it. While there are several considerations, there could be certain circumstances where telemedicine might apply to chiropractic care.
Non-Surgical Periodontal Treatment
January 14th, 2020 - Christine Taxin
AAP treatment guidelines stress that periodontal health should be achieved in the least invasive and most cost-effective manner. This is often accomplished through non-surgical periodontal treatment.Non-surgical periodontal treatment does have its limitations. When it does not achieve periodontal health, surgery may be indicated to restore periodontal health.SCALING AND ROOT PLANINGScaling ...
Q/A: Can Chiropractors Bill 99211?
January 14th, 2020 - Wyn Staheli, Director of Research
Can chiropractic offices bill code 99211? Technically it can be used by chiropractors, but in most instances, it is discouraged. Considering that 99211 is a low complexity examination for an established patient, this code is not really made for the physician to use. In fact, in 2021, changes are coming for this code...
Denials due to MUE Usage - This May be Why!
January 7th, 2020 - Chris Woolstenhulme, QCC, CMCS, CPC, CMRS
CMS assigns Medically Unlikely Edits (MUE's) for HCPCS/CPT codes, although not every code has an MUE. MUE edits are used to limit tests and treatments provided to a Medicare patient for a single date of service or for a single line item on a claim form. It is important to understand MUE's are ...
CMS Report on QPP Shows Increasing Involvement
January 6th, 2020 - Wyn Staheli, Director of Research
MIPS 2018 participation increased according to the final report issued by CMS on January 6, 2020.
CPT 2020 Changes to Psychiatry Services
January 3rd, 2020 - Namas
As of January 1, 2020, CPT made changes to the health and behavior assessment and intervention codes (96150-96155) and therapeutic interventions that focus on cognitive function (97127). If you code and audit services in this category, you must pay close attention to the changes as they include the removal and ...
Medicare Changes Bilateral Reporting Rules for Certain Supplies
December 30th, 2019 - Wyn Staheli, Director of Research
DME suppliers must bill bilateral supplies with modifiers RT and LT on separate claim lines or they are being rejected.