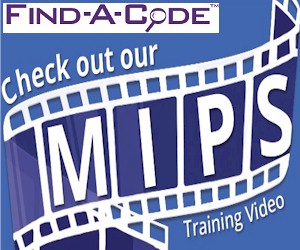 Should ROM Testing be Reported with Evaluation and Management Services?
January 9th, 2018 - Aimee Wilcox, CPMA, CCS-P, CST, MA, MT
0 Votes -

Sign in

to vote or comment.
---
We recently received an email from a reader asking whether or not range of motion (ROM) testing (95851-95852) using a duel computerized inclinometer with a separate report when done at the same time as an Evaluation and Management (E/M) services, could be billed if reported with modifier 59 to override the NCCI edit. The reader referred to the patient's condition indicating the need for "more definitive and quantifiable data" and referred to the specific ROM Assessment guides set by the AMA.
Although it may seem justifiable and even medically necessary to perform these services simultaneously, CMS has determined they are incidental to each other. According to the National Correct Coding Initiative (NCCI) edits, when range of motion (ROM) testing is performed (95851-95852) at the same time as an Evaluation and Management (E/M) service it will be denied as incidental (or an expected part of) the physical examination portion of the EM service. In other words, the physical examination portion of the E/M service should include ROM testing, if performed so they will not pay for it separately. Medicare addresses exactly this situation in the Medicare Benefit Policy Manual, Chapter 15, Section 240.1.2:
A subluxation may be demonstrated by….Physical Examination Evaluation of musculoskeletal/nervous system to identify:
Pain/tenderness evaluated in terms of location, quality, and intensity;

Asymmetry/misalignment identified on a sectional or segmental level;

Range of motion abnormality (changes in active, passive, and accessory joint movements resulting in an increase or a decrease of sectional or segmental mobility); and

Tissue, tone changes in the characteristics of contiguous, or associated soft tissues, including skin, fascia, muscle, and ligament.
To demonstrate a subluxation based on physical examination, two of the four criteria mentioned under "physical examination" are required, one of which must be asymmetry/misalignment or range of motion abnormality."
Additionally, according to the NCCI edits ROM testing can only be reported with certain critical care E/M services but these would not likely be performed by Chiropractors in the hospital setting.
So when can you be reimbursed for reporting ROM testing?

A provider, properly educated, licensed, and allowed under state practicing laws who performs ROM testing (95851 - 95852) as a separate and independent service could be eligible for reimbursement, as long as a separate written report identifying any findings is included in the medical record.
Many physical therapists routinely perform both ROM testing (95852-95852) and manual muscle testing (MMT) (95831 - 95834) as a routine part of 97750. In this situation, ROM and MMT would not be separately billable, but rather would be billed as part of 97750 instead.
A caveat about this code, that many forget is the description for 95851 is that it is range of motion testing per extremity (each extremity), meaning for each extremity you do, you can bill one (1) unit of service. However, each extremity has the ability to check range of motion for each joint pertaining to that extremity and many times only one is performed. Documentation must clearly identify the complete ROM testing for each extremity for which a unit of service is reported.
The specialized software for ROM testing is useful for many providers; however, the circumstances surrounding the reason for the test and the other services performed at the same encounter will completely determine whether or not these services are reimbursable or considered incidental to the other services provided. To ensure proper reporting, always check your codes using the NCCI Validator Tool, available through certain Find-A-Code subscriptions.
###
Questions, comments?
If you have questions or comments about this article please contact us. Comments that provide additional related information may be added here by our Editors.
Latest articles: (any category)
Should ROM Testing be Reported with Evaluation and Management Services?
January 9th, 2018 - Aimee Wilcox, CPMA, CCS-P, CST, MA, MT
Reporting the performance of range of motion testing (95851-95852) at the same encounter of an Evaluation and Management (EM) service, produces an NCCI edit resulting in payment for the EM service and denial of the ROM testing. Read the article to learn what other codes ROM testing is considered incidental to.
OIG Advisory Opinion Recinded - Lessons Learned
December 21st, 2017 - Wyn Staheli
In the compliance world, it is important to know when the OIG makes an advisory opinion on a subject. For example, the advisory on Time of Service or Prompt Pay Discounts helps to ensure that providers are creating policies and procedures which will meet the standards of the OIG in the case ...
Specialty Exceptions — 2018 PE RVU Changes
December 13th, 2017 - Raquel
Some specialties are not included in the new PPIS PE/HR RVU changes
Escharotomy Procedural Cross-Walking CPT to ICD-10-PCS
November 10th, 2017 - Brandon Dee Leavitt CPC, QCC
An Escharotomy is used for "local treatment of burned surface" per the AMA Guidelines, when incisions are performed on the burn site. Notice, when cross-walking 16035 or 16036 to inpatient codes, Find-A-Code crosswalks lead to Body System H, Operation 8 - Division of the skin, and Operation N -...
Four Final Rules Affecting CMS Payments for 2018
November 7th, 2017 - Wyn Staheli
It's a season for changes. CMS just finalized four rules which directly impact the following payment systems: Physician Fee Schedule Final Policy, Payment, and Quality Provisions for CY 2018 Hospital OPPS and ASC Payment System and Quality Reporting Programs Changes for 2018 HHAs: Payment Changes for 2018 Quality Payment Program Rule for Year 2 This ...
CMS Proposes to Revise Evaluation & Management Guidelines
October 26th, 2017 - BC Advantage
According to the recently released 2018 Physician Fee Schedule Proposed Rule, published in the Federal Register, dated July 21, 2017, the Centers for Medicare & Medicaid Services (CMS) acknowledges that the current Evaluation and Management (E/M) documentation guidelines create an administrative burden and increased audit risk for providers. In response, ...
Summary of OIG Reports for Chiropractic
October 23rd, 2017 - Evan M. Gwilliam DC MBA BS CPC CCPC QCC CPC-I MCS-P CPMA CMHP
The Office of the Inspector General was created to protect the integrity of the U.S. Department of Health and Human Services. They investigate fraud, waste, and abuse in HHS programs and make recommendations to various enforcement agencies. Every few years they investigate chiropractic services. Here is a summary of the reports the ...