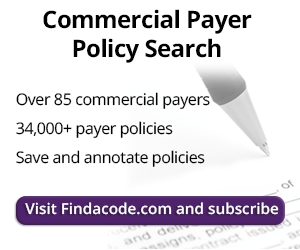 Medicare fee schedule's big pay cut probably temporary – big PQRS change likely permanent
January 3rd, 2014 - Scott Kraft
0 Votes -

Sign in

to vote or comment.
---
CMS released Medicare's 2014 Final Physician Fee Schedule rule on Thanksgiving Eve, delayed from its usual November 1 release by the government shutdown earlier this fall.
Fee schedule followers won't be surprised to see CMS finalize a 20.1% average cut to payments next year, slashing the conversion factor down to $27.2006 in 2014. Expect Congress to step in and fix that. While there have been rumblings of a permanent fix to the payment formula, the more time that passes without one makes it more likely you'll see a temporary fix.
Here are the other changes finalized by CMS for 2014:
Tougher PQRS reporting: Most PQRS reporting options will now require you to successfully report on 9 different measures, up from the current 3. Those measures will have to come from 3 different measures groups, when possible. If it's not possible to report 9, report as many as you can from 1-8. You'll only need to be successful on 50% of your eligible patients, down from the current 80%. This change applies to claims-based, registry-based and group reporting options.
New GPCIs: CMS will phase-in updated GPCIs based on new data over the next two years. The main impacts of the change is that payments in some localities will increase or decrease by 1%-2%, regardless of other fee schedule changes. Other GPCI changes of note – the 1.0 work GPCI will expire on Dec. 31, unless salvaged by Congress. Alaska will keep its minimum 1.5 work GPCI and Montana, Nevada, North Dakota, South Dakota and Wyoming will keep 1.0 minimum practice expense GPCIs.
Payment formula shift: As a result of tweaks to the data used to calculate your payments, approximately 50% of the 2014 payment will be based on the physician work RVU, an upward shift of about 3 percentage points. Practice expense will go down the same amount, and malpractice will make up just under 5% of the average payment.
Misvalued codes: Payments for about 200 services, some very commonly billed laparoscopic procedures, will change next year because CMS believes the RVUs were misvalued. These changes are interim final changes that the agency will accept comments on until January 27, 2014. See page 313 in the attached fee schedule for a complete list of codes with the new RVUs. While the payment amounts aren't listed, a lower RVU is evidence that the price will fall and a higher RVU is evidence it will increase.
Chronic care management payment: CMS will begin making payment to physicians for a chronic care management service, but these payments will not start until 2015. Payment will be made for chronic care management for 12 months or until the death of the patient, when the patient has multiple chronic conditions. The agency says it will develop more specific standards for when these services may be billed
Physician pay cap not finalized: A controversial proposal to cap physician office service payments at no more than what CMS pays for the service in an ASC or outpatient setting was not finalized.
###
Questions, comments?
If you have questions or comments about this article please contact us. Comments that provide additional related information may be added here by our Editors.
Latest articles: (any category)
Billing for Telemedicine in Chiropractic
January 14th, 2020 - Evan M. Gwilliam DC MBA BS CPC CCPC QCC CPC-I MCS-P CPMA CMHP
Many large private payers recognize the potential cost savings and improved health outcomes that telemedicine can help achieve, therefore they are often willing to cover it. While there are several considerations, there could be certain circumstances where telemedicine might apply to chiropractic care.
Non-Surgical Periodontal Treatment
January 14th, 2020 - Christine Taxin
AAP treatment guidelines stress that periodontal health should be achieved in the least invasive and most cost-effective manner. This is often accomplished through non-surgical periodontal treatment.Non-surgical periodontal treatment does have its limitations. When it does not achieve periodontal health, surgery may be indicated to restore periodontal health.SCALING AND ROOT PLANINGScaling ...
Q/A: Can Chiropractors Bill 99211?
January 14th, 2020 - Wyn Staheli, Director of Research
Can chiropractic offices bill code 99211? Technically it can be used by chiropractors, but in most instances, it is discouraged. Considering that 99211 is a low complexity examination for an established patient, this code is not really made for the physician to use. In fact, in 2021, changes are coming for this code...
Denials due to MUE Usage - This May be Why!
January 7th, 2020 - Chris Woolstenhulme, QCC, CMCS, CPC, CMRS
CMS assigns Medically Unlikely Edits (MUE's) for HCPCS/CPT codes, although not every code has an MUE. MUE edits are used to limit tests and treatments provided to a Medicare patient for a single date of service or for a single line item on a claim form. It is important to understand MUE's are ...
CMS Report on QPP Shows Increasing Involvement
January 6th, 2020 - Wyn Staheli, Director of Research
MIPS 2018 participation increased according to the final report issued by CMS on January 6, 2020.
CPT 2020 Changes to Psychiatry Services
January 3rd, 2020 - Namas
As of January 1, 2020, CPT made changes to the health and behavior assessment and intervention codes (96150-96155) and therapeutic interventions that focus on cognitive function (97127). If you code and audit services in this category, you must pay close attention to the changes as they include the removal and ...
Medicare Changes Bilateral Reporting Rules for Certain Supplies
December 30th, 2019 - Wyn Staheli, Director of Research
DME suppliers must bill bilateral supplies with modifiers RT and LT on separate claim lines or they are being rejected.