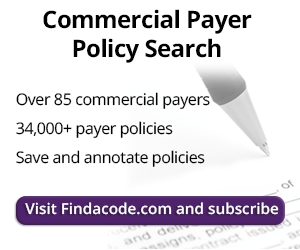 Neck: Supple
June 30th, 2017 - Shannon DeConda
0 Votes -

Sign in

to vote or comment.
---
I am allowed the opportunity, through our wonderful NAMAS members and bootcamp and conference attendees, to educate all walks of auditors and compliance professionals. These include not just compliance auditors and divisions in healthcare, but also auditors on the carrier side. As I do, I see the good fights on both sides and have come to the realization that I believe everyone is missing one piece, and that is at some point in time we all need to realize that whether a carrier auditor or physician advocate auditor- we are ALL working to reduce fraud, waste and abuse. That being said, we must all network together, cross-train, and encourage a common core understanding.
I begin the tip this way because I do find it necessary to call out our good friends at NGS Medicare. Today, I was on the NGS website researching and was specifically reviewing an Ask -the-Contractor Teleconference from 09/28/16 and ran across a very interesting response to a question.
13. The questions I have involve E&M scoring and documentation. Which organ system can credit be given for "Neck Supple"?
Answer: "Neck supple" can count as a body area, but to count as an organ system, the comment would need to describe 'ear, nose, mouth and throat'
I must tell you that when I read that, I thought I must have read it wrong - let me try again. But no, I read it right.
Why in the world would the first go-to organ system for 'neck supple' be ENT? I realize the throat is there, but if a provider is examining the throat, he is going to have to scope it because he cannot see a thing through the skin. Maybe it could also be to indicate the lack of nuchal signs in a patient with ENT complaints, suggesting that they don't have meningitis, but truly puzzling that NGS would be promoting ENT for 'neck supple'.
Neck is a body area of course and not an organ system, and therefore useless in and of itself in 1995 Guidelines, but also remember that if the findings represent an organ system then we are good to go as we can use the findings of the organ system and count that organ system. What the true response from NGS should have been for this question is this:
"Neck: supple" may count as a Musculoskeletal finding because the term 'supple' (found via Google) is Bending and moving easily and gracefully; flexible.
Why am I troubled by this and making a big deal? Because this is now PUBLISHED GUIDANCE on the NGS website. Every coder and auditor under NGS jurisdiction will now say that 'Neck: supple' is ALWAYS ENT because NGS says so. NGS should update this to say that this finding COULD represent ENT and this would be much more appropriate.
The point here is that any of us - MAC, education, consultant, auditors and all of us that are educating others, publishing information or creating curriculum - are tasked with providing thorough and complete guidance and should always separate 'opinion' and our own personal 'interpretation' from the actual published rules that are at best vague and ambiguous.
###
Questions, comments?
If you have questions or comments about this article please contact us. Comments that provide additional related information may be added here by our Editors.
Latest articles: (any category)
Q/A: How Many Diagnosis Codes do I use?
April 15th, 2019 - Wyn Staheli, Director of Research
Question: My patient has a lot of chronic conditions. Do I need to include all these on the claim? I know that I can have up to 12 diagnoses codes on a single claim. What if I need more than that? Answer: More is not always better. You only need to ...
Watch out for People-Related 'Gotchas'
April 15th, 2019 - Wyn Staheli, Director of Research
In Chapter 3 — Compliance of the ChiroCode DeskBook, we warn about the dangers of disgruntled people (pages 172-173). Even if we think that we are a wonderful healthcare provider and office, there are those individuals who can and will create problems. As frustrating as it may be, there are ...
Q/A: What do I do When a Medicare Patient Refuses to Sign an ABN?
April 8th, 2019 - Wyn Staheli, Director of Research
Question: What do I do when a Medicare patient refuses to sign an ABN? Answer: That depends on whether the patient is still demanding to have/receive the service/supply. If they aren't demanding the service, then there is no need to force the issue. Just make sure that you still have an ...
Prepayment Review Battle Plan
April 8th, 2019 - Wyn Staheli, Director of Research
Any type of payer review can create some headaches for providers and cause problems for a healthcare office. Even for a practice that has taken administrative steps to try and prevent a prepayment review, it can still happen. A prepayment review means that you must include documentation WITH your claim. ...
Looking Ahead - Changes in Dentistry!
April 3rd, 2019 - Christine Taxin
In the next 10 years, what is the biggest change dentistry will experience? FW: We all know healthcare in the U.S. is changing rapidly. Dentistry is no exception. My opinion is that several big changes are forthcoming. Most often, I think about changes that benefit patients and/or providers. Here are three ...
Q/A: I Submitted a Claim to the VA and it's Being Denied. Why?
April 1st, 2019 - Wyn Staheli, Director of Research
I submitted a claim to the VA and it's being denied. Why? There are several reasons why your claim might be denied by the Veterans Administration (VA). However, without more information about the claim itself (e.g., services billed), we can only provide the following general information about the VA and chiropractic ...
Corrections and Updates
April 1st, 2019 - Wyn Staheli, Director of Research
One constant in our industry is change. Policies change, contracts change, and there are updates. Also, people aren't perfect and mistakes can be made. So this article will cover a variety of topics. Published Articles We appreciate feedback from our valued customers. We have received feedback regarding two of our articles which ...