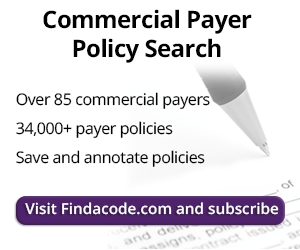 Audits/Auditing - Articles
We've Always Done It This Way and Other Challenges in Education
October 19th, 2018 - BC Advantage
As coders, auditors, and compliance professionals, we are the provider's advocates in closing the gap between what is medically necessary and what is required for documentation. Sometimes that places us in the role where we need to save our clinicians from themselves, and the patterns they have fallen into...
Chiropractic OIG Audit Recommendations - Lessons Learned
September 28th, 2018 - Wyn Staheli, Director of Research
The OIG recently concluded an audit on a chiropractic office located in Florida and had some significant findings. They recommended the following: Refund to the Federal Government the portion of the estimated $169,737 overpayment for claims for chiropractic services that did not comply with Medicare requirements and are within the 4-year ...
PSAVE Pilot Program - What Does it Mean to You?
August 20th, 2018 - Wyn Staheli, Director of Research
Noridian's pilot program Provider Self-Audit with Validation and Extrapolation (PSAVE) has been extended which means that it has been successful for the payer, which means that they are saving money. Historically, when a pilot program is proven to be successful, it isn't too long before other MACs follow. Before signing up to participate, providers need to carefully evaluate the program. Are the benefits worth the costs?
When Medical Necessity and Medical Decision Making Don't Match
August 3rd, 2018 - BC Advantage
As coders and auditors, we are taught the documentation guidelines on how to determine medical decision making. However, Medicare is clear that medical necessity is what determines the overall payment. In order to know what to do when medical necessity and medical decision making do not line up, you must...
Scoring & Reporting Your Audit Findings
February 2nd, 2018 - Shannon DeConda, CPC, CPC-I, CEMC, CEMA, CPMA, CRTT
This week we had a great question posted to our online forum, and I thought it would be a nice thought- provoking question for our auditing and compliance tip of the week.
Creating a Culture of Compliance in 2018
January 26th, 2018 - Sean M. Weiss, CHC, CEMA, CMCO, CP MA, CPC-P, CMPE, CPC
This year (2018), health care organizations (Hospitals, Health Systems and Physician Groups/Practices) must focus on the criticality of creating a culture of compliance to ensure effectiveness and efficiency....
Prior years: (click bar to view articles)
Article categories