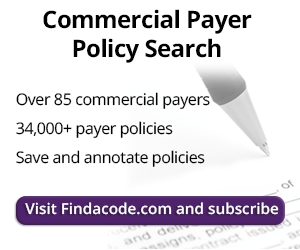 Audits/Auditing - Articles
Understanding NCCI Edits
February 20th, 2019 - Aimee Wilcox, CPMA, CCS-P, CMHP, CST, MA, MT
Medicare creates and maintains the National Correct Coding Initiative (NCCI) edits and NCCI Policy Manual, which identify code pair edits. When performed on the same patient, on the same day, and by the same provider, the secondary code is considered an integral part of the primary code, and payment for ...
2018 Salary Survey
January 28th, 2019 - NAMAS
NAMAS needs your help in capturing salary information for 2018 and developing standards for the industry. This is the information that YOU as an auditor need to share with your employer! Everyone who participates will be entered into a drawing for a chance to win one of many prizes! One winner ...
How to Report Co-Surgeons Using Modifier 62
January 23rd, 2019 - Aimee Wilcox, CPMA, CCS-P, CMHP, CST, MA, MT
Modifier 62 is appended to surgical claims to report the need for the skills of two surgeons (co-surgeons) to perform a procedure, with each surgeon performing a distinct part of the same procedure, during the same surgical session. An easy way to explain this is to visualize a patient requiring cervical fusion where ...
Prior years: (click bar to view articles)
Article categories