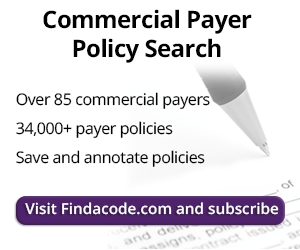 Chiropractic OIG Audit Recommendations - Lessons Learned
September 28th, 2018 - Wyn Staheli, Director of Research
0 Votes -

Sign in

to vote or comment.
---
The OIG recently concluded an audit on a chiropractic office located in Florida and had some significant findings. They recommended the following:
Refund to the Federal Government the portion of the estimated $169,737 overpayment for claims for chiropractic services that did not comply with Medicare requirements and are within the 4-year claims reopening period
Exercise reasonable diligence to identify and return the overpayments in accordance with the 60-day rule, for the remaining portion of the estimated $169,737 overpayment for claims that are outside of the reopening period, and identify any returned overpayments as having been made in accordance with this recommendation;
Exercise reasonable diligence to identify and return any additional similar overpayments outside of our audit period, in accordance with the 60-day rule, and identify any returned overpayments as having been made in accordance with this recommendation; and
Establish adequate policies and procedures to ensure that chiropractic services billed to Medicare are medically necessary and adequately documented
These OIG audit recommendations do not necessarily mean that this is the final determination and Medicare will follow all their recommendations. The MAC will likely be the one making the final determination as to whether a potential overpayment exists and they will also be the one to recoup any overpayments.
Even though the chiropractic office disagreed with the OIG's findings on 31 of the 33 disputed claims and plans to appeal, there are some important things that every office can glean from their misfortune:
The OIG excluded claims that were previously reviewed by RAC or MAC so that means that even more records were reviewed prior to the OIG audit. Remember, records requests tend to lead to audits. If you have had record requests, be sure to conduct your own internal audit to look for potential problems and resolve them. The 2018 ChiroCode DeskBook includes an audit template for this purpose.


The report stated that "Subluxation of the spine was not present or was not treated with manual manipulation or both (13 services)." This is a reminder that it is critical to document that information the way that Medicare wants it documented. Make it easy for a reviewer to find what they are looking for. See Chapter 4 of the ChiroCode DeskBook for more information.


The overpayment of $1,042 in unallowable payments on 100 claims magically turned into an estimated Medicare overpayment of "at least $169,737" by extrapolating to all the claims they filed. We talk about this problem of extrapolation in the "Why Be Concerned?" segment on page 174 of the 2018 ChiroCode DeskBook.


This organization was flagged as an outlier and thus audited for the following reasons:

They were among the five highest-billing chiropractors in Florida - when your billings are substantial, the extrapolation process can be quite costly.
They billed all chiropractic services using modifier AT - Carefully monitor when the patient moves from active treatment to maintenance and document this transition. Remember Medicare's key requirement of having a reasonable expectation of improvement.
They billed the majority (82 percent) of services using code 98941 - Payers use data mining to find coding patterns so if your billing pattern is different than what they expect, you are probably more likely to be audited than someone whose patterns fit their 'norm'. See page 179 of the 2018 ChiroCode DeskBook for more information.
Now is a good time to take stock of your policies and procedures and ensure staff compliance. Conduct your own internal audit to review your medical record documentation and billing practices to be proactive in your approach to compliance.
###
Questions, comments?
If you have questions or comments about this article please contact us. Comments that provide additional related information may be added here by our Editors.
Latest articles: (any category)
HHS Proposes Significant Changes to Patient Access Rules
February 11th, 2019 - Wyn Staheli, Director of Research
In a significant announcement on February 11, 2019, HHS proposed new rules aimed at improving interoperability of electronic health information. This announcement was made in support of the MyHealthEData initiative which was announced by the Trump administration on March 6, 2018. The goal of that initiative was to break down ...
Charging Missed Appointment Fees for Medicare Patients
February 7th, 2019 - Wyn Staheli, Director of Research
Some providers mistakenly think that they cannot bill a missed appointment fee for Medicare beneficiaries. You can, but Medicare has specific rules that must be followed. These rules are outlined in the Medicare Claims Policy Manual, Chapter 1, Section 30.3.13. You must have an official "Missed Appointment Policy" which is ...
Q/A: Do Digital X-rays Have Their Own Codes?
February 7th, 2019 - Wyn Staheli, Director of Research
Question Are you aware if digital x-ray of the spine requires a different code than plain x-ray? If so, where can I find the information specific to digital x-ray codes? Answer There are no separate codes for digital x-rays. However, there may be modifiers that are required to be submitted with the usual ...
Clinical Staff vs Healthcare Professional
February 5th, 2019 - Chris Woolstenhulme, QCC, CMCS, CPC, CMRS
State scope of practice laws and regulations will help determine who is considered Clinical staff and Other qualified Health Care professionals.  Physician or other qualified healthcare professionals:  Must have a State license, education training showing qualifications as well as facility privileges.  Examples of Qualified Healthcare professionals: (NOTE: this list is not all-inclusive, please refer to your payer ...
BC Advantage Now Offering Q-Pro CEUs!
February 5th, 2019 - Find-A-Code
We are excited to announce BC Advantage is now offering Q-Pro CEUs! It is now even easier to get your QPro CEUs and stay current with BC Advantage: offering news, CEUs, webinars and more. BC Advantage is the largest independent resource provider in the industry for Medical Coders, Medical Billers,...
Attestations Teaching Physicians vs Split Shared Visits
February 1st, 2019 - BC Advantage
Physicians often use the term "attestation" to refer to any kind of statement they insert into a progress note for an encounter involving work by a resident, non-physician practitioner (NPP), or scribe. However, for compliance and documentation purposes, "attestation" has a specific meaning and there are distinct requirements for what ...
Q/A: Can I Bill a Review of X-Rays?
February 1st, 2019 - Wyn Staheli, Director of Research & Aimee Wilcox, CPMA, CCS-P, CMHP, CST, MA, MT
It is not unusual for a healthcare provider to review x-rays taken and professionally read by another entity. Questions arise regarding how to bill this second review. It is essential to keep in mind that the global (complete) service of taking an x-ray is composed of both a professional and ...