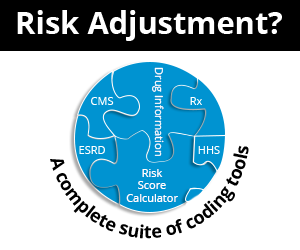 Medicare - Articles
And Then There Were Fees...
November 11th, 2019 - Chris Woolstenhulme, QCC, CMCS, CPC, CMRS
Find-A-Code offers fees and pricing for just about everything, this article will address two of some of the most common payment systems with CMS. (OPPS) -Outpatient Medicare Outpatient Prospective Payment System. (MPFS)- Medicare Physician Fee Schedule The Fees section on each code page is determined on the type of services...
Medically Unlikely Edits (MUEs): Unlikely, But Not Always Impossible
October 18th, 2019 - Namas
Medically Unlikely Edits (MUEs) were created by the Centers for Medicare & Medicaid Services (CMS) to help lower the error rate for paid Part B claims. MUEs are the maximum units of a HCPCS or CPT code that a provider would bill under most circumstances for the same patient on ...
Why is HIPAA So Important?
October 11th, 2019 - Namas
Why is HIPAA So Important? Some may think that what they do to protect patient information may be a bit extreme. Others in specialty medical fields and research understand its importance a little more. Most of that importance lies in the information being protected. Every patient has a unique set of ...
CMS and HHS Tighten Enrollment Rules and Increase Penalties
October 1st, 2019 - Wyn Staheli, Director of Research
This ruling impacts what providers and suppliers are required to disclose to be considered eligible to participate in Medicare, Medicaid, and Children's Health Insurance Program (CHIP). The original proposed rule came out in 2016 and this final rule will go into effect on November 4, 2019. There have been known problems ...
So How Do I Get Paid for This? APC, OPPS, IPPS, DRG?
August 21st, 2019 - Chris Woolstenhulme, QCC, CMCS, CPC, CMRS
You know how to find a procedure code and you may even know how to do the procedure, but where does the reimbursement come from?  It seems to be a mystery to many of us, so let's clear up some common confusion and review some of the main reimbursement systems.  One of the ...
Are You Aware of Medicare Advantage Plans Timely Filing Rules?
August 20th, 2019 - Aimee Wilcox
The Medicare Fee for Service (FFS) program (Traditional or Original Medicare) has a timely filing requirement; a clean claim for services rendered must be received within one year of the date of service or risk payment denial. As any company who has billed Medicare services can attest, the one-year timely filing ...
Will Medicare Change Their Rules Regarding Coverage of Services Provided by a Chiropractor?
August 13th, 2019 - Wyn Staheli, Director of Research
Two separate pieces of legislation introduced in the House of Representatives (H.R. 2883 and H.R. 3654) have the potential to change some of Medicare's policies regarding doctors of chiropractic. Find out what these two bills are all about and how they could affect Medicare policies.
The Slippery Slope For CDI Specialists
August 2nd, 2019 - Namas
Who knew that when Jack & Jill when up the hill to fetch a pail of water, they would have to ensure that in order to keep the level of water the same on the way back down, they would need to both support the pail. Many of you in this industry are ...
Anthem is Changing their Timely Filing Requirements for All Plans, Including Medicare Advantage
July 26th, 2019 - Namas
Anthem has been very busy sending out notices stating that, beginning October 1, 2019, all timely filing deadlines for claims will be 90 days. We've seen this letter, or something very similar, sent to doctors and other healthcare providers from California to Kentucky. In their notice, Anthem states: "Effective for all commercial ...
Q/A: What do I Need to Document for Periodic Adjustments on a Medicare Patient?
July 22nd, 2019 - Evan Gwilliam DC MBA BS CPC NCICS CCPC CCCPC CPC-I MCS-P CPMA
Question: What type of documentation is required for a Medicare patient with degenerative joint disease who get adjusted once or twice a month for occasional flare-ups of the D. J. D. region? The noted adjustments give good relief of the patient's symptoms. Answer: There is no question that these adjustments would be considered ...
Act Now on CMS Proposal to Cover Acupuncture for Chronic Low Back Pain
July 17th, 2019 - Wyn Staheli, Director of Research
Now is the time to comment on a proposal to cover acupuncture for chronic low back pain. This comment period is the part of the HHS response to the opioid crisis. You only have until August 14th to officially comment.
Helping Others Understand How to Apply Incident to Guidelines
July 5th, 2019 - Namas
Over the past few months, I have worked with different organizations that have been misinterpreting the "incident to" guidelines and, in return, have been billing for services rendered by staff that are not qualified to perform the services per AMA and CPT. What I found within the variances is that ...
2018 Medicare Improper Payment Report Shows Slight Improvement but There's Still Work to be Done
June 27th, 2019 - Wyn Staheli, Director of Research
The Medicare Improper Payment Report for 2018 is not a measurement of fraud. Rather, it is an estimate of the claims paid by Medicare which did not meet Medicare coverage, coding, and billing rules. The estimated Medicare FFS payment accuracy rate (claims paid correctly) from July 1, 2016 through June 30, 2017, was 91.9 percent. ...
Extrapolation Policies Apply to RAD-V Audits
June 17th, 2019 - Aimee Wilcox
Risk Adjustment is a program that was implemented to identify and support Medicare beneficiaries with health conditions, illnesses, or injuries that put them at risk of death or organ system/bodily function failure. Through Risk Adjustment (RA), Medicare ensures their beneficiaries are being followed at least annually for any healthcare conditions ...
A United Approach
June 14th, 2019 - Namas
A United Approach As auditors, we all have a different perspective when evaluating documentation. It would be unreasonable to think that we all view things the same way. In my opinion, differing perspectives are what makes a great team because you can coalesce on a particular chart, work it through and ...
Now is Your Chance to Speak Up! Tell CMS What You Think!
June 13th, 2019 - Chris Woolstenhulme, QCC, CMCS, CPC, CMRS
CMS is asking for your input, we all have ideas on how we would change healthcare documentation requirements and get rid of the burdensome requirements and regulations if it were up to us, so go ahead, speak up! Patients over Paperwork Initiative is being looked at to help significantly cut ...
Medicare Revises Their Appeals Process
April 29th, 2019 - Wyn Staheli, Director of Research
On April 12, 2019, Medicare announced that there will be some changes to their appeals process effective June 13, 2019. According to the MLN Matters release (see References), the following policy revisions in the Medicare Claims Processing Manual (MCPM), Chapter 29 are taking place: The policy on use of electronic signatures Timing ...
Medicare Revises Their Appeals Process
April 26th, 2019 - Wyn Staheli, Director of Content
There are policy revisions in the Medicare Claims Processing Manual (MCPM), Chapter 29 taking place June 13, 2019. This will give you a heads up on those changes.
What is Medical Necessity and How Does Documentation Support It?
April 23rd, 2019 - Aimee Wilcox, CPMA, CCS-P, CMHP, CST, MA, MT
We recently fielded the question, "What is medical necessity and how do I know if it's been met?" The AMA defines medical necessity as: It is important to understand that while the AMA provides general guidance on what they consider medically necessary services, these particular coding guidelines are generic and may be ...
Auditing Chiropractic Services
April 22nd, 2019 - By Evan M. Gwilliam, DC MBA BS CPC CCPC CPC-I QCC MCS-P CPMA CMHP AAPC Fellow Clinical Director, PayDC Chiropractic EHR Software President, Gwilliam Consulting LLC drgwil@gmail.com
Chiropractic is unique from other types of health care and auditors need to be aware of the nuances of this field. Chiropractic has become the focus of more and more audits as doctors seem to struggle to create records that properly support the care provided to the patient throughout the entire episode.
Q/A: What do I do When a Medicare Patient Refuses to Sign an ABN?
April 8th, 2019 - Wyn Staheli, Director of Research
Question: What do I do when a Medicare patient refuses to sign an ABN? Answer: That depends on whether the patient is still demanding to have/receive the service/supply. If they aren't demanding the service, then there is no need to force the issue. Just make sure that you still have an ...
Q/A: Can I Tell a Medicare Patient Which Option to Check on the ABN?
April 1st, 2019 - Wyn Staheli, Director of Research
Question My patient seemed confused about which of the options they should check. Can I just tell them which one they should check? Answer No! That could be construed as coercion. The official instructions state "Under no circumstances can the notifier decide for the beneficiary which of the 3 checkboxes to select." Now, this ...
Clearing Up Some Medicare Participation Misunderstandings
March 25th, 2019 - Wyn Staheli, Director of Research
Even though we may think we truly understand what it means to be a participating provider, Medicare doesn't quite work the way that other insurance plans do. Far too many providers do not understand the difference and get into hot water. To further complicate matters, the rules are different for ...
The Impact of Medical Necessity on High Level E/M Services
March 21st, 2019 - Aimee Wilcox, CPMA, CCS-P, CST, MA, MT, Director of Content
I was recently asked the question, "Does 99233 require documentation of a past medical, family, and/or social history (PFSH)?" The quick answer is, "it depends." Code 99233 has the following minimal component requirement: Subsequent inpatient E/M encounters can meet the code level requirement either by component scoring & medical necessity or time & medical necessity. ...
Revised ABN Requirements Still Fuzzy
March 18th, 2019 - Wyn Staheli, Director of Research
Although it has been quite some time since ChiroCode published an article about the revised instructions for non-participating providers who use the ABN, there are still some outstanding questions about this change. So far, Medicare has not provided additional guidance about this question despite requests by us for clarification. Medicare now requires non-participating providers to include the ...
Q/A: Can you Help me Understand the New Medicare Insurance Cards?
March 7th, 2019 - Wyn Staheli, Director of Research
As many of you are aware, CMS began issuing new Medicare identification cards last year which required the replacement of social security numbers with a new Medicare Beneficiary Identifier (MBI). All cards have now been mailed out and patient's should have the new cards when they come in. Currently, we are in the transition period until January 2020.
Date of Service Reporting for Radiology Services
March 7th, 2019 - Wyn Staheli, Director of Research
Providers need to ensure that they are reporting radiology dates of service the way the payer has requested. Unlike other many other professional services which only have one date of service (DOS), radiology services can span multiple dates. Medicare requirements may differ from professional organization recommendations.
Medicare Supplemental Policies (MediGap) and Extremity Adjustments
February 25th, 2019 - Wyn Staheli, Director of Research
The nice thing about MediGap policies is that they pay for some of the healthcare costs that an original Medicare plan (Part B) does not cover. So when a patient has Medicare and a Medicare supplement (MediGap) and their condition is related to an extremity (a noncovered service), Medicare must ...
Understanding NCCI Edits
February 20th, 2019 - Aimee Wilcox, CPMA, CCS-P, CMHP, CST, MA, MT
Medicare creates and maintains the National Correct Coding Initiative (NCCI) edits and NCCI Policy Manual, which identify code pair edits. When performed on the same patient, on the same day, and by the same provider, the secondary code is considered an integral part of the primary code, and payment for ...
Coding Medicare Initial Preventive Physical Exams (IPPE)
February 12th, 2019 - Aimee Wilcox, CPMA, CCS-P, CST, MA, MT, Director of Content
The Medicare Initial Preventive Physical Exam (IPPE), also commonly referred to as the "Welcome to Medicare Physical", may seem daunting to many, but when broken out to identify the requirements is fairly straightforward. Purpose An IPPE helps the Medicare beneficiary (the patient) get to know their healthcare provider at a time when they ...
HHS Proposes Significant Changes to Patient Access Rules
February 11th, 2019 - Wyn Staheli, Director of Research
In a significant announcement on February 11, 2019, HHS proposed new rules aimed at improving interoperability of electronic health information. This announcement was made in support of the MyHealthEData initiative which was announced by the Trump administration on March 6, 2018. The goal of that initiative was to break down ...
Charging Missed Appointment Fees for Medicare Patients
February 7th, 2019 - Wyn Staheli, Director of Research
Some providers mistakenly think that they cannot bill a missed appointment fee for Medicare beneficiaries. You can, but Medicare has specific rules that must be followed. These rules are outlined in the Medicare Claims Policy Manual, Chapter 1, Section 30.3.13. You must have an official "Missed Appointment Policy" which is ...
Attestations Teaching Physicians vs Split Shared Visits
February 1st, 2019 - BC Advantage
Physicians often use the term "attestation" to refer to any kind of statement they insert into a progress note for an encounter involving work by a resident, non-physician practitioner (NPP), or scribe. However, for compliance and documentation purposes, "attestation" has a specific meaning and there are distinct requirements for what ...
Empowering Medicare Beneficiaries
January 28th, 2019 - Kristy Ritchie
BLOG: CMS announced a NEWS release today making it easier to help Medicare Beneficiaries access cost and quality information. CMS announced,  "Today, the Centers for Medicare & Medicaid Services (CMS) launched a new app that gives consumers a modernized Medicare experience with direct access on a mobile device to some of ...
Home Oxygen Therapy
January 22nd, 2019 - Raquel Shumway
Home Oxygen Therapy Guidelines
CMS Finalizes Major Changes to ACO Program
January 3rd, 2019 - Wyn Staheli, Director of Research
Back in August of 2018, as part of the Medicare Shared Savings Program (Shared Savings Program), CMS proposed some sweeping changes for Accountable Care Organizations (ACOs). There has been some controversy over these changes which require ACOs to move to two-sided models. In this Final Rule which was scheduled to be published in the Federal Register ...
Prior years: (click bar to view articles)
Article categories