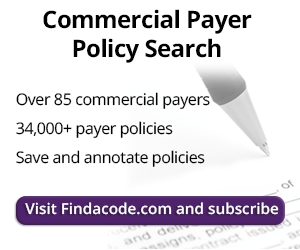 Anthem is Changing their Timely Filing Requirements for All Plans, Including Medicare Advantage
July 26th, 2019 - Namas
0 Votes -

Sign in

to vote or comment.
---
Anthem has been very busy sending out notices stating that, beginning October 1, 2019, all timely filing deadlines for claims will be 90 days. We've seen this letter, or something very similar, sent to doctors and other healthcare providers from California to Kentucky.
In their notice, Anthem states:
"Effective for all commercial and Medicare Advantage Professional Claims submitted to the plan on or after Oct. 1, 2019, your Anthem Blue Cross and Blue Shield (Anthem) Provider Agreement(s) will be amended to require the submission of all commercial and Medicare Advantage professional claims within ninety (90) days of the date of service. This means all claims submitted on or after October 1, 2019 will be subject to a ninety (90) day timely filing requirement."
They further state:
"If you object to the enclosed amendment, you must provide us with written notice of your appeal within 30 days of receipt of this letter. If, after 30 days, we are unable to reach an agreement, your contract will terminate on or before October 1, 2019."
If you do not accept these terms, you can "object," according to Anthem's wording, but it's pretty clear that your contract with Anthem will terminate on October 1, 2019.
Click
Here
to view the letter we received from an AMBA member's Kentucky doctor.
Medicare allows 12 months on timely, right?
If you ask Medicare Advantage payers whether they follow Medicare rules and regulations, they will tell you that they do. But in fact, this is a classic example of Medicare Advantage payers NOT following Medicare regulations. We all already know this, but here is Medicare's rule regarding timely filing:
"Claims must be filed to the appropriate Medicare claims processing contractor

no later than 12 months, or 1 calendar year, after the date the services

were furnished."
How Anthem and others (UHC, Aetna) get around the 12-month timely filing limitation
It's very simple - these payers have tied their timely filing policy to the provider's contract. If you are NOT contracted with Anthem, then you may have other remedies to rely on, such as your state law (Florida requires at least 6 months, Virginia requires at least 12 months). You should ensure you are benefitting from these longer deadlines if you are not contracted. It's only fair when most Medicare Advantage Plans are already using contracts to limit those providers to 90-day timely filing deadlines.
Here's a tip if you have passed the timely filing deadline: a Medicare Advantage patient can absolutely file a grievance with Anthem or any other Medicare Advantage payer and may be able to get the full 12 months allowed under Medicare regulations.
And here's another tip: an ERISA appeal may provide 12 months on plans that are subject to ERISA law (employer group plans that are not a church plan and not a Government plan).
Watch for more notifications from Anthem - there is a new prior authorization letter circulating and we will be talking about this as well as their new modifier -25 edits in the next few days.
###
Questions, comments?
If you have questions or comments about this article please contact us. Comments that provide additional related information may be added here by our Editors.
Latest articles: (any category)
A 2020 Radiology Coding Change You Need To Know
February 10th, 2020 - Aimee Wilcox, CPMA, CCS-P, CST, MA, MT, Director of Content
The radiology section of the 2020 CPT© has 1 new, 18 revised, and 14 deleted codes. Interestingly, six of the 14 deleted codes were specific to reporting single-photon computerized tomographic (SPECT) imaging services of the brain, heart, liver, bladder, and others. If your organization reports radiology services, it is...
Documenting telephone calls at your dental practice is just as important as documenting patient visits.
February 4th, 2020 - Christine Taxin
Documenting telephone calls at your dental practice is just as important as documenting patient visits. Similar to other documentation, the common rule when it comes to call documentation is that if it is not documented, it did not happen. Therefore, every clinically relevant telephone call should be documented. Clinically relevant calls ...
CPT 10-Year Historical Content - Now Available!
January 22nd, 2020 - Find-A-Code
Did You Know? We now offer Historical CPT Content in 2-year, 5-year, or 10-year options! Utilize access to specific CPT historical data for previous years using rules effective at that specific time. If you've added UCR fees to your account, you can use Historical CPT Content to view UCR fees from ...
Inadequate Exclusion Screenings Could Put Your Practice at Risk
January 21st, 2020 - Wyn Staheli, Director of Research
Exclusion screenings require far more than just checking a name on a federal database at the time you are hiring someone. Far too many providers don't realize that in order to meet compliance requirements, there is MUCH more involved. There are actually over 40 exclusion screening databases/lists that need to be checked.
Q/A: How do we Bill Massage Services?
January 21st, 2020 - Wyn Staheli, Director of Research
Question: We are adding a massage therapist soon and have some questions about billing their services.
Billing for Telemedicine in Chiropractic
January 14th, 2020 - Evan M. Gwilliam DC MBA BS CPC CCPC QCC CPC-I MCS-P CPMA CMHP
Many large private payers recognize the potential cost savings and improved health outcomes that telemedicine can help achieve, therefore they are often willing to cover it. While there are several considerations, there could be certain circumstances where telemedicine might apply to chiropractic care.
Non-Surgical Periodontal Treatment
January 14th, 2020 - Christine Taxin
AAP treatment guidelines stress that periodontal health should be achieved in the least invasive and most cost-effective manner. This is often accomplished through non-surgical periodontal treatment.Non-surgical periodontal treatment does have its limitations. When it does not achieve periodontal health, surgery may be indicated to restore periodontal health.SCALING AND ROOT PLANINGScaling ...