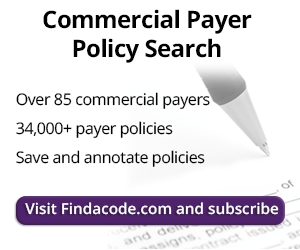 Claims - Articles
Q/A: How Many Diagnosis Codes do I use?
April 15th, 2019 - Wyn Staheli, Director of Research
Question: My patient has a lot of chronic conditions. Do I need to include all these on the claim? I know that I can have up to 12 diagnoses codes on a single claim. What if I need more than that? Answer: More is not always better. You only need to ...
Prolonged Services
March 29th, 2019 - Namas
Prolonged Services I find in my own audit reviews that the prolonged service code set is often mistreated: they are avoided and not used even when the scenario supports them, or they get overused and improperly documented. Prolonged services are used in conjunction with all types of Evaluation and Management (E/M) ...
Date of Service Reporting for Radiology Services
March 7th, 2019 - Wyn Staheli, Director of Research
Providers need to ensure that they are reporting radiology dates of service the way the payer has requested. Unlike other many other professional services which only have one date of service (DOS), radiology services can span multiple dates. Medicare requirements may differ from professional organization recommendations.
Prior years: (click bar to view articles)
Article categories