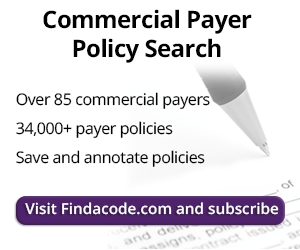 Patients Over Paperwork?! We have Great News!
July 18th, 2018 - Chris Woolstenhulme, QCC, CMCS, CPC, CMRS
0 Votes -

Sign in

to vote or comment.
---
Spend more time with patients and less time documenting? Great Concept!
Document meaningful information? Sound good?
CMS is proposing just that! CMS released a new proposal July 12, 2018, focused on streamlining clinician billing and expanding access to high-quality care. The goal is to improve and restore the doctor-patient relationship, modernize Medicare payment policies and promote access to virtual care.
CMS stated in the news release; "The proposed rules would fundamentally improve the nation's healthcare system and help restore the doctor-patient relationship by empowering clinicians to use their electronic health records (EHRs) to document clinically meaningful information, instead of information that is only for billing purposes."
Simplify, streamline and offer flexibility in documentation requirements for Evaluation and Management office visits — which make up about 20 percent of allowed charges under the Physician Fee Schedule and consume much of clinicians' time;
Reduce unnecessary physician supervision of radiologist assistants for diagnostic tests; and
Remove burdensome and overly complex functional status reporting requirements for outpatient therapy.
CMS estimates this new plan will save clinicians an estimated 51 hours per year if 40% of their patients are in Medicare, this is a significant game changer, public feedback has been heard and changes are being made.
Additional changes in the proposal addressed
Streamlining Evaluation and Management (E&M) Payment and Reducing Clinician Burden
Medicare Advantage Qualifying Payment Arrangement Incentive (MAQI) Demonstration
Advancing Virtual Care
Lowering Drug Costs
Price transparency: Request for information
Public comments on the proposed rules are due by September 10, 2018.
For a fact sheet on the CY 2019 Physician Fee Schedule proposed rule, please visit:
Proposed Policy, Payment, and Quality Provisions Changes to the Medicare Physician Fee Schedule for Calendar Year 2019
###
Questions, comments?
If you have questions or comments about this article please contact us. Comments that provide additional related information may be added here by our Editors.
Latest articles: (any category)
Present on Admission POA Indicator
November 26th, 2018 - BC Advantage
This article will focus on the Present on Admission (POA) indicator which is used as a method of reporting whether a patient's diagnoses are present at the time they are admitted to a facility. We'll look at a few scenarios to determine the correct reporting of POA and the impact...
Billing 99211 Its not a freebie
November 9th, 2018 - BC Advantage
It seems like a simple code to bill, but CPT 99211 (established patient office visit) is by no means a freebie when it comes to documentation and compliance. This lowest level office visit code is sometimes called a "nurse visit" because CPT does not require that a physician be present...
Muscle Testing and Range of Motion Information
November 8th, 2018 - Wyn Staheli, Director of Research
Be sure to understand the unique code requirements for Muscle and Range of Motion Testing.
Medi-Cal Coverage Criteria for Hospital Beds and Accessories
November 7th, 2018 - Raquel Shumway
Medi-Cal coverage of child and adult hospital beds and accessaries. What is covered and what documentation is required.
Are you Ready for CMS' 2019 Medicare Physician Fee Schedule Final Rule?
November 7th, 2018 - Wyn Staheli, Director of Research
The waiting is over, the Final Rule for CMS' 2019 Medicare Physician Fee Schedule (MPFS) is available - all 2,379 pages for those looking for a little light reading. As anticipated, there are some pretty significant changes. Most of us were carefully watching the proposed changes to the Evaluation and ...
How to Use Modifier Indicators with NCCI Edits (2018-10-31)
October 31st, 2018 - Chris Woolstenhulme, QCC, CMCS, CPC, CMRS
To verify if clinical circumstances might justify the use of a modifier when billing code pairs, look at the NCCI edits and the modifier indicator.  Medicare may have restrictions on the use of a modifier used to bypass an edit.  This important part of coding can alert a payer or ...
Anesthesia and Pain Management
October 31st, 2018 - Chris Woolstenhulme, QCC, CMCS, CPC, CMRS
Anesthesia and Pain management is under close watch from the OIG according to a report from Anesthesia Business consultants, they stated, "The Health and Human Services Office of Inspector General (HHS OIG) reports in its most recent Semi-annual Report to Congress that in FY 2017 it brought criminal actions against 881 individuals or organizations ...