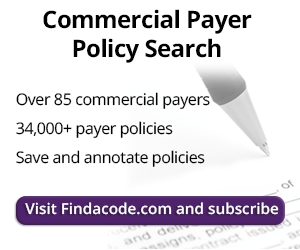 Laceration Repairs
June 30th, 2017 - Michael Loss, CPC, CPMA
0 Votes -

Sign in

to vote or comment.
---
Auditing laceration repair is generally an adventure. Most of my auditing work is reviewing the work of our coders rather than providers, but I have audited physicians as well. My present position has limited communication with providers, however we do attempt to get important information back to our clients for training purposes. After all, the primary goal of auditing is training; training the coder how to understand the codes and how to use them; it is also to guide the understanding of the provider to the nuances of coding rules.
Providers do not always understand coding guidelines, their area of expertise is the practice of medicine. Coders' area of expertise is understanding codes.
I recently audited a note with a stellate laceration of the left forearm. The physician said it was stellate but measured the gross dimensions, 10cm X 6cm. On a stellate laceration all lengths of the star points are added together. Lacerations need to be measured in lengths of skin repaired. This particular case had 2 additional lacerations on the forearm, both "about 1.5cm each." The coder added them all together even though the 3cm repairs were simple repairs and the stellate one was at least intermediate.
Care needs to be taken in reading the note to determine location of the laceration. In simple repair, the body is broken into 2 billing areas. Intermediate repair is broken into 3 billing areas. For intermediate, neck, hands and feet, and external genitalia are broken out to a different category of codes. For complex repair, the billing areas are expanded into 4 billing areas. Simple repair can use various types of closure, sutures, staples, or tissue adhesives. Adhesive steri-strips or other bandages are not payable as laceration repair.
When a laceration wound has heavy debris/contamination, the provider is allowed to jump a level from simple repair to intermediate repair. Intermediate repair requires layered closure [with the heavy debris/contamination exception].
Simple repair is closure of one layer of skin involving primarily epidermis or dermis, or subcutaneous tissues without significant involvement of deeper structures. Intermediate repair is repairing more than epidermal and dermal, deeper layers of subcutaneous tissue, specifically fascia; it is repair of subcutaneous structures as well. If repair includes muscle debridement and repair you would move to complex repair.
Complex repair does not include debridement of open fractures and would be coded with 11010- 11012. Complex repair involves more than just layered closure. These situations would involve traumatic lacerations or avulsions where there can be debridement.
When reviewing the billing and coding patterns of providers, one quickly sees if there are problems. I once reviewed coding and billing on a provider that chose intermediate repair for every laceration done the previous year, even those closed with 2 steri- strips. The coder and auditor should always stick to the coding guidelines listed in the CPT® book, as you cannot go wrong with following the CPT book.
###
Questions, comments?
If you have questions or comments about this article please contact us. Comments that provide additional related information may be added here by our Editors.
Latest articles: (any category)
Q/A: How Many Diagnosis Codes do I use?
April 15th, 2019 - Wyn Staheli, Director of Research
Question: My patient has a lot of chronic conditions. Do I need to include all these on the claim? I know that I can have up to 12 diagnoses codes on a single claim. What if I need more than that? Answer: More is not always better. You only need to ...
Watch out for People-Related 'Gotchas'
April 15th, 2019 - Wyn Staheli, Director of Research
In Chapter 3 — Compliance of the ChiroCode DeskBook, we warn about the dangers of disgruntled people (pages 172-173). Even if we think that we are a wonderful healthcare provider and office, there are those individuals who can and will create problems. As frustrating as it may be, there are ...
Q/A: What do I do When a Medicare Patient Refuses to Sign an ABN?
April 8th, 2019 - Wyn Staheli, Director of Research
Question: What do I do when a Medicare patient refuses to sign an ABN? Answer: That depends on whether the patient is still demanding to have/receive the service/supply. If they aren't demanding the service, then there is no need to force the issue. Just make sure that you still have an ...
Prepayment Review Battle Plan
April 8th, 2019 - Wyn Staheli, Director of Research
Any type of payer review can create some headaches for providers and cause problems for a healthcare office. Even for a practice that has taken administrative steps to try and prevent a prepayment review, it can still happen. A prepayment review means that you must include documentation WITH your claim. ...
Looking Ahead - Changes in Dentistry!
April 3rd, 2019 - Christine Taxin
In the next 10 years, what is the biggest change dentistry will experience? FW: We all know healthcare in the U.S. is changing rapidly. Dentistry is no exception. My opinion is that several big changes are forthcoming. Most often, I think about changes that benefit patients and/or providers. Here are three ...
Q/A: I Submitted a Claim to the VA and it's Being Denied. Why?
April 1st, 2019 - Wyn Staheli, Director of Research
I submitted a claim to the VA and it's being denied. Why? There are several reasons why your claim might be denied by the Veterans Administration (VA). However, without more information about the claim itself (e.g., services billed), we can only provide the following general information about the VA and chiropractic ...
Corrections and Updates
April 1st, 2019 - Wyn Staheli, Director of Research
One constant in our industry is change. Policies change, contracts change, and there are updates. Also, people aren't perfect and mistakes can be made. So this article will cover a variety of topics. Published Articles We appreciate feedback from our valued customers. We have received feedback regarding two of our articles which ...