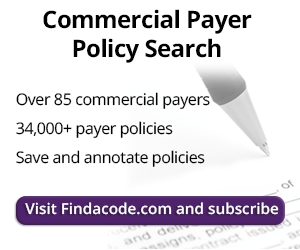 Prescription Drug Management: Is it a Level 3 or a Level 4?
June 29th, 2017 - J. Paul Spencer, CPC, COC
0 Votes -

Sign in

to vote or comment.
---
If you place four auditors around a table and place a typical established patient visit in front of them, what tends to follow is a scene that resembles less about building consensus and more along the lines of a National Geographic special regarding the hunting habits of hyenas. Perhaps no one area is more contentious and liable to lead to such a scene as a simple three-word phrase from the Table of Risk: "Prescription Drug Management."
In the early days on the E&M Guidelines, many physicians interpreted this small, unassuming phrase as an invitation to increase the complexity of simply visits based on the prescribing of any medication. With every new generation of auditors coming on to the scene, this myth seems to reappear and propagate anew.
First, a definition of these three words, as it applies to the E&M Guidelines, needs to be found and understood. In general, prescription drug management can be any one of the following:
Writing a new prescription;

Reviewing, but not changing, current prescribed medications and dosages;

Discontinuing an existing prescription; and

A decision not to add new medications to the current drug regimen due to potential harmful side effects or interactions.
The duration of the prescription drug regimen is not taken into account when applying these factors to the Table of Risk. The problem with jumping forward with moderate complexity Medical Decision Making (MDM) simply on the strength of the prescription drug management becomes a question of acuity. The Table of Risk is but one of three factors that determines the level of MDM. In many cases, the category of problem necessitating the visit will be the determining factor for MDM. As an auditor, it usually comes down to a decision regarding whether a presenting problem is self-limiting/minor or a new problem to the examining physician with no workup planned. A patient can present with two minor problems and the MDM still falls under low complexity.
The auditor must walk a fine line between making a sound auditing determination and leaving it up to the physician to paint a clear picture of the acuity of the patient. There are going to be times where the presenting problem reaches the acuity of a 99214, but the documentation doesn't support it. Conversely, there will be other times when the presenting problem appears to be minor, but the physician's documentation points to a more complicated condition.
In the end, if the documentation is not pointing to one, clear final answer, consult the physician. While it is tempting to defer to a higher level based on the fact that physicians go through ten years of intense scientific training to become doctors, different physicians will have different comfort levels when measuring patient acuity. Prescription Drug Management may look like a surefire level 4 on paper, but in questionable cases, the physician is the best judge of acuity.
###
Questions, comments?
If you have questions or comments about this article please contact us. Comments that provide additional related information may be added here by our Editors.
Latest articles: (any category)
How to Properly Report Monitoring Patients Taking Blood-thinning Medications
June 18th, 2019 - Wyn Staheli, Director of Research
Codes 93792 and 93792, which were added effective January 1, 2019, have specific guidelines that need to be followed. This article provides some guidance and tips on properly reporting these services.
A United Approach
June 14th, 2019 - Namas
A United Approach As auditors, we all have a different perspective when evaluating documentation. It would be unreasonable to think that we all view things the same way. In my opinion, differing perspectives are what makes a great team because you can coalesce on a particular chart, work it through and ...
Documentation of E/M services for Neurology (Don't Forget the Cardiology Element)
June 13th, 2019 - Chris Woolstenhulme, QCC, CMCS, CPC, CMRS
According to Neurology Clinical Practice and NBIC, the neurologic exam is commonly lacking in documentation due to the extensive requirements needed to capture the appropriate revenue. With the lack of precise documentation, it results in a lower level of E/M than that which is more appropriate, which can cost a physician a lot ...
Medicare Now Reimburses for Remote Monitoring Services (G2010)
June 13th, 2019 - Aimee Wilcox, CPMA, CCS-P, CST, MA, MT, Director of Content
Medicare's 2019 Final Rule approved HCPCS code G2010 for reimbursement, which allows providers to be paid for remote evaluation of images or recorded video submitted to the provider (also known as "store and forward") to establish whether or not a visit is required. This allows providers to get paid for ...
Now is Your Chance to Speak Up! Tell CMS What You Think!
June 13th, 2019 - Chris Woolstenhulme, QCC, CMCS, CPC, CMRS
CMS is asking for your input, we all have ideas on how we would change healthcare documentation requirements and get rid of the burdensome requirements and regulations if it were up to us, so go ahead, speak up! Patients over Paperwork Initiative is being looked at to help significantly cut ...
Spotlight: Anatomy Images
June 13th, 2019 - Brittney Murdock, QCC, CMCS, CPC
When viewing CPT codes, Find-A-Code offers detailed anatomy images and tables to help with coding. For example 28445 offers a table with information to assist classification of gustilo fractures: Click on the image preview from the code information page to expand the image.
Spotlight: Printing Additional Code Information
June 13th, 2019 - Brittney Murdock, QCC, CMCS, CPC
Did you know you can print the information from Find-A-Code's code information pages? Click the Printer icon on any code information page. You can check/unckeck the boxes at the top to select what information you want to print: It's that easy!