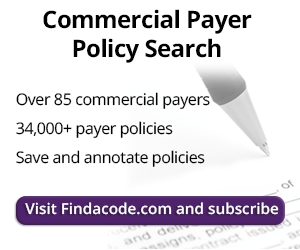 NAMAS Announced New Auditing Credential!
June 29th, 2017 - Shannon DeConda, CPC, CPC-I, CEMC, CMSCS, CPMA
0 Votes -

Sign in

to vote or comment.
---
At NAMAS, we strive to be the industry expert in auditing and compliance education. Each year, we carefully select our weekly webinar topics, annual conference sessions, and speakers to provide you with the type of training and education you need to succeed in your role. We are excited to share that this drive and determination continues into 2017 as we launch our newest auditing credential - Certified Evaluation & Management Auditor (CEMA).
Beginning in 2016, NAMAS administered a series of E&M focused bootcamp training programs across the country. It was during these bootcamps that we discovered the need for a certification that acknowledges and solidifies one's mastery of E&M auditing. Now, beginning in 2017, auditors can achieve this certification by attending our 2-day E&M Auditing BootCamp training program. In this audit tip, I will provide details of how you can train for, achieve, and maintain our new auditing credential.
Why a New Credential?
10 years ago, NAMAS created the CPMA credential that is now part of the AAPC's arsenal of certifications, and we remain strong supporters and trainers of this credential. However, what we have heard from our training attendees has been the concern that their jobs focus them on E&M auditing only and they have no need to train on all portions of auditing- and therefore they requested a more focused training and certification program.
Additionally, the CEMA may be used as a stepping stone for auditors new to the field. E&M is one of the most onerous areas to audit, and having a focused course dedicated to auditing just these services will be a solid foundation for any auditor in healthcare.
The Bootcamp
Beginning in 2017, our E&M Auditing BootCamp will be extended to 2 days. During the first day, you will receive a full day of E&M - focused instruction. We will discuss elements such as documentation guidelines, history of the encounter, medical necessity, medical decision making, audit policy parameters, and more. We'll even discuss the gray areas of E&M auditing that may not always be clear.
The second day of bootcamp will be split - the first half of the day will be hands on, going through E&M auditing examples so that each bootcamp attendee has a solid understanding of E&M auditing. During the second portion of our bootcamp, we will administer the optional certification test to obtain the Certified Evaluation and Management Auditor (CEMA) credential.
Regardless of if you elect to take the exam, each bootcamp attendee will receive a comprehensive curriculum manual that you may use as a helpful resource after the bootcamp is completed, 12 AAPC CEUs which you may use toward your current coding or auditing credential(s), and a 1 year NAMAS membership. Through your NAMAS membership, you will be provided access to monthly webinars to earn additional CEUs, a subscription to BCAdvantage magazine, access to our members only area where you can listen to previous NAMAS webinars, a weekly emailed auditing & compliance tip so you can stay on top of the industry's leading news and events, and much, much more!
The Exam
The exam is a timed, 150 question test that must be completed during the 4 hour time limit. The exam includes 10 E&M- based patient encounters that must be audited by the examiner. Each encounter has 15 corresponding multiple choice questions regarding the audited findings. A passing score of 70% is required to earn the Certified Evaluation & Management Auditor (CEMA) credential. During the exam, testers may use the following resources:
NAMAS Auditing Manuals (either edition)

CPT Book

One Audit Tool

1995/1997/CMS Guidelines
The following is required to be able to sit for the CEMA exam:
Must be a current NAMAS Member

2 Years of E&M coding/auditing experience Attest to reading 1995/1997 Documentation Guidelines within the past 90 days

Current coding certification is strongly encouraged
* Certain qualification are waived for attendees of the E&M Auditing BootCamp
Maintaining Your New Credential
Our goal at NAMAS is to make maintaining your certification simple. Continuing Education Units (CEUs) are about ensuring application and continuing education in E&M auditing. As a CEMA, you will be asked to submit 12 CEUs per year.
NAMAS will accept the following forms of CEUs:
Approved NAMAS Training Events

AHIMA/AAPC CEUs that are specific to auditing and/or E&M services

CEU Exchange Program: Many organizations require QA of their auditors, and NAMAS views this process as continued education and improvement of your knowledge and skill base to act as CEUs. Full information available on our website soon, but the following guide indicates the exchange rate:
95% Precision Rating= 5 CEUs
90% Precision Rating= 4 CEUs
85% Precision Rating= 3 CEUs
80% Precision Rating= 2 CEUs
<79% Precision Rating= 1 CEU
The mission of NAMAS is to set the standard in auditing and education. Throughout 2017, our goal is to continue that mission by providing our onsite and online Medical Auditing BootCamp program as well as our E&M Auditing BootCamp in conjunction with the Certified E&M Auditor (CEMA) credential. To learn more about our E&M Auditing BootCamp, including training schedule, please click here. I wish each of you a happy, healthy and prosperous year ahead!
###
Questions, comments?
If you have questions or comments about this article please contact us. Comments that provide additional related information may be added here by our Editors.
Latest articles: (any category)
Q/A: How Many Diagnosis Codes do I use?
April 15th, 2019 - Wyn Staheli, Director of Research
Question: My patient has a lot of chronic conditions. Do I need to include all these on the claim? I know that I can have up to 12 diagnoses codes on a single claim. What if I need more than that? Answer: More is not always better. You only need to ...
Watch out for People-Related 'Gotchas'
April 15th, 2019 - Wyn Staheli, Director of Research
In Chapter 3 — Compliance of the ChiroCode DeskBook, we warn about the dangers of disgruntled people (pages 172-173). Even if we think that we are a wonderful healthcare provider and office, there are those individuals who can and will create problems. As frustrating as it may be, there are ...
Q/A: What do I do When a Medicare Patient Refuses to Sign an ABN?
April 8th, 2019 - Wyn Staheli, Director of Research
Question: What do I do when a Medicare patient refuses to sign an ABN? Answer: That depends on whether the patient is still demanding to have/receive the service/supply. If they aren't demanding the service, then there is no need to force the issue. Just make sure that you still have an ...
Prepayment Review Battle Plan
April 8th, 2019 - Wyn Staheli, Director of Research
Any type of payer review can create some headaches for providers and cause problems for a healthcare office. Even for a practice that has taken administrative steps to try and prevent a prepayment review, it can still happen. A prepayment review means that you must include documentation WITH your claim. ...
Looking Ahead - Changes in Dentistry!
April 3rd, 2019 - Christine Taxin
In the next 10 years, what is the biggest change dentistry will experience? FW: We all know healthcare in the U.S. is changing rapidly. Dentistry is no exception. My opinion is that several big changes are forthcoming. Most often, I think about changes that benefit patients and/or providers. Here are three ...
Q/A: I Submitted a Claim to the VA and it's Being Denied. Why?
April 1st, 2019 - Wyn Staheli, Director of Research
I submitted a claim to the VA and it's being denied. Why? There are several reasons why your claim might be denied by the Veterans Administration (VA). However, without more information about the claim itself (e.g., services billed), we can only provide the following general information about the VA and chiropractic ...
Corrections and Updates
April 1st, 2019 - Wyn Staheli, Director of Research
One constant in our industry is change. Policies change, contracts change, and there are updates. Also, people aren't perfect and mistakes can be made. So this article will cover a variety of topics. Published Articles We appreciate feedback from our valued customers. We have received feedback regarding two of our articles which ...