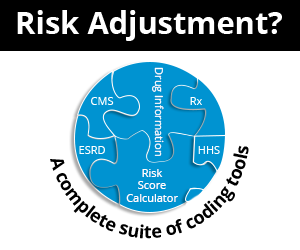 NGS Medicare Releases New Audit Tool
June 30th, 2017 - Liz Wilson, RHIT, CCS, CDIP, CPC, CRC, CEMC
0 Votes -

Sign in

to vote or comment.
---
Evaluation and Management (E/M) codes are defined by the AMA Current Procedural Terminology (CPT®) codebook and while they are the most commonly utilized CPT codes, their code descriptions have not changed in years. However, while CPT® defines the three key components as History, Examination and Medical Decision Making for services billed based on documentation (and not time), CPT® does not explain how to meet the different levels within each of these three key components. Medicare recognizes the 1995 and 1997 Evaluation and Management Documentation Guidelines (DGs) as an official source on how to level the appropriate E/M code based on the provider's documentation. However, seasoned auditors will tell you that 1997 offers explicit guidance on how many and which elements of documentation are needed to meet the any of the four levels of an examination (Problem Focused, Expanded Problem-Focused, Detailed and Comprehensive), whereas the 1995 DGs were vague in explaining the requirements of a Detailed Exam. Exactly how much detail is needed to distinguish between a provider's EPF exam and a Detailed Exam? Most auditors rarely agree between these two exam levels when using 1995 DG since the assessment of a "detailed" examination is a subjective conclusion and typically based on the medical auditor's cumulative experience in reviewing documented exams from multiple medical specialties.
National Government Services Medicare is the Part A and Part B MAC for Jurisdiction 6 (Illinois, Minnesota and Wisconsin) and Jurisdiction K (Connecticut, Maine, Massachusetts, New Hampshire, New York, Rhode Island and Vermont) and they've just released an updated E/M Audit Tool to clearly define how to score an EPF exam versus a Detailed Exam using 1995 DGs.
Previously, NGS Medicare had subjectively defined these as follows:
EPF Exam = 2-7 Body Areas or Organ Systems Detailed Exam = 2-7 Body Areas or Organ Systems
NGS Medicare has newly defined these as follows:
EPF Exam = 2-5 Body Areas or Organ Systems Detailed Exam = 6-7 Body Areas or Organ Systems
This eliminates the NGS Medicare subjective auditing factor that had created gray areas for auditors: the previous NGS tool led to inconsistent audit results among medical auditors, and lacked clear definition and parameters needed in order to better educate healthcare providers on proper exam documentation and how it contributes to the overall E/M level billed. By establishing a point method in counting up the body areas and organ systems, all medical auditors should be able to agree on the level of exam met with the 1995 DGs so long as the auditors are well-versed in the clinical language that describes a visual observation, physical palpation or testing of a body area or organ system. The 1997 DGs offer key clinical language in the descriptions of the bullet points that can better assist an inexperienced medical auditor in understanding which documented words correlate to an examination of a particular body part or organ system.
NGS Medicare previously mandated the use of this revised tool for all Evaluation and Management services dated July 1, 2017 and thereafter, but have rescinded this policy and made the news announcement on their website on June 14, 2017 to declare that this new system is only suggested and no longer mandatory. Providers may continue to rely on the older audit tool to level their examination
###
Questions, comments?
If you have questions or comments about this article please contact us. Comments that provide additional related information may be added here by our Editors.
Latest articles: (any category)
Q/A: How Many Diagnosis Codes do I use?
April 15th, 2019 - Wyn Staheli, Director of Research
Question: My patient has a lot of chronic conditions. Do I need to include all these on the claim? I know that I can have up to 12 diagnoses codes on a single claim. What if I need more than that? Answer: More is not always better. You only need to ...
Watch out for People-Related 'Gotchas'
April 15th, 2019 - Wyn Staheli, Director of Research
In Chapter 3 — Compliance of the ChiroCode DeskBook, we warn about the dangers of disgruntled people (pages 172-173). Even if we think that we are a wonderful healthcare provider and office, there are those individuals who can and will create problems. As frustrating as it may be, there are ...
Q/A: What do I do When a Medicare Patient Refuses to Sign an ABN?
April 8th, 2019 - Wyn Staheli, Director of Research
Question: What do I do when a Medicare patient refuses to sign an ABN? Answer: That depends on whether the patient is still demanding to have/receive the service/supply. If they aren't demanding the service, then there is no need to force the issue. Just make sure that you still have an ...
Prepayment Review Battle Plan
April 8th, 2019 - Wyn Staheli, Director of Research
Any type of payer review can create some headaches for providers and cause problems for a healthcare office. Even for a practice that has taken administrative steps to try and prevent a prepayment review, it can still happen. A prepayment review means that you must include documentation WITH your claim. ...
Looking Ahead - Changes in Dentistry!
April 3rd, 2019 - Christine Taxin
In the next 10 years, what is the biggest change dentistry will experience? FW: We all know healthcare in the U.S. is changing rapidly. Dentistry is no exception. My opinion is that several big changes are forthcoming. Most often, I think about changes that benefit patients and/or providers. Here are three ...
Q/A: I Submitted a Claim to the VA and it's Being Denied. Why?
April 1st, 2019 - Wyn Staheli, Director of Research
I submitted a claim to the VA and it's being denied. Why? There are several reasons why your claim might be denied by the Veterans Administration (VA). However, without more information about the claim itself (e.g., services billed), we can only provide the following general information about the VA and chiropractic ...
Corrections and Updates
April 1st, 2019 - Wyn Staheli, Director of Research
One constant in our industry is change. Policies change, contracts change, and there are updates. Also, people aren't perfect and mistakes can be made. So this article will cover a variety of topics. Published Articles We appreciate feedback from our valued customers. We have received feedback regarding two of our articles which ...