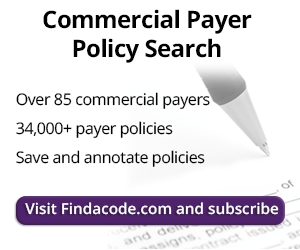 Family history--what counts
December 29th, 2015 - Codapedia Editor
0 Votes -

Sign in

to vote or comment.
---
The Documentation Guidelines describe family history as:
a review of medical events in the patient's family, including diseases which may be hereditary or place the patient at risk
This family history is a review of the illness's, health status, and cause of death of close members of the patient's family. The family history may be specific to the disease that the physician is addressing, "No family history of breast cancer in a first order relative," counts as family history for an oncologist evaluating a patient with a breast lump. Typically, the oncologist would ask about other cancers as well.
If the patient is adopted, and that is stated in the section on family history, that explains why the genetic past of the patient is not known, and is acceptable.
There is carrier variation on whether, "Family history is non-contributory" counts. To be on the safe side, document a family history for visits which require one.
If the physician is unable to obtain a family history, is sufficient to say that , and why, "The patient is intubated. Outside of the history above from the patient's daughter, I was unable to obtain a more complete history."
The guidelines do say, in the introductory section, that the records of infants, children, adolescents and pregnant women may have additional or modified information in each area. Here is what they say:
As an example, newborn records may include under history of the present illness (HPI) the
details of mother's pregnancy and the infant's status at birth; social history will focus on family
structure; family history will focus on congenital anomalies and hereditary disorders in the
family. In addition, information on growth and development and/or nutrition will be recorded.
Although not specifically defined in these documentation guidelines, these patient group
variations on history and examination are appropriate.
###
Questions, comments?
If you have questions or comments about this article please contact us. Comments that provide additional related information may be added here by our Editors.
Latest articles: (any category)
How to Properly Report Monitoring Patients Taking Blood-thinning Medications
June 18th, 2019 - Wyn Staheli, Director of Research
Codes 93792 and 93792, which were added effective January 1, 2019, have specific guidelines that need to be followed. This article provides some guidance and tips on properly reporting these services.
A United Approach
June 14th, 2019 - Namas
A United Approach As auditors, we all have a different perspective when evaluating documentation. It would be unreasonable to think that we all view things the same way. In my opinion, differing perspectives are what makes a great team because you can coalesce on a particular chart, work it through and ...
Documentation of E/M services for Neurology (Don't Forget the Cardiology Element)
June 13th, 2019 - Chris Woolstenhulme, QCC, CMCS, CPC, CMRS
According to Neurology Clinical Practice and NBIC, the neurologic exam is commonly lacking in documentation due to the extensive requirements needed to capture the appropriate revenue. With the lack of precise documentation, it results in a lower level of E/M than that which is more appropriate, which can cost a physician a lot ...
Medicare Now Reimburses for Remote Monitoring Services (G2010)
June 13th, 2019 - Aimee Wilcox, CPMA, CCS-P, CST, MA, MT, Director of Content
Medicare's 2019 Final Rule approved HCPCS code G2010 for reimbursement, which allows providers to be paid for remote evaluation of images or recorded video submitted to the provider (also known as "store and forward") to establish whether or not a visit is required. This allows providers to get paid for ...
Now is Your Chance to Speak Up! Tell CMS What You Think!
June 13th, 2019 - Chris Woolstenhulme, QCC, CMCS, CPC, CMRS
CMS is asking for your input, we all have ideas on how we would change healthcare documentation requirements and get rid of the burdensome requirements and regulations if it were up to us, so go ahead, speak up! Patients over Paperwork Initiative is being looked at to help significantly cut ...
Spotlight: Anatomy Images
June 13th, 2019 - Brittney Murdock, QCC, CMCS, CPC
When viewing CPT codes, Find-A-Code offers detailed anatomy images and tables to help with coding. For example 28445 offers a table with information to assist classification of gustilo fractures: Click on the image preview from the code information page to expand the image.
Spotlight: Printing Additional Code Information
June 13th, 2019 - Brittney Murdock, QCC, CMCS, CPC
Did you know you can print the information from Find-A-Code's code information pages? Click the Printer icon on any code information page. You can check/unckeck the boxes at the top to select what information you want to print: It's that easy!