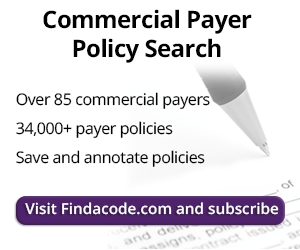 Cloned documentation on OIG radar screen in 2014
May 23rd, 2014 -
Scott Kraft
0 Votes -

Sign in

to vote or comment.
---
One of the areas where the OIG has its sights set in 2014 is on physician documentation. The OIG plans to review documentation of E/M services looking for what it describes as "documentation vulnerabilities."
Put more specifically, the OIG reports that Medicare Administrative Contractors (MACs) have seen an increase in instances of "identical documentation across services," noting that code selection for E/M encounters is based on the documentation for the services rendered.
If it sounds like they're looking for cloned notes, it's because they are looking for cloned notes. And with documentation generated by electronic health records (EHR) systems on the rise, and providers using EHR system tools that enable documentation to be carried forward to a new note, it's likely that the OIG won't have to look to far to see more cloning than they are comfortable with seeing.
There's no doubt that the bells and whistles of EHR systems have changed the way that physicians document E/M encounters.
EHR systems make it easier to provide more robust documentation for each encounter and make it easier to port forward relevant documentation from previous encounters for the provider to review.
After all, there are only so many different ways to report on the fact that a patient is being seen for the same chronic condition when the patient returns to your office on a regular schedule. There are also only so many ways to describe the elements of a review of systems or an examination.
There are two problems, however, that the functionality of EHR is creating from a claims audit perspective. First, in too many instances the documentation for a single patient looks the same from encounter to encounter – across multiple encounters – because of the way in which the provider brings forward documentation.
Second, the provider is choosing to consistently review the exact same systems in the same way for the review of systems and examination across multiple encounters, regardless of the patient's presenting problem.
Let's look at the second problem first. Coders, billers and auditors are right to tread very carefully when it comes to second guessing the clinical judgment of the provider when it comes to deciding which systems are medically necessary to review and which exam elements are pertinent to the patient's visit that day.
There could be a very good reason for what appears to a third-party review to be a review of a system seemingly unrelated to the patient's presenting problem.
However, when a provider consistently reviews the same components of the same systems in the ROS across the patient population, without regard to the patient's condition, it will appear suspicious to an auditor. It will look especially suspicious when the result is usage of high-level E/M codes that go beyond the typical practice pattern.
Practically speaking, it stands to reason that the ROS and exam elements would not always be the same across the patient population because patients will show up with different chief complaints at different levels of severity.
The same patient with multiple cloned notes raises a whole new set of problems, especially when documentation is being carried forward from note to note for a long period of time.
One problem is that it becomes harder to determine what the provider addressed during that visit because the note contains a laundry list of the patient's chronic and acute conditions. The structural integrity of the note, which is intended to represent what happened during that specific visit, becomes compromised.
The problem is exacerbated when the same documentation appears in note after note. Sloppy mistakes begin to occur, including things like the patient's age contradicting itself in the note because the HPI has been carried forward.
Providers note that patients are often seen for the same conditions over a period of time and, to our earlier point, there are only so many ways to describe that a patient has asthma or COPD or some other condition. When you do bring condition detail forward from the HPI, address that by having the provider add to the HPI details about how the patient is doing on that day. After all, it is the history of the present illness.
On contradictions, it is one of the biggest ways that cloned elements of notes are revealed. Because the information from previous notes is often brought forward by ancillary staff before the encounter, the provider will sometimes add contradictory information. An ROS that is negative for a headache is contradicted by an HPI of severe headaches.
In an era where demands for the provider's time continue to go up, without payment following closely behind, it is hard to walk away from the time-saving advantages that EHR systems can potentially provide. Just do it very carefully, and know that the auditors are going to be looking closely to make sure there is variety in your notes that reflect the documentation needs of a specific encounter.
###
Questions, comments?
If you have questions or comments about this article please contact us. Comments that provide additional related information may be added here by our Editors.
Latest articles: (any category)
HHS Proposes Significant Changes to Patient Access Rules
February 11th, 2019 - Wyn Staheli, Director of Research
In a significant announcement on February 11, 2019, HHS proposed new rules aimed at improving interoperability of electronic health information. This announcement was made in support of the MyHealthEData initiative which was announced by the Trump administration on March 6, 2018. The goal of that initiative was to break down ...
Charging Missed Appointment Fees for Medicare Patients
February 7th, 2019 - Wyn Staheli, Director of Research
Some providers mistakenly think that they cannot bill a missed appointment fee for Medicare beneficiaries. You can, but Medicare has specific rules that must be followed. These rules are outlined in the Medicare Claims Policy Manual, Chapter 1, Section 30.3.13. You must have an official "Missed Appointment Policy" which is ...
Q/A: Do Digital X-rays Have Their Own Codes?
February 7th, 2019 - Wyn Staheli, Director of Research
Question Are you aware if digital x-ray of the spine requires a different code than plain x-ray? If so, where can I find the information specific to digital x-ray codes? Answer There are no separate codes for digital x-rays. However, there may be modifiers that are required to be submitted with the usual ...
Clinical Staff vs Healthcare Professional
February 5th, 2019 - Chris Woolstenhulme, QCC, CMCS, CPC, CMRS
State scope of practice laws and regulations will help determine who is considered Clinical staff and Other qualified Health Care professionals.  Physician or other qualified healthcare professionals:  Must have a State license, education training showing qualifications as well as facility privileges.  Examples of Qualified Healthcare professionals: (NOTE: this list is not all-inclusive, please refer to your payer ...
BC Advantage Now Offering Q-Pro CEUs!
February 5th, 2019 - Find-A-Code
We are excited to announce BC Advantage is now offering Q-Pro CEUs! It is now even easier to get your QPro CEUs and stay current with BC Advantage: offering news, CEUs, webinars and more. BC Advantage is the largest independent resource provider in the industry for Medical Coders, Medical Billers,...
Attestations Teaching Physicians vs Split Shared Visits
February 1st, 2019 - BC Advantage
Physicians often use the term "attestation" to refer to any kind of statement they insert into a progress note for an encounter involving work by a resident, non-physician practitioner (NPP), or scribe. However, for compliance and documentation purposes, "attestation" has a specific meaning and there are distinct requirements for what ...
Q/A: Can I Bill a Review of X-Rays?
February 1st, 2019 - Wyn Staheli, Director of Research & Aimee Wilcox, CPMA, CCS-P, CMHP, CST, MA, MT
It is not unusual for a healthcare provider to review x-rays taken and professionally read by another entity. Questions arise regarding how to bill this second review. It is essential to keep in mind that the global (complete) service of taking an x-ray is composed of both a professional and ...