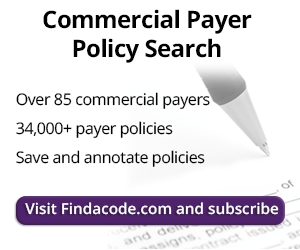 Documentation for Surgical Dressings
March 9th, 2018 - Medicare Learning Network
0 Votes -

Sign in

to vote or comment.
---
The Medicare Learning Network provides guidance on required documentation for surgical dressings.
The following Medicare coverage guidance applies to surgical dressing claims:

Surgical dressings are covered when a qualifying wound is present. A qualifying wound is defined as either of the following:

A wound caused by, or treated by, a surgical procedure
A wound that requires debridement, regardless of the debridement technique

Products that are eligible to be classified as a surgical dressings include both:

Primary dressings – Defined as therapeutic or protective coverings applied directly to wounds or lesions either on the skin or caused by an opening to the skin
Secondary dressings – Defined as materials that serve a therapeutic or protective function and that are needed to secure a primary dressing

Dressingsoverapercutaneous catheter or tube are covered as long as the tube or catheter remains in place, and after removal until the wound heals

Dressing size must be appropriate to the size of the wound

Orders

The order must specify:

Type of dressing (hydrocolloid cover, hydrogel filler)
Size of the dressing
Number/amount to be used at one time
Frequency of the dressing change
Expected duration of need

There must be a written, signed, and dated order. This must be received by the supplier before the claim can be submitted

New order if a new dressing is added or if the quantity of an existing dressing is increased
New order at least every

three months

for each dressing being used

Clinical documentation must include:

Number of surgical/debrided wounds treated with a dressing, reason for, and whether the dressing is being used as a primary or secondary dressing (must be obtained from the physician, nursing home, or home care nurse)
Clinical information that is up to date and supports the necessity of the type and amount of surgical dressings
Documentation of monthly or more frequent wound evaluations (more frequent for those in nursing facilities or with heavily draining/infected wounds).
Assessments to include:

Type of wounds
Location
Size (Length x Width cm.)
Depth
Drainage Amount

Code Specific requirements

When codes A4649, A6261 or A6262 are used, there must be a narrative description of the product, manufacturer, brand name/number, and information justifying medical necessity
The appropriate modifier (A1 – A9, AW, EY, or GY) must be added when applicable
For specific coverage guidelines, please see Surgical Dressings LCD L33831
###
Questions, comments?
If you have questions or comments about this article please contact us. Comments that provide additional related information may be added here by our Editors.
Latest articles: (any category)
A 2020 Radiology Coding Change You Need To Know
February 10th, 2020 - Aimee Wilcox, CPMA, CCS-P, CST, MA, MT, Director of Content
The radiology section of the 2020 CPT© has 1 new, 18 revised, and 14 deleted codes. Interestingly, six of the 14 deleted codes were specific to reporting single-photon computerized tomographic (SPECT) imaging services of the brain, heart, liver, bladder, and others. If your organization reports radiology services, it is...
Documenting telephone calls at your dental practice is just as important as documenting patient visits.
February 4th, 2020 - Christine Taxin
Documenting telephone calls at your dental practice is just as important as documenting patient visits. Similar to other documentation, the common rule when it comes to call documentation is that if it is not documented, it did not happen. Therefore, every clinically relevant telephone call should be documented. Clinically relevant calls ...
CPT 10-Year Historical Content - Now Available!
January 22nd, 2020 - Find-A-Code
Did You Know? We now offer Historical CPT Content in 2-year, 5-year, or 10-year options! Utilize access to specific CPT historical data for previous years using rules effective at that specific time. If you've added UCR fees to your account, you can use Historical CPT Content to view UCR fees from ...
Inadequate Exclusion Screenings Could Put Your Practice at Risk
January 21st, 2020 - Wyn Staheli, Director of Research
Exclusion screenings require far more than just checking a name on a federal database at the time you are hiring someone. Far too many providers don't realize that in order to meet compliance requirements, there is MUCH more involved. There are actually over 40 exclusion screening databases/lists that need to be checked.
Q/A: How do we Bill Massage Services?
January 21st, 2020 - Wyn Staheli, Director of Research
Question: We are adding a massage therapist soon and have some questions about billing their services.
Billing for Telemedicine in Chiropractic
January 14th, 2020 - Evan M. Gwilliam DC MBA BS CPC CCPC QCC CPC-I MCS-P CPMA CMHP
Many large private payers recognize the potential cost savings and improved health outcomes that telemedicine can help achieve, therefore they are often willing to cover it. While there are several considerations, there could be certain circumstances where telemedicine might apply to chiropractic care.
Non-Surgical Periodontal Treatment
January 14th, 2020 - Christine Taxin
AAP treatment guidelines stress that periodontal health should be achieved in the least invasive and most cost-effective manner. This is often accomplished through non-surgical periodontal treatment.Non-surgical periodontal treatment does have its limitations. When it does not achieve periodontal health, surgery may be indicated to restore periodontal health.SCALING AND ROOT PLANINGScaling ...