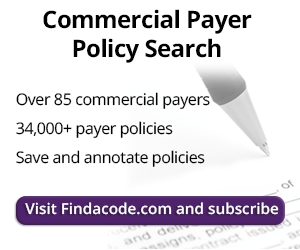 HCPCS Coding - Articles
Vaccine Administration - When The Right Vaccine Code is Not Enough
September 30th, 2019 - Chris Woolstenhulme, QCC, CMCS, CPC, CMRS
Understanding how to apply immunization administration codes properly will support correct reimbursement for vaccinations. Reporting the right vaccine code alone is not enough to guarantee proper billing. The majority of the time, providers can charge for the vaccine/product as well as the administration of the vaccine; always consult your payer ...
Healthcare Common Procedure Coding System (HCPCS)
August 13th, 2019 - Chris Woolstenhulme, QCC, CMCS, CPC, CMRS
There are three main code sets and Healthcare Common Procedure Coding System (HCPCS), is the third most common code set used. They are often called Level II codes and are used to report non-physician products supplies and procedures not found in CPT, such as ambulance services, DME, drugs, orthotics, supplies, ...
Q/A: I Billed 2 Units of L3020 and Claim was Denied. Why?
August 13th, 2019 - Brandy Brimhall, CPC, CMCO, CCCPC, CPCO, CPMA
Question: We billed 2 units of L3020 but were denied for not using the right modifiers. What should we do? Answer: Rather than submitting two units of the L3020 to indicate that the patient one orthotic for each foot, you would need to use modifiers identifying left foot and right foot. Appropriate coding ...
CMS Proposes to Reverse E/M Stance to Align with AMA Revisions
August 6th, 2019 - Wyn Staheli, Director of Research
On July 29, 2019, CMS released their proposed rule for the Medicare Physician Fee Schedule for 2020. Last year's final rule "finalized the assignment of a single payment rate for levels 2 through 4 office/outpatient E/M visits beginning in CY 2021." It also changed some of the documentation requirements (e.g., ...
Denial Management is Key to Profitability
July 15th, 2019 - Wyn Staheli, Director of Research
A recent article by Modern Medicine cited a report by Becker's Hospital Review which stated that it costs approximately $118 per claim to resolve a claim denial. Granted, these were hospital claims, but the process is essentially the same for outpatient services. In fact, you could say it is...
When Can You Bill Orthosis Components Separately?
July 9th, 2019 - Wyn Staheli, Director of Research
Othoses often have extra components. When can you bill those components separately? For example, can you bill for a suspension sleeve (L2397) with a knee orthosis (e.g., L1810)?
Will the New Low Level Laser Therapy Code Solve Your Billing Issues?
July 8th, 2019 - Wyn Staheli, Director of Research
Low level laser therapy (LLLT), also known as cold laser therapy, is a form of phototherapy which uses a device that produces laser beam wavelengths, typically between 600 and 1000 nm and watts from 5–500 milliwatts (mW). It is often used to treat the following: Inflammatory conditions (e.g., Rheumatoid Arthritis, Carpal ...
Q/A: Do I Really Need to Have an Interpreter?
July 1st, 2019 - Wyn Staheli, Director of Research
Question: I heard that I need to have an interpreter if someone who only speaks Spanish comes into my office. Is this really true? Answer: Yes! There are both state and federal laws that need to be considered. The applicable federal laws are: Title VI of the Civil Rights Act of 1964, Americans with Disabilities ...
How to Properly Report Monitoring Patients Taking Blood-thinning Medications
June 18th, 2019 - Wyn Staheli, Director of Research
Codes 93792 and 93792, which were added effective January 1, 2019, have specific guidelines that need to be followed. This article provides some guidance and tips on properly reporting these services.
Medicare Now Reimburses for Remote Monitoring Services (G2010)
June 13th, 2019 - Aimee Wilcox, CPMA, CCS-P, CST, MA, MT, Director of Content
Medicare's 2019 Final Rule approved HCPCS code G2010 for reimbursement, which allows providers to be paid for remote evaluation of images or recorded video submitted to the provider (also known as "store and forward") to establish whether or not a visit is required. This allows providers to get paid for ...
Facts on Procedure Codes
May 8th, 2019 - Chris Woolstenhulme, QCC, CMCS, CPC, CMRS
There are two levels of codes used for services and procedures: Level I Codes are used for Services and Procedures provided by physicians. 5 digit numerical code, example, 99213 - Office or other outpatient visits Level II Codes are used to bill Medical equipment supplies and transport services. 4 digit Alpha/Numerical code example, ...
Biofeedback - Is it Medically Necessary?
April 24th, 2019 - Chris Woolstenhulme, QCC, CMCS, CPC, CMRS
Biofeedback is used for many reasons, and most commonly used for pain management. Each payer should be consulted with to verify coverage when treating with Biofeedback to verify if the treatment is considered experimental or investigational. The majority of payers will list Biofeedback on an exclusions list. Others such as BC ...
Corrections and Updates
April 1st, 2019 - Wyn Staheli, Director of Research
One constant in our industry is change. Policies change, contracts change, and there are updates. Also, people aren't perfect and mistakes can be made. So this article will cover a variety of topics. Published Articles We appreciate feedback from our valued customers. We have received feedback regarding two of our articles which ...
Spinal Cord Stimulator Used for Chronic Pain
April 1st, 2019 - Chris Woolstenhulme, QCC, CMCS, CPC, CMRS
Chronic pain is a condition that can be diagnosed on its own or diagnosed as a part of another condition. When coding chronic pain, there is no time frame defining when pain becomes chronic pain; the provider's documentation should be used to guide the use of these codes. ICD-10-CM Diagnosis Codes ...
UnitedHealthcare to Discontinue Coverage of Consultations
March 4th, 2019 - Wyn Staheli, Director of Research
In United Healthcare's March provider bulletin, they announced that beginning on June 1, 2019, they will be phasing out coverage of consultation services (99241-99255).
Billing Guidelines for Repositioning
March 4th, 2019 - Wyn Staheli, Director of Research
Code 95992 has some very limited payer payment guidelines which need to be understood for proper reimbursement. Many payer policies consider this service bundled with Evaluation and Management Services, therefore, it would not be separately payable if there was an E/M service performed on the same date. Some providers have reported having trouble ...
Coding Medicare Initial Preventive Physical Exams (IPPE)
February 12th, 2019 - Aimee Wilcox, CPMA, CCS-P, CST, MA, MT, Director of Content
The Medicare Initial Preventive Physical Exam (IPPE), also commonly referred to as the "Welcome to Medicare Physical", may seem daunting to many, but when broken out to identify the requirements is fairly straightforward. Purpose An IPPE helps the Medicare beneficiary (the patient) get to know their healthcare provider at a time when they ...
BC Advantage Now Offering Q-Pro CEUs!
February 5th, 2019 - Find-A-Code
We are excited to announce BC Advantage is now offering Q-Pro CEUs! It is now even easier to get your QPro CEUs and stay current with BC Advantage: offering news, CEUs, webinars and more. BC Advantage is the largest independent resource provider in the industry for Medical Coders, Medical Billers,...
Physical Therapy Caps Q/A
February 1st, 2019 - Wyn Staheli, Director of Research
Question: How do I code it so that PT services in a chiropractic office don't count against their PT visit max? Is there a way to code claims so that they are considered chiropractic only? But still get compensated enough? We have been running into some issues as of late ...
Q/A: Which Code Should I Use for a Lab Interpretation Fee?
January 24th, 2019 - Evan M. Gwilliam DC MBA BS CPC CCPC QCC CPC-I MCS-P CPMA CMHP
Question Which code should I use for a lab interpretation fee? Specifically, I have ordered a female hormone saliva test, and would like to charge a fee for time spent on the interpretation and consult. Answer This type of service generally does not involve a third party, so it may be acceptable to ...
Everything You need to Know about Drugs
January 23rd, 2019 - Chris Woolstenhulme, QCC, CMCS, CPC, CMRS
We have it all! Search our WK Drug Database for drugs and pharmaceuticals. When it comes to support and guidance the WK Drug Database offers a paramount search and is conveniently presented in one place. Pricing GPIs NDCs Billing Codes Indications/Diseases Packaging Information Active and Inactive and more... Additionally, learn more about drugs and pharmaceuticals that can be used to detect, treat, or monitor ...
Home Oxygen Therapy
January 22nd, 2019 - Raquel Shumway
Home Oxygen Therapy Guidelines
Q/A: Is G8730 Still Required? Are G Codes Required at all?
January 14th, 2019 - Wyn Staheli, Director of Research
G8730, when is it required. Many G codes are still active and are required for non-quality reporting.
Prior years: (click bar to view articles)
Article categories