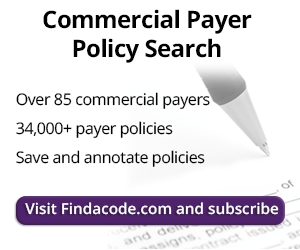 HCPCS Coding - Articles
The Potential Impacts of a Flat Rate EM Reimbursement on our Industry
September 26th, 2018 - BC Advantage
The proposed E&M changes by CMS would decrease provider administrative work burden by, per CMS, 51 hours a year; however, how will reducing documentation requirements truly affect the professionals of the healthcare industry? First, let's discuss the 30,000-foot overview of the most impactful E&M changes—which is the change to the...
CMS Proposed New E/M Codes for Podiatry
July 16th, 2018 - Chris Woolstenhulme, QCC, CMCS, CPC, CMRS
According to CMS changes are coming for E/M codes.  A recent proposal from CMS stated: "The E/M visit code set is outdated and needs to be revised and revalued." Since podiatry tends to furnish a lower level of E/M visits, CMS is proposing new G-codes to report E/M office/outpatient visits. The proposed ...
Inappropriate Use of Units Costs Practice Over $800,000
June 11th, 2018 - Wyn Staheli, Director of Research & Aimee Wilcox, CPMA, CCS-P, CMHP, CST, MA, MT
A recent OIG enforcement action emphasizes the need to understand the proper use of units. A healthcare provider in Connecticut improperly submitted multiple units for drug screening urine tests. The proper billing of units has proven to be problematic for more than just lab tests. Is your billing of drugs & biologicals, injections and timed codes appropriate?
Documentation for Surgical Dressings
March 9th, 2018 - Medicare Learning Network
The Medicare Learning Network provides guidance on required documentation for surgical dressings.
No HCPCS Code Available? Now What?
February 21st, 2018 - Chris Woolstenhulme, QCC, CMCS, CPC, CMRS
HCPCS level II codes classify products into categories for the purpose of claims processing. HCPCS level II codes are alphanumeric with a descriptive terminology that identifies the item or service used primarily for billing purposes. There are several types of HCPCS level II codes such as: Permanent National Codes Dental Codes Miscellaneous Codes Temporary National ...
Payment Rates Increase for Behavioral Health Office Services
February 13th, 2018 - Wyn Staheli, Director of Research
Behavioral health providers may see some improvement in payment rates for office-based behavioral health services. This is due to the fact that the overhead expense evaluation portion of the RVU was increased. The following information is from the Federal Register (see References): We agree with these stakeholders that the site of service ...
Patients Undergoing a Bone Marrow Transplant (BMT)
February 1st, 2018 - Find-A-Code
Accoring to Wisconsin Physicians Service Insurance Corporation L34699, when using J2820 for patients undergoing a bone marrow transplant (BMT), 2 diagnosis codes are required:1) Z76.82 Awaiting organ transplant status2) Pick a code from one of these categories: C81- Hodgkin Lymphoma C82- Follicular Lymphoma Non-follicular Lymphoma C83.1- Mantle cell lymphoma C83.3- Diffuse large B-cell lymphoma C83.7- Burkitt lymphoma C83.8- Other (Intravascular large B-cell lymphoma, Primary effusion B-cell lymphoma, or Lymphoid granulomatosis) Mature T/NK-cell lymphomas C84.4- Peripheral T-cell ...
Reporting Tooth Numbers and Oral Cavity Areas
February 1st, 2018 - Chris Woolstenhulme, QCC, CMCS, CPC, CMRS
When billing for dental procedures you need to identify the exact tooth and/or location in the oral cavity. Qualifiers are used to report the location and tooth number. When billing procedures on teeth and the oral cavity, the JP qualifier is used to identify the tooth number(s) and the JO ...
Psychiatric Partial Hospitalization Programs
January 25th, 2018 - Wyn Staheli, Director of Research
Psychiatric Partial Hospitalization Programs (PHPs) are a more comprehensive level of care than Intensive Outpatient Programs (IOPs - click here to read more about IOPs). When the patient requires a minimum of 20 hours per week and hospitalization is not clinically indicated, a PHP can be the most effective type of ...
Medicare Reimburses for Discarded/Wasted Drugs
January 5th, 2018 - Aimee Wilcox, CPMA, CCS-P, CST, MA, MT
Your organization may be leaking revenue without realizing the leak can be stopped. If your organization purchases single-use packets or single dose vials for individual patient use and ends up discarding some of the drug, Medicare has now authorized payment for the discarded or wasted portion. Stop leaking revenue today by reading this article and implementing the guidance provided here.
Prior years: (click bar to view articles)
Article categories