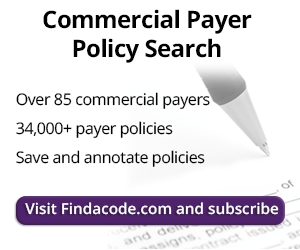 Physical Therapy Caps Q/A
February 1st, 2019 - Wyn Staheli, Director of Research
0 Votes -

Sign in

to vote or comment.
---
Question: How do I code it so that PT services in a chiropractic office don't count against their PT visit max? Is there a way to code claims so that they are considered chiropractic only? But still get compensated enough? We have been running into some issues as of late pertaining to how we code our claims; the chiropractor here also has physical therapy privileges which I believe is where we are running into the problem. She has been coding her claims so that services are considered under both chiro and PT, which in turn exhausts her patient's benefits faster (e.g., A patient has 20 chiro visits and 30 pts visit allowed; the way the claims are coded the first 20 'chiro visits' would also be considered PT, thus giving the patient only 30 visits in total versus 20 chiro visits and then 30 additional PT visits).
Answer: This is unfortunately a known problem that has existed for years. Physical therapy practices are often hard hit by this situation. If a physical therapy service is provided ANYWHERE, it then counts toward a PT visit — period. There is no way around this because payment systems are set up based on the codes submitted for claims — not who provides the service. In fact, the Medicare therapy cap includes both physical therapy (PT) and speech-language pathology (SLP) services, so if the patient is getting SLP services, that also counts towards the cap.
It should be noted that as of 2018, Medicare removed the cap on physical therapy services so providers can use modifier KX with the PT service and still be paid, as long as the service is still considered reasonable and necessary. Since payers often follow Medicare, be sure to check with other payers to determine their individual policies. They might allow additional services if it can be demonstrated that the patient is still progressing and will benefit from further treatment.
You might try and appeal with the payer. For example, if treatment is required for separate conditions, the patient may qualify for either a new condition or a separate condition that has previously received physical therapy for another indication. This may qualify the patient to be eligible to receive coverage for an additional course of physical therapy. Although, it should be noted that an exacerbation or flare-up of a chronic illness is not considered a new incident of illness. Additional coverage beyond the original visit limitation must typically be requested with the payer.
###
Questions, comments?
If you have questions or comments about this article please contact us. Comments that provide additional related information may be added here by our Editors.
Latest articles: (any category)
HHS Proposes Significant Changes to Patient Access Rules
February 11th, 2019 - Wyn Staheli, Director of Research
In a significant announcement on February 11, 2019, HHS proposed new rules aimed at improving interoperability of electronic health information. This announcement was made in support of the MyHealthEData initiative which was announced by the Trump administration on March 6, 2018. The goal of that initiative was to break down ...
Charging Missed Appointment Fees for Medicare Patients
February 7th, 2019 - Wyn Staheli, Director of Research
Some providers mistakenly think that they cannot bill a missed appointment fee for Medicare beneficiaries. You can, but Medicare has specific rules that must be followed. These rules are outlined in the Medicare Claims Policy Manual, Chapter 1, Section 30.3.13. You must have an official "Missed Appointment Policy" which is ...
Q/A: Do Digital X-rays Have Their Own Codes?
February 7th, 2019 - Wyn Staheli, Director of Research
Question Are you aware if digital x-ray of the spine requires a different code than plain x-ray? If so, where can I find the information specific to digital x-ray codes? Answer There are no separate codes for digital x-rays. However, there may be modifiers that are required to be submitted with the usual ...
Clinical Staff vs Healthcare Professional
February 5th, 2019 - Chris Woolstenhulme, QCC, CMCS, CPC, CMRS
State scope of practice laws and regulations will help determine who is considered Clinical staff and Other qualified Health Care professionals.  Physician or other qualified healthcare professionals:  Must have a State license, education training showing qualifications as well as facility privileges.  Examples of Qualified Healthcare professionals: (NOTE: this list is not all-inclusive, please refer to your payer ...
BC Advantage Now Offering Q-Pro CEUs!
February 5th, 2019 - Find-A-Code
We are excited to announce BC Advantage is now offering Q-Pro CEUs! It is now even easier to get your QPro CEUs and stay current with BC Advantage: offering news, CEUs, webinars and more. BC Advantage is the largest independent resource provider in the industry for Medical Coders, Medical Billers,...
Attestations Teaching Physicians vs Split Shared Visits
February 1st, 2019 - BC Advantage
Physicians often use the term "attestation" to refer to any kind of statement they insert into a progress note for an encounter involving work by a resident, non-physician practitioner (NPP), or scribe. However, for compliance and documentation purposes, "attestation" has a specific meaning and there are distinct requirements for what ...
Q/A: Can I Bill a Review of X-Rays?
February 1st, 2019 - Wyn Staheli, Director of Research & Aimee Wilcox, CPMA, CCS-P, CMHP, CST, MA, MT
It is not unusual for a healthcare provider to review x-rays taken and professionally read by another entity. Questions arise regarding how to bill this second review. It is essential to keep in mind that the global (complete) service of taking an x-ray is composed of both a professional and ...