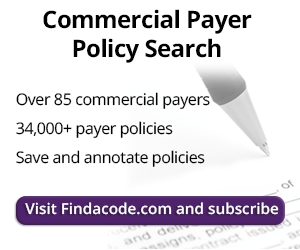 Physical Medicine|Physical Therapy - Articles
RT and LT Modifier Usage Change (effective 2019-03-01)
May 21st, 2019 - Chris Woolstenhulme, QCC, CMCS, CPC, CMRS
According to Noridian Medicare, there are new changes required when reporting the RT and LT modifier(s). In the past, it was appropriate to bill the RT and LT modifier on the same line when it was required for certain HCPCS codes. Noridian released a publication stating claims reported with RT/LT on the same ...
Answers to Your Auditing & Compliance Questions
March 4th, 2019 - Namas
National Alliance of Medical Auditing Specialists (NAMAS) hosts a forum where auditing and compliance professionals can get answers to their questions, and exchange information with other professionals across the country. Recently, we've received the following question regarding fracture care that we'd like to share below. Q: I recently noticed CPT 26600, ...
Physical Therapy Caps Q/A
February 1st, 2019 - Wyn Staheli, Director of Research
Question: How do I code it so that PT services in a chiropractic office don't count against their PT visit max? Is there a way to code claims so that they are considered chiropractic only? But still get compensated enough? We have been running into some issues as of late ...
Prior years: (click bar to view articles)
Article categories