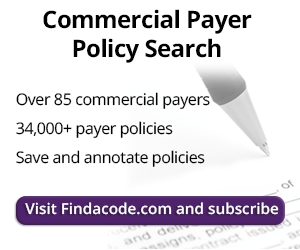 CPT Announces 2021 E/M Changes
April 23rd, 2019 - Aimee Wilcox, CPMA, CCS-P, CMHP, CST, MA, MT
0 Votes -

Sign in

to vote or comment.
---
In 2018, Medicare announced their plans for revamping the Evaluation and Management coding structure and was met with a rapid response from the medical community, including the AMA and many other organizations. As a result, the Medicare changes implemented in 2019 were mostly documentation-related changes that generally benefited providers but were not necessarily accepted and implemented by all payers.
On March 8, 2019, the AMA posted the CPT Editorial Summary of Panel Actions for February 2019, which lists specific changes they intend to make to the E/M codes, effective January 1, 2021. Although the AMA plans to make significant changes to E/M, they in no way are as extreme as the original proposed Medicare E/M changes. Additionally, as the CPT Editorial Committee will meet again in May and also in September, we may see even more E/M changes following the summary from those meetings (May 9-11 and September 26-28).
What does this mean for the people documenting E/M services, assigning the code levels, and auditing them?
Right now, Medicare has published the 2021 E/M changes they intend to make and now, so has the AMA. We've all seen that when Medicare and CPT do not agree on the way in which a specific service, or group of services, should be reported, Medicare may produce HCPCS code(s) with specific guidance for Medicare contracted providers to follow. As any coder is well aware, when a provider is contracted with a payer, they must follow the guidelines and policies specific to the contract they have signed, whether or not it matches with the CPT guidelines.
Now that the AMA has published these changes, we must wait to see how Medicare responds to them. Will we end up with significant differences in E/M code assignation among multiple payers or will they all adopt the same changes? And what are the new AMA E/M changes?
Which E/M Codes are Affected?
The new AMA CPT E/M changes are specific to Office or Other Outpatient Services (99201-99205 and 99211-99215) codes and no others. Until adopted by other payers, including Medicare, they are specific changes to the CPT manual only. They include:
Deletion of 99201
Changes to the medical decision-making table
Say Goodbye to 99201
The AMA is planning to delete 99201 from this set of codes. That is an official code deletion meaning it will no longer appear in the codebook after 2020. There are some situations in which you may still need to report 99201, such as states that will not immediately adopt the 2021 CPT code changes (e.g., workers compensation payers).
New Guidelines
To ensure all parties involved understand there is going to be a different set of coding rules for 99201-99215, CPT plans to publish the new guidelines (specific to these codes) under their own section header in the Evaluation and Management section of CPT. Changes will include:
Guidelines Common to All E/M Services
Guidelines for Hospital Observation, Hospital Inpatient, Consultations, Emergency Department, Nursing Facility, Domiciliary, Rest Home or Custodial Care and Home E/M Services
Guidelines for Office or Other Outpatient Services
Section Overview: Identifying and explaining the new guidelines which are applicable only to the Office or Other Outpatient codes (99202-99205)
Summary of Guideline Differences: Including a table that identifies the differences between the different sets of guidelines
Revised existing E/M guidelines: Ensuring there isn't any conflicting information between the different sets of guidelines
Definitions and Terms
Guidelines for reporting Time when more than one individual performs distinct parts of an E/M service
Revision of the MDM Table to include Table 2 for Office or Other Outpatient Services-specific scoring information
Changes in Component Scoring
Although documentation of history and physical examination will still be required to some degree, the amount of history or number of body areas and/or organ systems examined and documented will not be part of the scoring used to determine the overall E/M level of service. Instead, medical decision making (MDM) or total time will be used to make that determination. Additionally, and as always, medical necessity for the level of service must be identifiable within the documentation. The AMA has made some changes to the titles of the subcategories in the MDM Table (as noted in the table below).

Again, these are the CPT changes; however, any payer contracts (e.g., Medicare or payers that follow Medicare guidelines) may require calculation in another way, so be mindful of those contracts when implementing E/M changes in 2021. Moving forward it might be a good idea to begin informing providers and staff of the upcoming changes to both CPT and Medicare and then follow closely for additional announcements from both the AMA and Medicare.
###
Questions, comments?
If you have questions or comments about this article please contact us. Comments that provide additional related information may be added here by our Editors.
Latest articles: (any category)
RT and LT Modifier Usage Change (effective 2019-03-01)
May 21st, 2019 - Chris Woolstenhulme, QCC, CMCS, CPC, CMRS
According to Noridian Medicare, there are new changes required when reporting the RT and LT modifier(s). In the past, it was appropriate to bill the RT and LT modifier on the same line when it was required for certain HCPCS codes. Noridian released a publication stating claims reported with RT/LT on the same ...
Do You Understand Medicare
May 21st, 2019 - Christine Taxin
Even though we may think we truly understand what it means to be a participating provider, Medicare doesn't quite work the way that other insurance plans do. Far too many providers do not understand the difference and get into hot water. To further complicate matters, the rules are different for ...
An Update on the DHS OIG's Effort to Combat Fraud & Abuse
May 17th, 2019 - Namas
An Update on the DHS OIG's Effort to Combat Fraud & Abuse Every year, the Department of Health and Human Services (DHS) Office of Inspector General (OIG) is required by law to release a report detailing the amounts deposited and appropriated to the Medicare Trust Fund, and the source of such ...
Prioritize Your Patient's Financial Experience
May 13th, 2019 - Wyn Staheli, Director of Research
For many years, the ChiroCode DeskBook has emphasized the need for providers to firmly establish the patient's financial responsibility through clear communication. We even created a "Patient Financial Responsibility Acknowledgment Form" to help providers with this process. Lately, the lack of pricing transparency has been in the news and even ...
Q/A: Two Payers Both Paid the Claim. Who Gets the Refund?
May 13th, 2019 - Wyn Staheli, Director of Research
Question We have a personal injury situation where we submitted a claim was sent to the patient's auto policy carrier who refused payment. We then submitted it to her other insurance. Eventually, both companies paid her claims. Her auto paid at full value, and her secondary paid at a reduced rate ...
HIPAA Violation Penalties Revised
May 6th, 2019 - Wyn Staheli, Director of Research
On April 30, 2019 The Department of Health and Human Services (HHS) announced that "HHS will apply a different cumulative annual CMP limit for each of the four penalties tiers in the HITECH Act." Unlike other notices which require a proposed rule with a comment period, this notice will take ...
Q/A: If Orthopedic Tests are Negative, do You List Them in Your Treatment Notes?
May 6th, 2019 - Wyn Staheli, Director of Research
Question: If orthopedic tests are negative, do you need to still list them in your treatment notes? Answer: Yes. Any tests which are performed by a healthcare provider, regardless of the result, should be documented in the patient record. This record is the only way that a reviewer or another provider ...